This document will help you configure taxes if your Shopify store is based in the European Union.
The most important distinction when it comes to charging VAT in your store is whether your business is VAT registered or not. This topic is covered in more detail in our Shopify VAT guide for selling to EU customers.
If your business is VAT registered and you want to sell to both consumers and business customers in different countries of the European Union, you will need to set up your tax settings and tax ratescorrectly.
Tax settings
In order to charge VAT to some customers and not to others, all product prices in your store should be set withoutVAT.
Go to Settings → Taxes in your Shopify store admin, scroll down to Tax Calculations and make sure that the "Show all prices with tax included" checkbox is unchecked.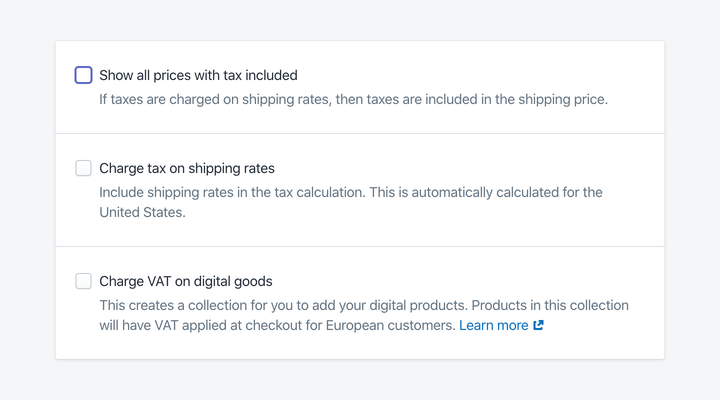 If you still prefer to show prices with taxes included to customers shopping in your store, please read this Show VAT prices on your product pages article from Shopify.
Tax rates in the EU
In the EU, you need to charge different tax rates when selling physical and digital goods.
Selling physical goods
When selling physical goods to customers in the European Union, you should charge the VAT rate of your home country.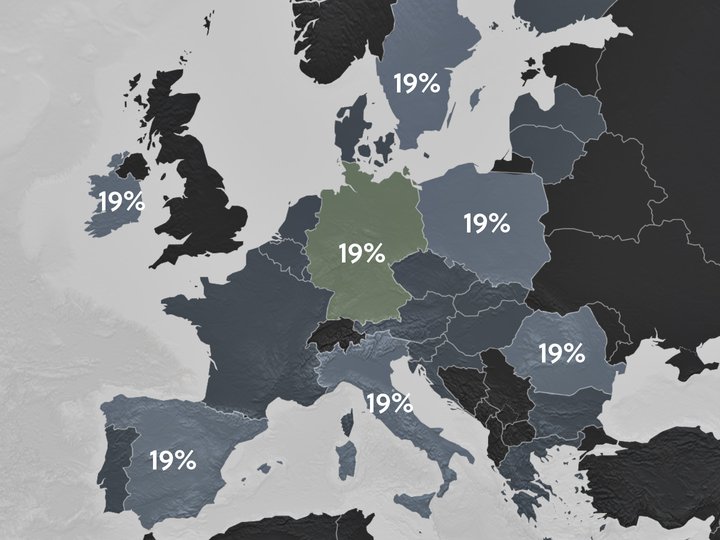 German stores should charge customers in different EU countries the German VAT rate for physical goods.
To set tax rates for selling physical goods:
Go to Settings → Taxes in your Shopify admin. You should set tax rates for all EU countries you are shipping to.
If you do not see all EU countries in the Tax rates list, go to Settings → Shipping→ Shipping profiles and click Create new profile.
Click Create Shipping zone and select Europe. This will add all European countries to the list, but you should remove those which are not members of the EU.
Go to Settings → Taxes and set the tax rate for each EU country. In most cases, you should use the VAT rate of your store's country for all EU countries.
VAT threshold in other EU countries
If your annual turnover in a certain EU country surpasses its VAT threshold, you have to register for a local VAT registration number. In that case, you have to charge the VAT rate of that country instead. You can read more about VAT thresholds in our EU VAT guide for Shopify stores.
For example, your business is based in Germany, but you have passed the threshold for VAT in Spain and are registered for a local VAT number in Spain. The German VAT rate of 19% applies to all EU countries except for Spain. Spanish customers should be charged the Spanish VAT rate of 21%.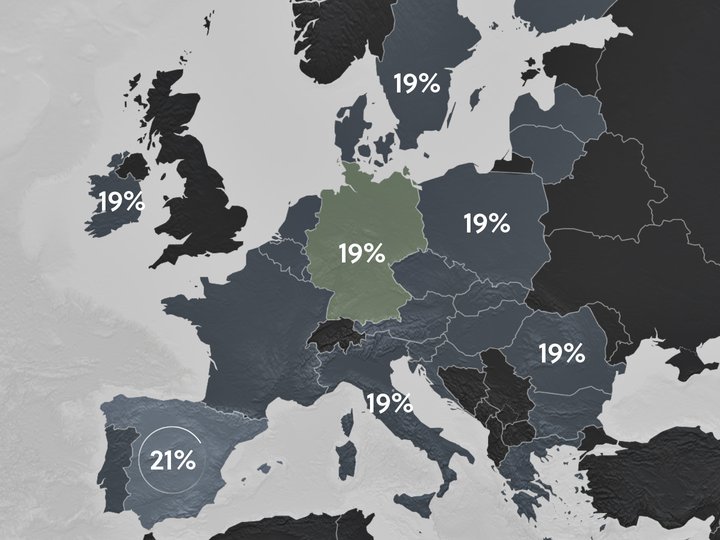 Tax rates for a German Shopify store that also has a local VAT number in Spain.
Selling digital goods
When selling digital goods (such as e-books, downloadable music, stock photographs or online courses) to customers in the European Union, you should charge VAT at the rate applicable in the customer's country.
This means that customers from various countries should be charged different VAT rates (from 15% to 27%). Shopify allows you to automatically set these tax rates for individual EU countries.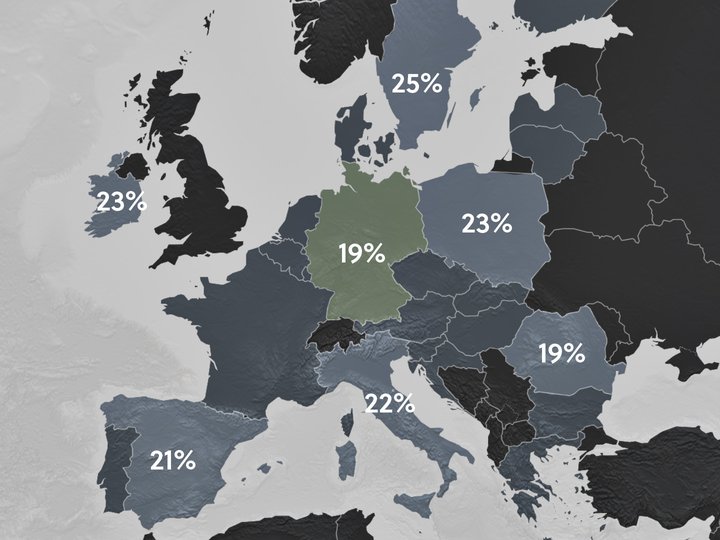 Consumers buying digital goods should always be charged their local VAT rate.
To set tax rates for selling digital goods:
Go to Settings → Taxes in your Shopify store admin.
In the section Tax Calculations, click Charge VAT on Digital Goods.
Shopify will then automatically create a new collection named Digital Goods VAT Tax. Add all your digital products in your store into this collection.

Invoices
Once you've set up your tax rates correctly in your store, Sufio will automatically create valid invoices with a detailed breakdown of VAT charged. Invoices can be created in multiple languages and are fully compliant with accounting legislation in the EU.
Issuing invoices with a correct tax breakdown is vitally important for your bookkeeping and tax purposes.
If you are selling to businesses (B2B), Sufio invoices display all the required information including VAT identification numbers of your store and your business customers.