If your Shopify store is based in the European Union and your business is VAT-registered, you should not charge VAT to business customers from other EU countries besides your own. 
This means that business customers should be set as VAT exempt so they are not charged tax during the checkout.
Sufio allows you to capture and validate EU VAT registration numbers from your business customers and, when applicable, automatically set them as tax exempt.
VAT numbers from business customers can be also included on your invoices to make them valid and compliant with accounting legislation. In addition, they can also include a note stating that services are subject to the reverse charge and VAT is to be accounted for by the recipient as per Article 196 of Council Directive 2006/112/EC.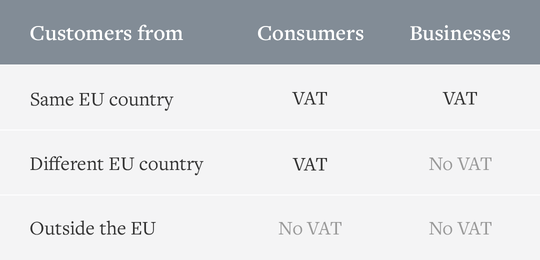 When to charge VAT to your European customers?
Read our VAT guide for Shopify stores selling in the EU.
Enable VAT exemptions
To enable VAT exemptions:
Go to Settings → Taxes in your Sufio account. 

Check the "Enable EU VAT Exemptions" checkbox.

If you also want to validate all VAT numbers using the official VIES VAT number validation service, make sure the "Validate VAT Numbers" checkbox is also checked.
The VIES VAT number validation is available in our Standard and Premium plans.
Update your store theme
You will need to add a new field to your Shopify store to allow your customers to enter their VAT registration numbers.
You can capture VAT numbers on the customer registration page, customer account page or the cart page. Shopify Plus stores can also capture VAT numbers on the checkout page.
Allow customers to enter VAT numbers while setting up their account.
Enable capturing of VAT numbers on the customer account page.
Let your customers enter their VAT number on the cart page. 

Include VAT number field on the checkout page of your Shopify Plus store.

In some countries, it is allowed to VAT exempt disabled customers without them having to have a valid VAT number.