Usually, the tax exemption applies to products designed or adapted for people with any kind of disability such as wheelchairs, medical appliances and alarms.
If your Shopify store sells this kind of products, Sufio will help you automatically set customers with disabilities as tax-exempt so they are not charged VAT during checkout.
Add disability field on customer registration page
Sufio allows you to add a I am disabled checkbox to the Customer Registration form. This will allow your customers to declare themselves as disabled when they set up their customer accounts in your online store.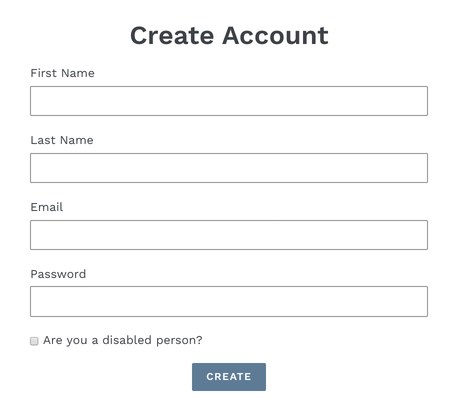 Example of a Customer Registration form with the disability field
Such customers will then be tagged as disabled in your Shopify store and automatically set as tax-exempt.
To add the disability field to the Customer Registration form: 

In your Shopify admin, go to the Online Store → Themes page. 

Click the Actions button, then click Edit code. 

Select customers/register.liquid in the left sidebar. You might use the upper search bar for a faster search.

Insert the following code snippet inside the <form>. A good place for the field is below the Password field.

Select index.liquid in the left sidebar.
Insert the following code snippet at the end of this file.
View VAT Exemptions
When a customer registers as disabled a VAT exemption request gets listed on the View VAT Exemptions page in your Sufio account.
This page lists all the exemption requests made on your Shopify store. Statuses allow you to filter them, allowing you to review and troubleshoot this functionality if necessary.
To access the View VAT Exemptions page:
In your Sufio account, go to the Settings → Taxes page.
Click on View VAT Exemptions.
You can learn more about this page and its useful features in our View VAT Exemptions article.
Need help?
Do you need help with inserting the code snippet into your Shopify store theme code? We'll be happy to assist! Please contact our support team.