The Ultimate Guide To Cross Border Ecommerce With Shopify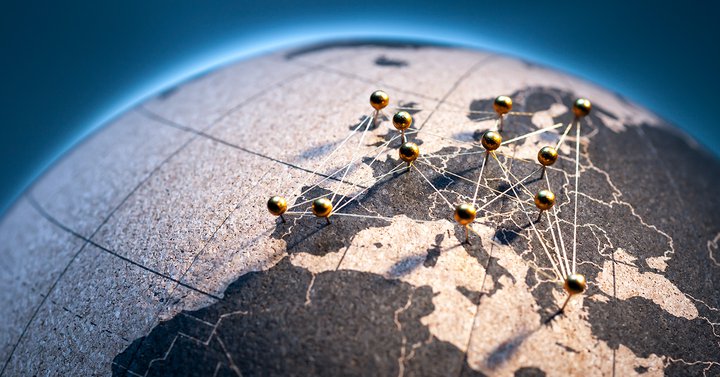 The great beauty of ecommerce is that you're able to sell to anyone, anywhere. There's literally a whole world of potential out there for savvy online retailers to access. But when setting yourself up for cross border success, it's important to be fully informed of the best practises. This guide provides a helpful (and ever-growing) list of hints and tips for those ready to take their brand global.
A recent study carried out by Visa showed cross border ecommerce sales poised for explosive growth. Their investigation suggested that 66% of ecommerce businesses were already selling cross border, and found that 87% of merchants believed that expanding online sales into new markets was one of their company's biggest growth opportunities.
However, even with cross border sales making up nearly a third of the revenue taken by those businesses, over half still felt they needed help to optimize their international online sales.
The potential is evident, and as ecommerce audiences become more accustomed to making international purchases, we can expect the trend in rising cross border sales to continue.
57% of online shoppers have made a purchase from an overseas retailer. But, expansion into new markets can be daunting.
From different cultural expectations and norms, to differing documentation and tax requirements, there's a lot to take into consideration when aspiring to the goal of a seamless, compliant experience.
"The data is clear; cross border is a major growth opportunity. But it's not easy, especially for small businesses" said Suzan Kereere, Visa's Global Head of Merchant Sales and Acquiring.
At Sufio, we work with a range of hugely enterprising ecommerce businesses, who are rolling up their sleeves and making the most of the cross border opportunity. As a platform, Shopify has incredible capacity to enable and optimize international ecommerce operations, but for those who need a little more encouragement or reassurance, we've put together this handy guide. It will compile helpful tools, resources and insights from those who've already boldly gone off the edge of the map.
Get ready to explore some of the key considerations when looking to enter new markets online, and start making your global sales a real success story.
1. Going Global: Knowing Where And When To Sell
Are You Ready To Take It Cross Border?
The very first question to be asking yourself as an online retailer looking to start selling internationally: are you ready? What are some of the signs you should be looking for?
For a start, you'll want to be certain that your home market is rock solid. You should have laid down some seriously strong local roots, and either feel as though you've saturated the opportunity at home, or at the very least have a stable, established business that can sustain your operation as you expand.
It's also important to consider the additional strain on resources your expansion into new markets could bring. Can your current team structure absorb the increased workload? Are you prepared to invest to expand your capacities in tandem with your global penetration? A bigger audience and greater demand are wonderful things – if you can handle them!
You should also ask yourself what's driving your desire to reach a brand new market; are you going global in pursuit of a healthier bottom line, or is an international reputation a springboard to brand recognition? It's important to know exactly what your goals and ambitions are ahead of your tactical expansion, so that you can keep a focus on these as you progress.
How To Find Your Next Target Market
Once you've done the prerequisite head-scratching, and landed on the side of affirmative action, it's time to start thinking about the area on which you'll focus. The decision to take your businesses into a brand new country is clearly not one you'll be taking lightly.
International expansion is a considerable undertaking, and you'll want to make sure that you're investing your time, effort and resources into an area likely to bring you a favourable return.
So, while your own innate business sense counts for a lot, even if you think you've spotted a fantastic international opportunity, it still pays to do your research as a form of absolute confirmation.
As with most ecommerce conundrums, it is data that plays the leading role here. The numbers never lie, and happily, a range of helpful free tools exist to help businesses just like yours pinpoint their next destination.
Tools To Help You Find Your Next Target Market
In terms of getting a snapshot of local interest in the types of product that you're selling, it's hard to beat Google Trends. Giving a clear indication of the popularity of a given search query over time, this free tool gives a great starting point as you try to figure out your viability. If things are on the up, and show a steady upward trend over a decent period of time, then you'll know things are looking favourable.
From here, you can also use the Google Search Console to obtain a performance report, which you then segment by country. Within Google Analytics you can also check your Audience reports, digging down into geographic location to see where you're already generating interest.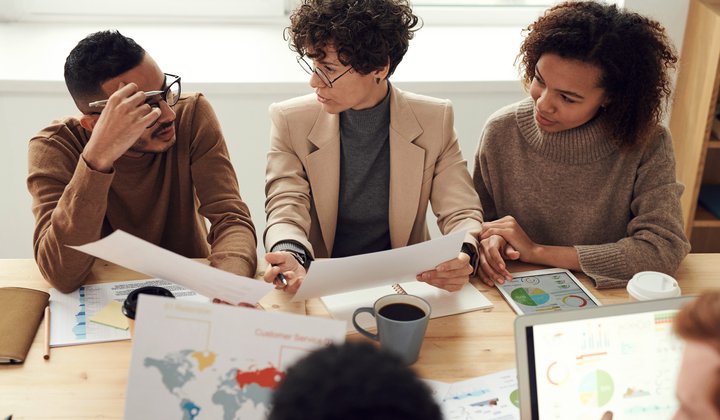 If a clear winner is emerging, you'll want to start scoping out the existing ecommerce landscape. In other words, it's time to check out the competition. Approach this task in a methodical manner. SWOT analysis is often recommended in these cases, and gives the added benefit of needing to assess your own business alongside your more established competitors.
2. Configuring Your Shopify Store For International Sales
Shopify: Ecommerce Gateway To The World
As a platform, Shopify has made great leaps forward in helping make the dream of international success achievable, for online retailers of all shapes and sizes. A huge focus of the platform revolves making ecommerce scalable and successful for everyone, removing barriers and boundaries on the ambition of entrepreneurs and big brands alike.
In order to achieve seamless sales experiences across a range of countries, each with their own pricing conventions, currencies and languages, Shopify have a range of configurations available within their admin and wider partner ecosystem.
Used with care, these enable store owners to add a real refinement to their crossborder selling strategies.
Now You're Speaking My Language: Building Multilingual Stores
The majority of people prefer to shop in their own language – in some countries, such as Japan, the vast majority do (in this region upwards of 70% of shoppers will only browse online products in their native tongue.)
When selling cross border it's important to ensure you're ticking all the boxes with regard to translation. Shopify makes creating multilingual stores simple. Until recently you needed to work with a supported third-party language translation app, as well as a compatible theme. Themes can either have a built in language selector, or Shopify's own Geolocation app can be leveraged.
Working with a third party app like Sufio Partners, Weglot, means you'll have access to a whole host of features to help your store's translation accurate and accessible to search engines.
Now, there's also the option of native multi-lingual functionality as a result of API updates. These enable store owners to easily select and deploy a range of Shopify translations, as well as and enable and publish locales directly from their Shopify admin.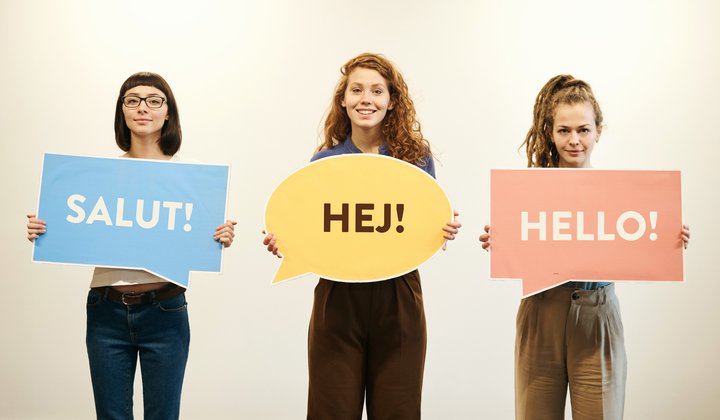 Shopify Plus stores can be translated into 20 languages (as opposed to the standard additional 5.) With Shopify, translation also extends to check out and email notifications – important considerations for a reassuring, consistent customer experience.
You'll also want to ensure that shoppers in your new markets can find you; bear SEO in mind when configuring your store. To help ensure discoverability, Shopify generates unique URLs for each translated page of your store, adding the language code to your domain (eg. store.com/fr for a page translated into French.) Additionally, meta tags and hreflang tags are automatically added to assist indexing.
For a deep dive into How To Build A Multilingual Store, head here.
Money Makes The World Go Round: Understanding Multi-Currency
While a familiar language is important, a familiar currency can be considered practically essential. One study of over 30,000 shoppers showed that 92.2% preferred to shop and purchase in their local currency.
When using Shopify Payments, multiple currencies can be enabled on your store. You'll need to be based in a supported country, and not selling any prohibited goods, but tick these boxes and you're all set to start selling in a range of familiar, native currencies. Your customers will now be able to pay for their orders and receive refunds in a currency of their choice.
A few things to remember when starting to think about selling in multiple currencies. Firstly; be aware that Shopify will automatically convert your product prices based on the foreign exchange. To avoid weird and off-putting product prices, consider applying rounding rules. To make sure that prices feel localised, and in line with the convention of their corresponding countries, customize these rounding rules.
3. Tax Implications Of Global Selling
Getting It Right
Whether you're selling locally or globally, it goes without saying that it's pretty important to ensure you're doing everything "by the book" when it comes to your tax responsibilities. Selling cross border means you'll need a solid understanding of how to handle tax in each of the new markets you wish to sell within.
There is no "one size fits all" solution when it comes to getting this right. But thankfully, help is close at hand. When trying to work out the correct tax settings for each international market, in addition to trouble-shooting missing taxes, excluding or including taxes, and charging the correct taxes for shipping, Sufio has you covered.
Get Help With Your Shopify Tax Configuration
Here at Sufio, we work with thousands of stores making sales all across the world. It's fair to say that in our time, we've learnt a little bit about how taxes work, and we're delighted to be able to share that knowledge with our customers.
We know that diving into tax matters isn't always the most exciting prospect, but get it right and you know you'll rest easier at night. When coming onboard with Sufio, you'll get personal support in this area. Our team of friendly experts are on hand to help set up taxes correctly for your Shopify store, no matter where you sell, or to whom.
Read All About It
Whether you're looking to learn about the taxes in the United Arab Emirates and Saudi Arabia, or wondering when and at what rate you should charge taxes within Canada, we've created a handy library of ecommerce Shopify tax guides to help you get it right.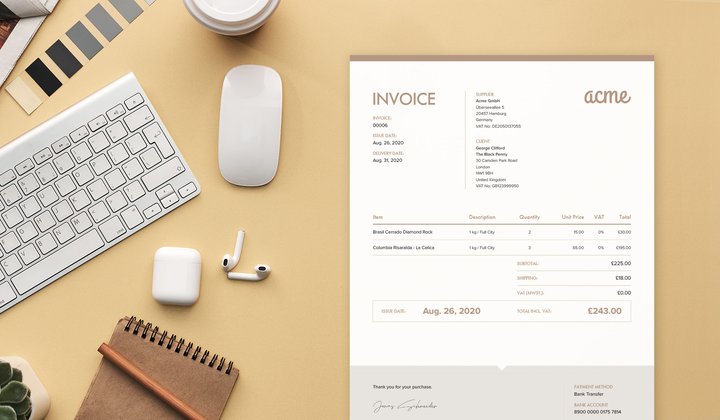 4. Invoicing Implications Of Cross Border ECommerce
Why Invoicing Is Always Important
For sellers based in countries where invoicing is less of a common convention, requests for an invoice can feel slightly surprising – but rest assured that for the successful cross border seller they will become a common occurrence.
While retailers won't think twice about sending out a receipt upon purchase, an invoice is a different beast entirely, and it's really important to understand why they're such a crucial part of the puzzle when it comes to providing a great ecommerce experience for the full range of your international customers.
The Same, But Different
Most invoices will contain certain pieces of common, key information. From the simple title of "Invoice" through to the name and registered address of your business, some invoicing elements are fairly universal.
But certain countries have their own specific requirements, and when it comes to selling internationally, factoring in these unique needs is not just considerate, it's absolutely vital in terms of legal compliance.
It's also important to consider the extension of translation beyond the realm of your store.
If you're providing a shopping experience within the native language of your customers, you should also ensure that the paperwork that accompanies their purchases lives up to the expectations that have been set.
Compliance Is Key
Legally required documentation always demands careful attention, but invoicing is especially important for stores looking to make international sales. In addition to ensuring compliance across a wide range of jurisdictions, retailers need to make sure that they have a streamlined and efficient process in place, to handle the wide range of requirements that could be made necessary.
This is where a partner like Sufio can do a huge amount of heavy lifting for you. Precise and highly configurable invoice templates ensure that all of your data is consistently presented and stored. By providing beautifully designed, fully compliant invoices as a standard, automated part of the sales process, you're cutting out a lot of customer support requests as your new international customers chase up this vital piece of paperwork.
Additionally, you'll be able to sleep soundly at night, knowing that the documentation they receive is fully compliant and perfectly translated, by professional accountants.
5. From A to B With International Shipping
Getting The Goods
Shipping is a very important part of the puzzle when it comes to your cross border success. To ensure you're building the most trust with your international customer base, ensure you're reliable and honest in all areas here, to keep repeat customers and grow into your new market.
For international purchases, a common concern for first time customers may be shipping times, or extra unexpected charges. It's important to ensure that you do all you can as a retailer to allay these worries if you're going to ensure the best overseas conversion rates (and approval ratings!).
Communicating With Customers Regarding Shipping
When it comes to shipping, the key to success is to avoid any nasty surprises for your customers, especially if it's the first time that they've made a purchase from your store, and trust still needs to be built. Of course, you'll aim to achieve rates that are as reasonable as possible, but whatever these prices end up being, you'll need to make sure that they are very clearly communicated within the customer journey.
Adding a large shipping fee at the end of the check out process is a surefire way to cart abandonment, so make sure that your buyers are aware of fees early on, and are not surprised (and possibly dismayed) when they are at the end of their shopping session and so nearly across the conversion finish line.
Once the sale has been made, it's also important to ensure a really comprehensive email flow, keeping your customer informed of order confirmation, dispatch and safe passage through the various stages of its journey to them. International shipping means that your packages are passing through many more jurisdictions and organisations, so reassuring your customer that you're aware of all the moving parts as their delivery makes it way to them is a good confidence booster.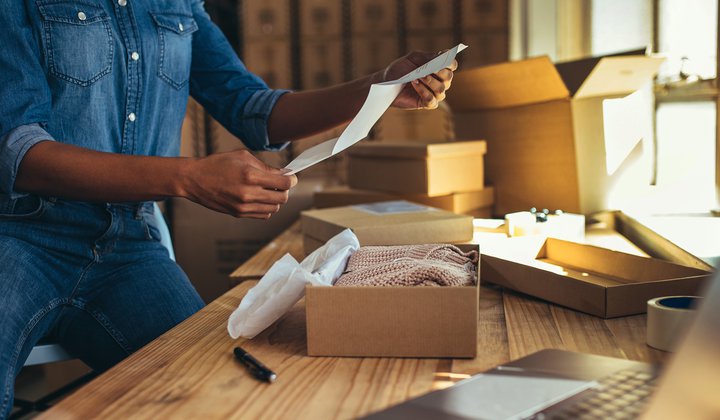 Of course, you'll also want to make sure that the documentation which follows up their purchase, both digitally and within their unboxing experience meets all expectations and requirements. Be sure to include all correct customs declarations and forms. Invoices that are fully compliant and beautifully designed to resonate perfectly with your brand add the final level of professionalism and polish, to help turn cautious first time buyers into repeat customers. Additionally, consider friendly delivery notes.
Creating a Seamless Shipping Experience Through Smart Choices
Shopify provides a range of options when it comes to setting up your shipping; there's no right or wrong way to configure things, but every choice you make will affect your margins, so it's important to look at how your sales are spread and decide upon a solution that will work best for your particular situation.
Free shipping is a conversion winner, but of course, someone pays – either through higher product pricing or impacted margins. You could put the decision into your customers' hands by integrating live shipping rates from various carriers into your check out experience. If you're selling a fairly uniform range of goods (in terms of size and weight) – jewellery for example – then flat rates are a popular option. This tends to ensure you won't over or undercharge by a huge amount and things will balance out over the course of many orders.
If your international market grows within a specific reason, you may want to consider local fulfilment and multi-origin shipping.
Third Parties Who Can Help
When setting out on your cross border journey, you don't need to go alone. From translation to currency conversion, for each of the main areas of focus, there's a great range of third party integrations and partners who'll be happy to help you on your way.
Here are a few of our recommendations.
For Clear Customer Communication
Turn order confirmations, shipping updates or order cancellations from your cross border customers into marketing opportunities! Customize these important touch points by tweaking the design of your store emails, adding recommendations, discounts, or social links. Spently will also give you the chance to see exactly what impact your choices are making with regard to your international custom, via their analytics dashboard.
Spently integrates with Sufio, enabling your customers to download or print invoices directly from emails sent from your Shopify store.
For Currency Customisation
If you're looking to sell globally and want to display your product prices in multiple currencies, you'll need to be working with a third party currency convertor, and these are two of our favorites.
As well as supporting all global currencies, Coin allows you to customize the currency selector, ensuring it perfectly matches the design of your storefront. Currency Converter + updates currency rates every minute, automatically detecting your customer's location and displaying prices accordingly.
Both apps integrate with Sufio to enable automated invoicing in the currency of purchase (and payment via invoice in the currency of your customer's choosing.)
For Tax & Invoicing Compliance
Time for us to blow our own trumpet. Sufio invoices are compliant with legislation in the UK, the EU and over 50 countries worldwide. Fully automated, you can take your hands off the wheel and focus on discovering your next new market, safe in the knowledge that your international customers are receiving the invoices they need, in a beautifully designed and fully compliant format.
Translation by local accountants ensures that everything feels familiar, and by teaming up with one of our currency partners, you'll also be able to accept payment in local currencies via the invoices that you send.
For Store Translation
Whether you are automatically redirecting customers to their preferred language version of your store, or letting them select their preferred language manually, giving your audience the opportunity to browse in their native tongue is really important.
Sufio integrates with several great translation apps, to ensure that wherever your traffic arrives from, your storefront is able to give them a warm welcome. With options for machine and human translation, you can control how much you invest into various markets, as you see performance of different international audiences grow.
For Ad Hoc Assistance
Sometimes you'll want a few quick tweaks made to your store to ensure that you're fully optimized for the cross border opportunity. As a busy retailer, you may wish to outsource this work, and if that's the case, the Shopify ecosystem has your back.
Save valuable time by delegating to tried and trusted experts, who'll be able to draw on significant experience within the platform to get you the results you need, quickly.
Conclusion
For ecommerce businesses looking for growth, it's increasingly essential to look beyond existing horizons. Cross border selling is not without its challenges. When it comes to establishing within a profitable new market, care must be taken. Compliance is key, and the documentation that accompanies your products needs to tick all the right boxes. And for success with staying power, attention must be paid to the finer details of your international customers' experience.
Shopify and Sufio are both positioned to help businesses with exactly these kind of cross border aspirations. We know that the future of ecommerce is not fixed or centralised around a few key countries, but exploding across the globe with a huge number of exciting and profitable new markets opening up.
If you're looking for perfectly translated, fully compliant invoices to accompany your international ecommerce sales, Sufio can help. Online retailers shouldn't feel held back or blocked from going global. With the right partners and integrations, the whole process can be made simple, efficient and compliant.