How To Design An Ecommerce Brand Experience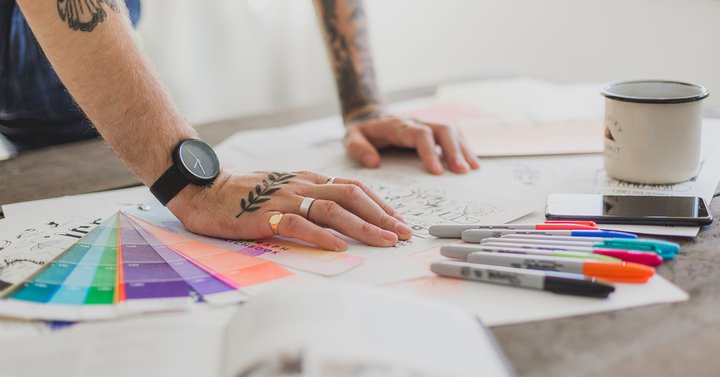 One of the most exciting aspects of developing and growing an ecommerce brand is creating its unique identity. When we sell online, there's really no limit to the creativity and attention to detail that we can invest in our enterprises.
This article will walk you through a few of the key considerations when branding your ecommerce business. From understanding the subtle differences between brand and identity, through to the creation of a tool kit you can call upon to deliver a coherent, cohesive experience for each and every customer – we hope you'll enjoy this masterclass!
Brand Vs Identity
Let's start at the very beginning. You're looking to create an overarching brand experience that encapsulates everything you stand for as a business.
Whether a customer interacts with your online store, receives a product in the post, reads one of your emails or double taps on your latest Instagram post, they should be getting the same impression. Each interaction builds upon their impression of what you offer and represent - so make it count, and make it consistent. To achieve this, you'll need to clearly define your brand, and its identity.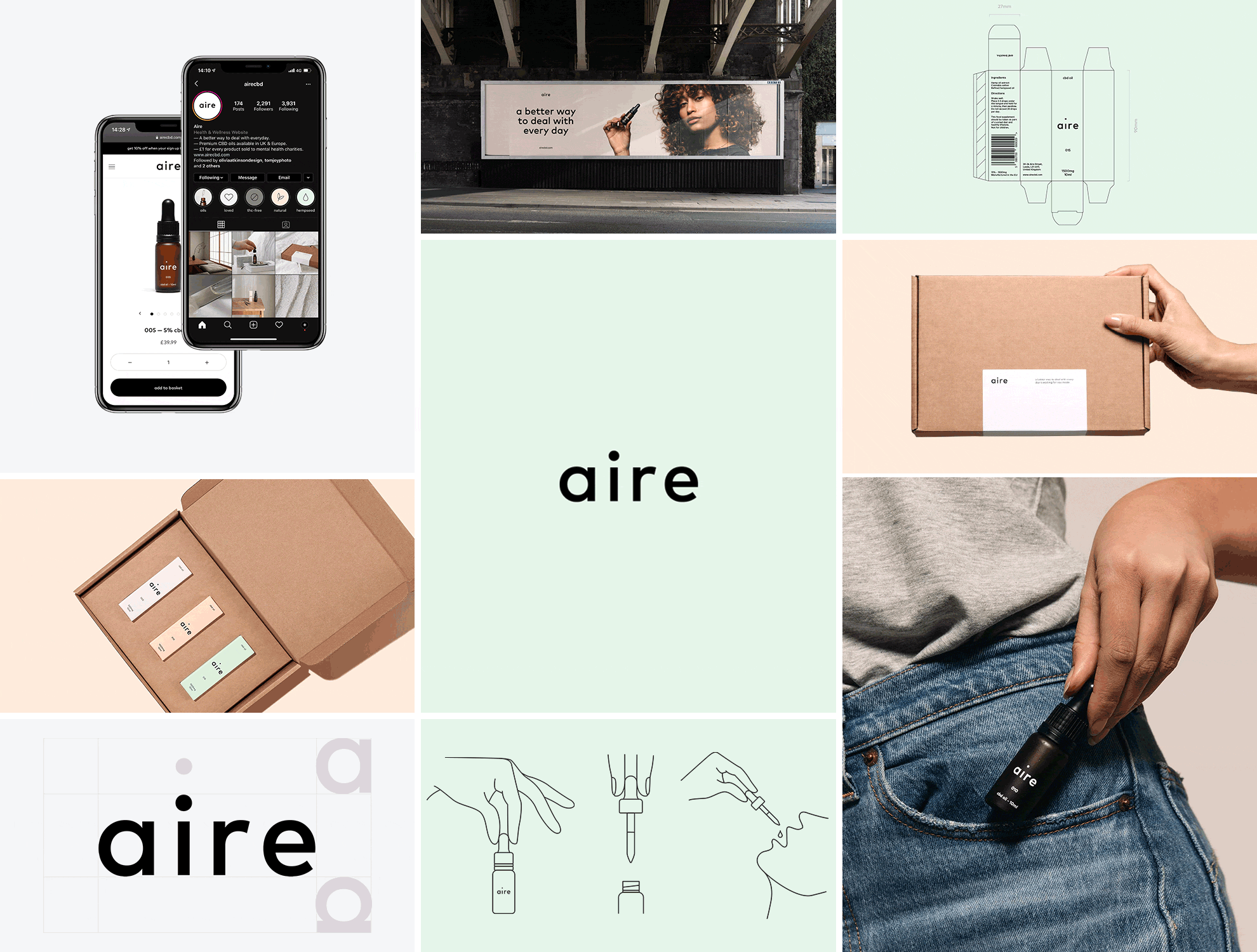 An example of brand's identity for aire by OH+CO
Brand and identity? Yes – they're not one and the same, and each requires your careful consideration.
When we refer to a brand's identity, classically, we're referencing the physical aspects of their presentation: logo, typography, color palette. Your investment into branding can be as detailed as you like, going so far as to taking into account the materials used in your packaging etc. It should all help to paint a picture of what your brand represents, in a physical, tangible manner. Branding is broader, encapsulating the real ethos of your brand and the way it puts itself out into the world. We spoke to leading designer and Instagram legend Mike Kus to get his take on how branding differs from identity:
"Branding really is everything a company does, in my mind. It's not just the visual touch points – it's the tone of voice and language, everything relating to that brand's behavior. Whereas identity is really how that manifests itself in a physical way."
Understanding Touch Points
So, you're clear on the difference between brand and identity – now is the time to work out how these elements map across the various touch points of your brand.
Touch points occur whenever and wherever a consumer comes into contact with your brand. Each one represents a chance for clear communication. By taking time to really consider the many, many touch points that exist within your customer journey, you can ensure that each one is optimised with regard to branding.
Every touch point represents an opportunity to win your audience over, and strength your brand's identity. Here are just a few examples of touch points within an ecommerce brand's buyer journey. In the context of online retail, they fall into three clear stages:
Before purchase
Paid advertising
Blog posts
Social Media content
Product reviews
During purchase
Website
Marketplace listing
Interactions with support
After purchase
Invoices
Unboxing experience
Communications
Requests for feedback
Loyalty programmes
There are really no limits to the number of touch points you can identify and customise to perfectly reflect your brand's unique character and personality.
As a result, it can really help to audit your touch points; carefully working your way through the customer journey to identify each stage, and noting where there's room for improvement. We asked Mike Kus how he approaches this challenge when working to help a client apply new branding across their business.
"When a client says they want everything, I have a standard list of touch points that I offer to cover. I tend to start out with the logo design and then work to build things out across various media; print, web, packaging, anywhere else when its needed. Right down to email footers. It's a collaborative effort between myself and the client."
Create Buyer Personas
Now that you've mapped out all the various ways that your customer might experience your ecommerce brand, it's time to map out… the customers themselves.
Operating within the digital space, ecommerce is an unusual form of retail in that we never really see our customers. Data, however, starts to paint a clear picture of the audiences that are enjoying our products.
To help make your customers that little bit more tangible, and to help concentrate your branding efforts with a presumed knowledge of their likes and dislikes, habits and interests, it can really help to create some buyer personas.
These are fictional representations of your customers - archetypes that help you to apply some generic assumptions that will better focus your efforts at pleasing your niche.
Start by digging into your data; look for patterns and averages. What are the common themes that start to emerge? It can also help to survey or interview your customers - learn more about what makes them turn to your brand over the competition, and what keeps them loyal?
Depending on how complex and broad your offering is, you might find it helpful to build up several buyer personas. Each one should typify a certain type of person who commonly buys from your brand.
There are plenty of tools available online to help you build up these persona profiles. Hubspot offers an intuitive and visually appealing generator which will walk you through each stage of creation, step by step.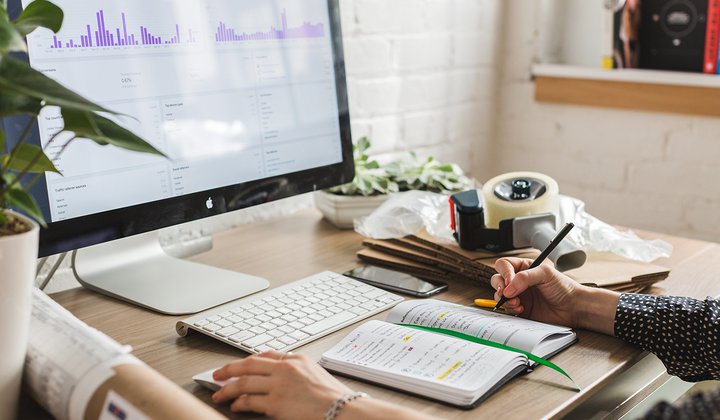 Start by digging into your data; look for patterns and averages
As you build out your personas, you'll want to think about more than demographic details such as age and gender. Consider things such as common problems they experience (and how your brand can help solve these.)
By taking this holistic approach, you'll be able to better target future marketing, copywriting, product choices and much more. Most importantly, you'll know that your branding is perfectly tailored to delight and align with your ideal customer.
Define Your Brand Voice
You've learned about your ideal customer, and you've mapped out the touch points which give you the chance to impress them with your brand. You know the "who" and the "where" of your communication strategy. Now it's time to decide on the "how".
This is where brand voice comes into play. Your business should have a clear and recognizable tone, that is used in all places of communication, from your product descriptions to your Instagram captions, your email marketing through to the automated replies on your phone system.
When it comes to brand voice, consistency breeds trust. When there's no familiarity to the way a brand communicates, it feels jarring, even unsettling for a customer. By defining exactly how your brand "speaks" you'll find copy and content creation becomes a lot easier, as you develop a recognisable style that swiftly becomes second nature.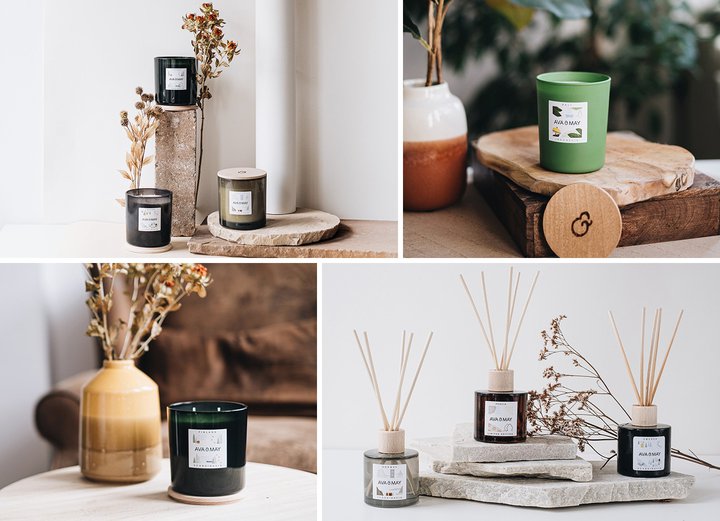 Ava & May's product photography defines their voice and brings the feeling of familiarity
Not sure where to start when it comes to exploring this critical element of your business' brand? We've prepared a handy guide to developing your, covering everything you might need to know.
Define Your Brand Identity
As we discussed earlier, identify and brand are two separate considerations (although closely interlinked.) When it comes to outlining your identity, we're in the realms of physical representation - your logo, color palette, textures, icons, typography and more. All of these elements go towards making up your "brand bible" – a set of clearly defined attributes that will help you achieve consistency across the board.
Ecommerce occupies an interesting space when it comes to brand identity, as so much of our business is conducted in the digital realm. Of course, physical products do eventually materialize (if shipping all goes to plan!) but all of the interactions a customer will have had up until that point are virtual. Because of this, it's incredibly important to ensure that the presentation of your brand is setting the tone, and giving your customers the best impression. This consistency builds trust, and trust is what brings conversions.
Let's explore some of the critical elements as you build out your brand…
Designing The Perfect Ecommerce Logo
We hear it time and time again: your logo is not your brand. And yet, as a single element of your branding, there's little else that could be said to carry as much responsibility.
Logos communicate the heart and soul of a brand. The style and character of your logo will need to represent the essence of your business. Whether you're cutting edge, traditional, youthful or rebellious, a good logo provides your calling card.
When choosing a logo, often simplicity is key. A logo that can be pared down to its most basic elements, whilst remaining recognisable at all times, is one which will stand the test of time, and give you the most flexibility across all mediums.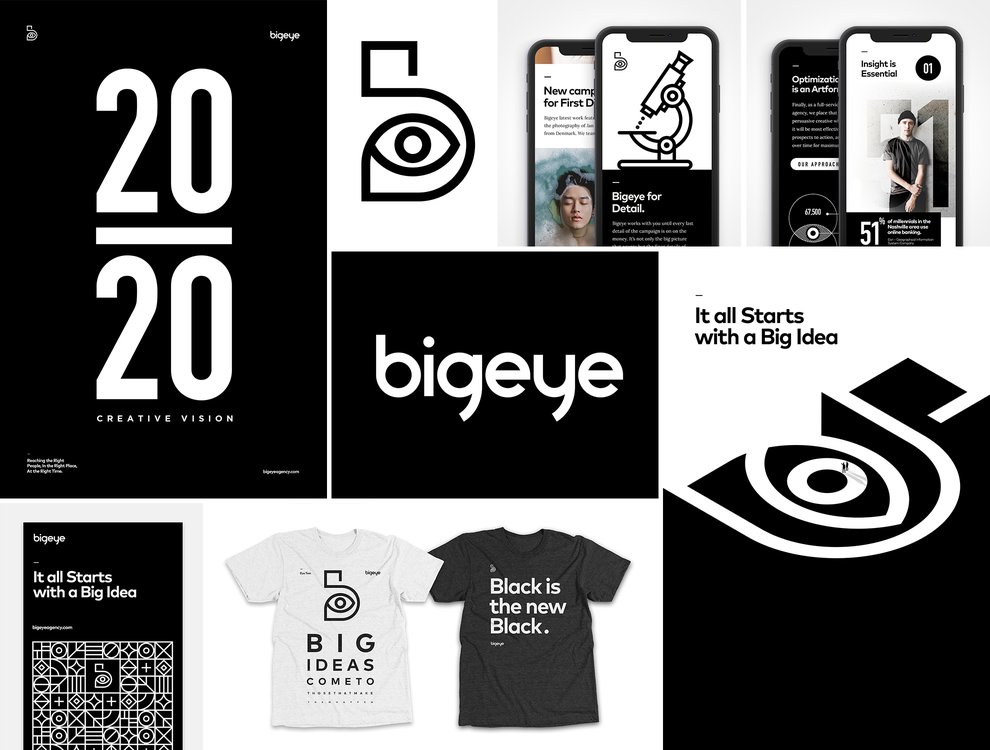 Looking at Mike Kus' recent work for Big Eye, it's easy to see how the graphic logomark lent itself to subtle variation across lots of different formats, while remaining identifiable at all times.
Chances are, you'll go with a pro for your logo design, but for those looking to get creative themselves, we've put together some helpful logo design tips to ensure you get the most out of an online logo maker. These generator tools are always improving, and while you'll need to keep a few key factors in mind (beware of copycat designs…) they're worth playing with, for the inspiration alone.
Picking Suitable Typography
Again, as ecommerce brands, we face a very specific set of design challenges when it comes to typography. The world of print sets some fairly clear parameters around what you produce: the page will stay the same size, and the colours will be true.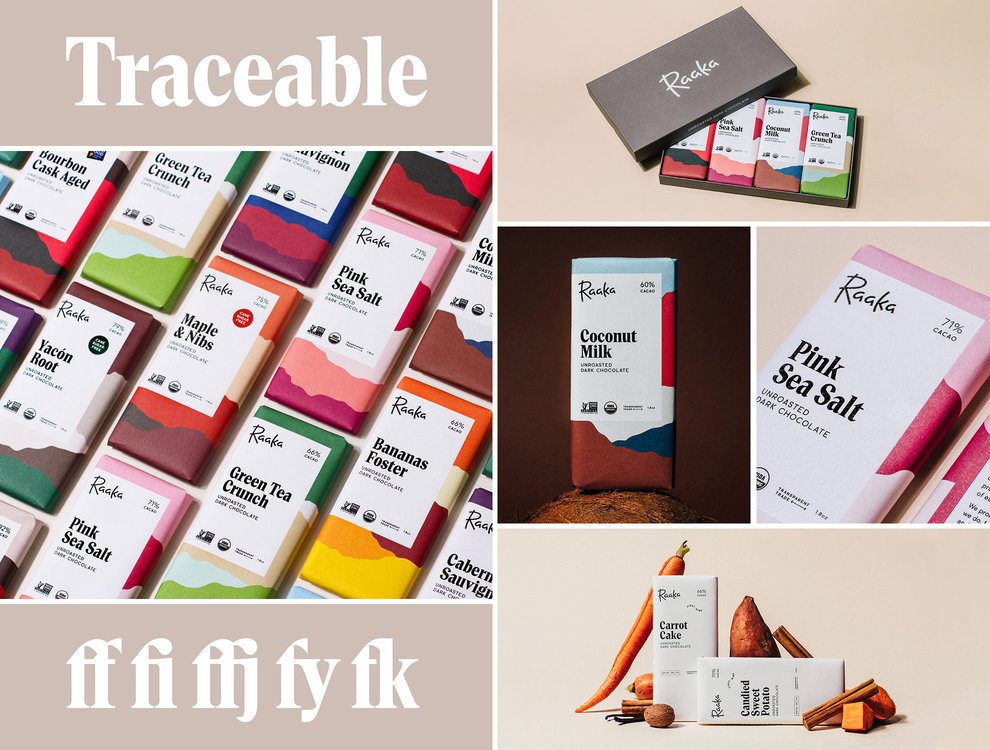 Alku, Raaka's custom typeface used across the packaging design of their product
On a digital screen, we have none of that certainty. Screen size, calibration and resolution will all impact the way that our typography is reproduced, and because of this, it's important to follow some guidelines for best practise when choosing the typography that will represent your brand online (and of course, into the offline world via packaging, documents etc.)
When choosing typography for your ecommerce store, try to keep to three fonts or fewer. These should be used consistently throughout your branding, on and offline. This extends to the communications and documentation (including beautifully designed invoices) that you send.
Packaging and Unboxing Experience
Unboxing is the exciting point at which the ecommerce experience crosses the digital divide! It's a moment when expectations are met, exceeded or broken - and the care a retailer puts into the package that is received has a big role to play.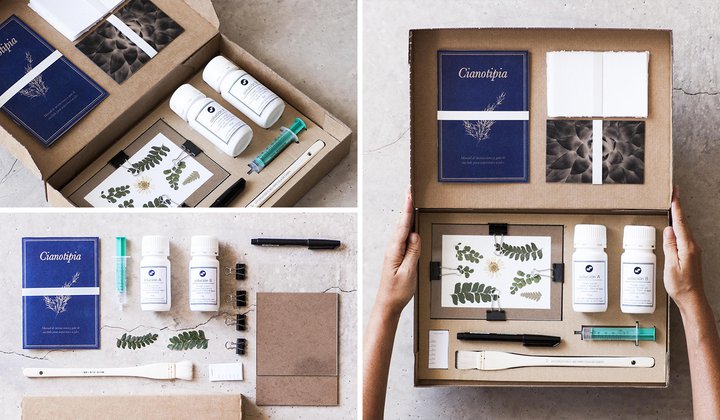 Fabrica de Texturas and their DIY kits — You want to get creative just for the unboxing experience alone.
If you're looking for ways to create the perfect unboxing experience for your online store, look no further. From unique, well branded materials through to the thoughtful inclusion of a handwritten note or small free gift, there's a lot you can do to maximise the brand impression you send out with every order.
The Expert Touches
As we all know, ecommerce is a crowded game. As the competition grows, standing out has never been more important.
A properly considered brand experience does more than just get you noticed; it gets you trusted and remembered. Attention to detail really counts, and so when it comes to the elements of your business that are ubiquitous, such as invoices and packing slips, it really pays to put some extra care and effort in.
Go above and beyond with beautifully designed invoices, delivery and credit notes that reflect the true nature of your brand. If you're looking for a consistent, truly impactful ecommerce brand experience, then Sufio can help.
Time To Get Creative
Whether you're selling the latest trends or more mundane day to day essentials, ecommerce gives you the chance to inject character into every transaction.
"The fun thing is that, no matter what business you're in – B2C, B2B, whatever it is – all of these touch points are an opportunity to remind people of your identity and your personality."
Take time to reassess your touch points, identify the areas in which you could be sprinkling a little more brand magic, and enjoy the increased custom, conversion and celebrity that comes with a truly consistent and beautiful ecommerce brand experience.