How to Select the Perfect Colors for Your Brand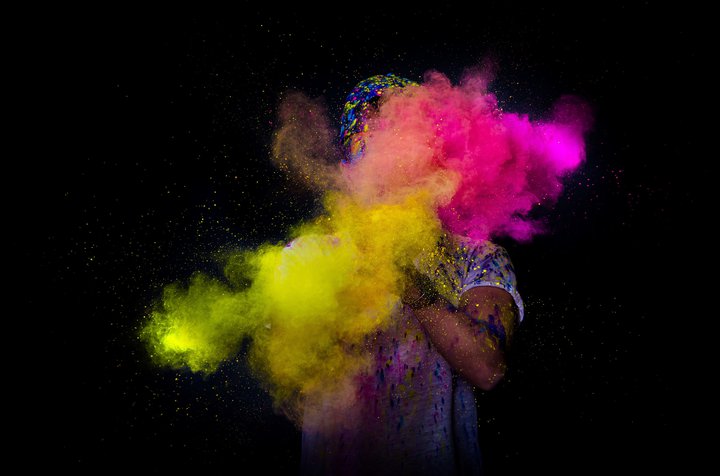 Why is a brand's visual identity important?
Today's market is saturated with products. Everything is more accessible than ever. Price comparison sites help people find the best deal. And yet, people don't just go for the cheapest option.
Why?
Because it's the brand that sells the product, not the other way around.
But no one said building a brand identity was simple.
There are many things to take care of: business name, website and product design, a captivating logo, the right tone of voice, an intriguing mission, your own style of photography; all intertwined in a concept called brand personality.
You can distinguish a striking brand from a bad one simply - all the elements of quality brands flow together and create a consistent experience. With ''bad'' brands, everything is all over the place.
What does your brand represent?
Is your brand:
Personable and friendly, or corporate and professional?
Spontaneous and high energy, or carefully thinking and planning?
Young, modern and high tech, or classic and traditional?
Cutting edge or established?
Fun or serious?
Accessible to all or upscale, premium?
More feminine, masculine, or neutral?
It is not always one or the other; it's normal to be on a spectrum.You can get even more specific about your brand with the following questions:
Who is your ideal customer?
How do they communicate, what captivates them?
How old are they, what's their job?
What's your brand personality? (You can't be everything to everyone.)
If you had to describe your business idea in three words, what would they be?
Try to pick out some keywords to describe your brand's values and ''feel''. Here are some ideas:
Achievement-oriented, authentic, adventurous, authoritarian, balanced, beautiful, bold, compassionate, challenge-minded, competent, creative, edgy, daring, fun, feminine, joyful, honest, kind, just, knowledge-oriented, leading, masculine, optimistic, peaceful, pleasure-focused, poised, popular, recognised, respected, service-oriented, spiritual, trustworthy.
If colors could speak
Did you know that certain colors invoke certain emotions? Moreover,
color increases brand recognition by up to 80%
.
If we loosely linked colors to key words, it could look something like this: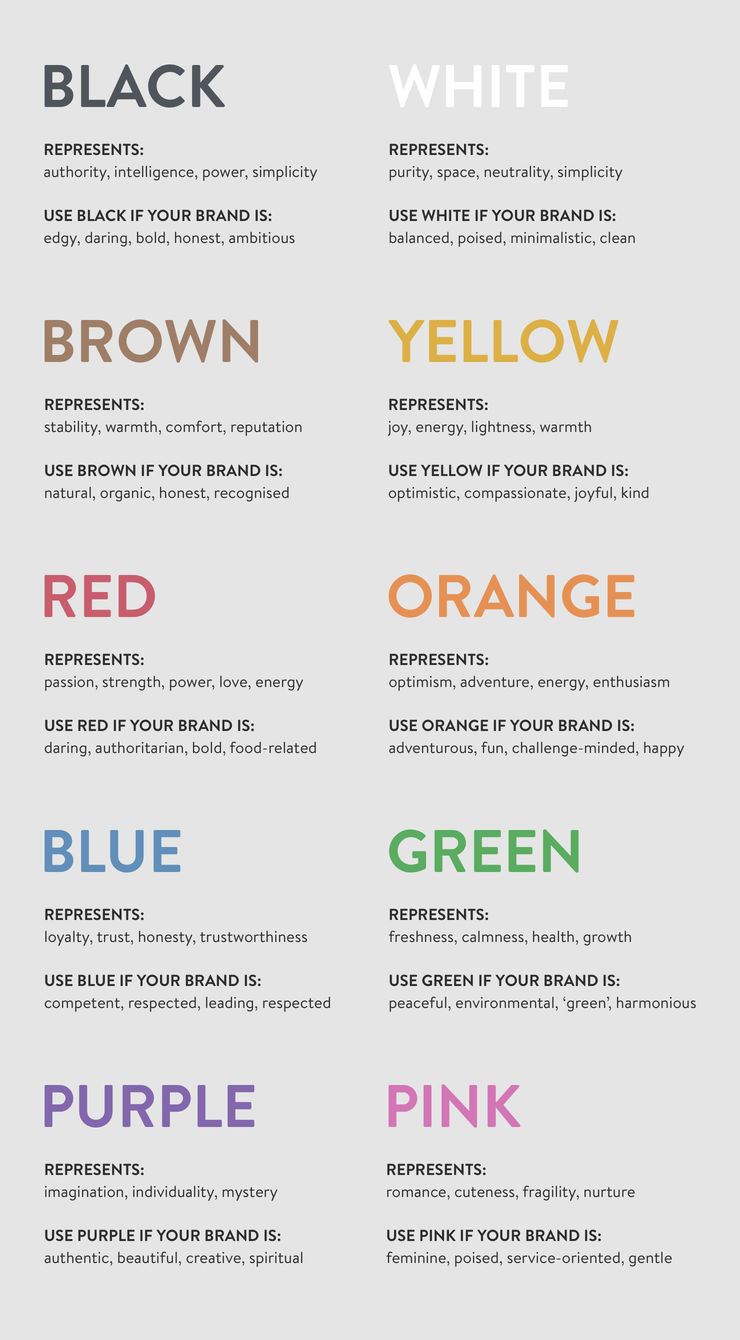 Arriving at that perfect colour for your brand means you'll be able to send a consistent message to your audience through your logo, web-design, invoice design, product packaging and much more. The key is to stay consistent throughout your emails, social media, and web copy, too.

The magic in creating a consistent visual identity
Brands that impress use their signature color palette across their logo, fonts, marketing materials and ad-hoc designs.The key is not to miss the details that may seem insignificant, such as having a matching email header or beautifully designed documents.
Many companies miss out on using their formal documents and invoices as a branding tool. Not only do they miss the opportunity to differentiate their brand; they miss out on helping the client form a positive opinion about the quality of the brand and the purchased products.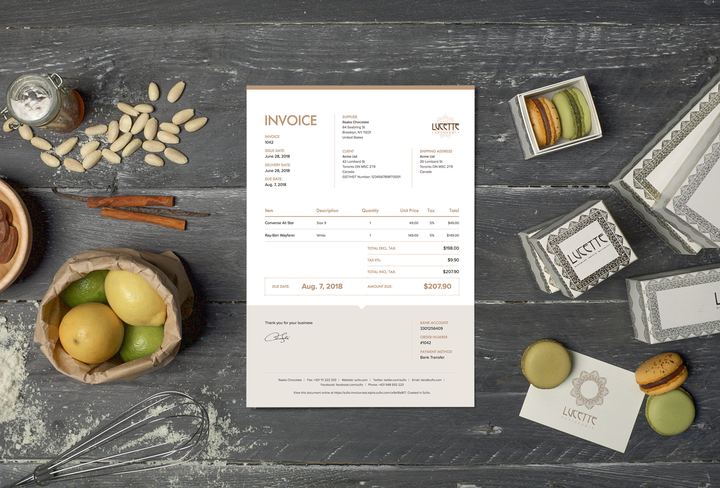 Patisserie Lucette draws people in with their delicate, elegant use of coloring on their packaging, logo and branded invoices.
The sweet almondy-caramel tones of their chosen brand color represent warmth, pleasure and chocolate; together creating a balanced aesthetic leading to an elegant customer experience.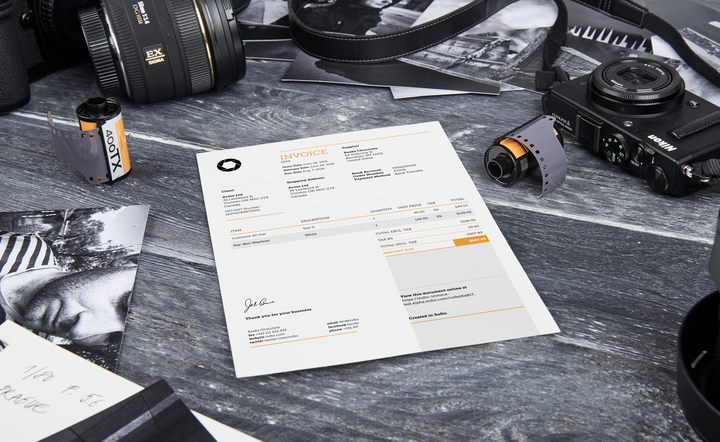 This fictional photography studio steals the show with their minimal design; crisp, yet funky pops of color and a complementary color palette.
Their chosen color scheme combines simplicity and structure, which give a feel for the brand's quality, with orange symbolizing adventure, fun and a bit of excitement. Wouldn't you order from them again?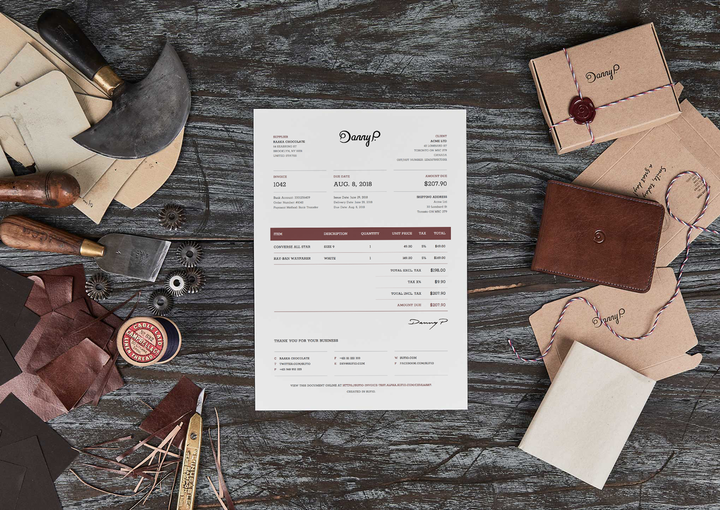 Danny P, the minimal leather goods brand took a well-calculated bet on the color brown in their brand identity; symbolizing natural leather, stability, comfort and lasting quality. All their brand elements, including product packaging, create a consistent, tailored, hospitable experience.
Final thoughts
While the impact of design and colors on sales may not yet be a science with hard evidence, it doesn't have to be.
When shopping online, perceived product quality is almost as important, if not more important than actual quality - something that can be greatly influenced by good design and the right choice of visuals.
Our Shopify Guidebook 10 Branding Secrets for Online Stores talks in more detail about how to master brand consistency through product packaging, content marketing, pricing and much more.
Let Sufio automatically create and send beautiful invoices for every order in your store.