How To Develop A Recognizable Brand Voice For Your Ecommerce Business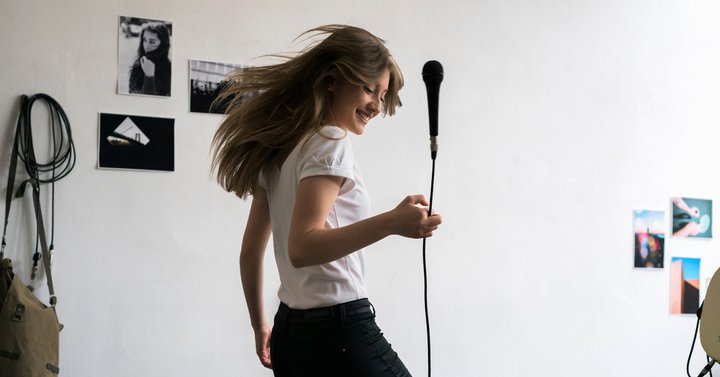 We all know that branding is an important element of our ecommerce store's success. For many online retailers, this begins and ends with visual presentation; a well designed logo, an icon set, a beautiful colour scheme.
But the brands doing the best work here understand that it's not enough to just pick the perfect font. You also need to pay close attention to the words that font is presenting. Your brand voice is a hugely powerful asset when it comes to making the right impression.
This article will help you understand, define and develop yours…
What is brand voice?
Simply put, your brand voice is the personification of your brand. It's what you say, and how you say it. The tone and attitude that you adopt when speaking "as your brand" in all official communication is what makes your business recognizable. By leveraging a clearly defined brand voice, you breathe personality into your business.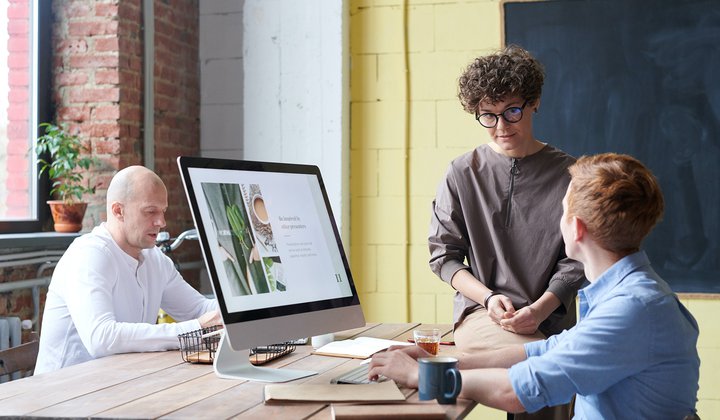 The "tone and attitude" of your brand makes your ecommerce business recognizable
A well-developed brand voice is especially important for ecommerce brands. Without the ability to meet and greet customers in person, creating the perfect atmosphere to welcome them online is crucial.
We spoke to the founder of specialist content agency, Kollectify, Krissie Leyland;
"What is it that makes you fall in love and buy from a brand? Just think about that for a few minutes. What is it that makes them stand out from everyone else selling the same product? I bet it's not the product, I'd guess it's the message and the story behind that message.
Well, that message is spoken through your brand's personality and unique voice. And this is conveyed through the words and design that a brand chooses to use consistently throughout their online presence."
By working with a set brand voice when creating copy or content for your ecommerce brand, you also ensure consistency across your customer experience.
As omnichannel becomes the new norm, it's important to create a brand voice that remains familiar, whatever the context or setting.
Are you sophisticated, down to earth, relatable, funny, exclusive? The words that you use to communicate both directly and indirectly with your customers are helping them form an opinion each and every time they interact with your brand.
How to explore your brand voice
If you're not already working with a clear brand voice, you might like to start defining one. This will look a little different depending on how well-established your ecommerce brand is.
For brands at the start of their journey, the world is your oyster! Deciding at this early stage how you want your brand to sound will help you develop a real consistency as you build your online empire.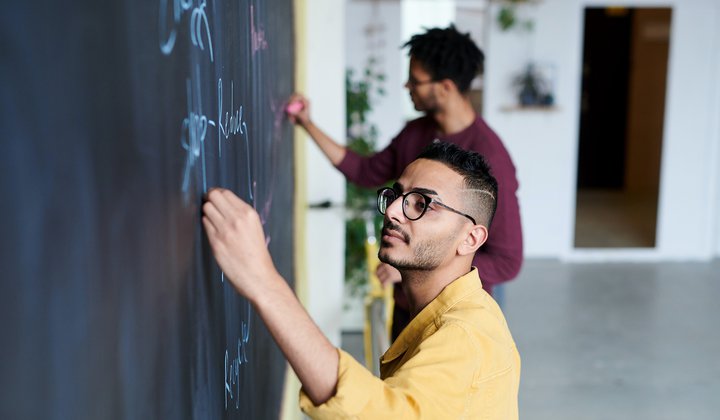 Exploring your brand is vital to building a recognizable brand voice
For brands which are already established, the chances are you've naturally fallen into some kind of brand voice over time. This will typically reflect the values and audience that you've built upon up until this point. In cases such as this, you're not looking to reinvent the way your brand speaks. Instead, you're exploring, refining and carefully documenting the voice that you've developed over time.
For established and establishing brands alike, following these five steps will help get you on the path to mastering your brand voice.
Step 1: Audit Your Existing Content & Copy
Take some time to explore the way your brand has communicated up until this point. Chances are you'll have different people creating the copy across various channels, from social media through to your email marketing, product descriptions and your blog posts.
Because of this, without a clearly defined brand voice, there's a chance that several subtly different voices are present within your current copy.
Decide what works best. Which defines your brand's attitude and values? What currently lands best with your audience? Where do you see the most favourable responses, interactions and engagements?
Step 2: Speak To Your Customers
Assuming you're already online and selling, what do your existing customers think of your brand? What impression have you already made? Take a little time to survey your most engaged and loyal customers to understand the way they view your business at this point in time.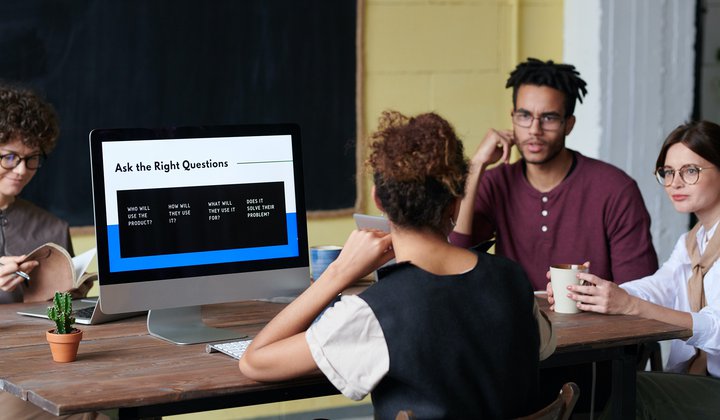 Ask your customers the right questions to help you understand the way they view your brand
You can do this by asking for the adjectives or values that they think most clearly align with your brand. It can be helpful to include a list for them to select from, as well as giving them the opportunity to tell you in their own words.
This insight will give you a much better understanding of the results your current brand voice is cultivating. Want more of the same? Excellent; let's get that brand voice defined and down on paper! Wish you were landing a little differently? No problem, this is where brand voice can be tweaked, to give you the results you really want.
Step 3. Define Your Brand's Core Values
Ultimately, brand voice is built around your core values. It communicates the attitude and beliefs that your brand upholds and promotes. Define these, and you can define your brand voice.
Long list your core values. What does your brand really stand for and represent? Are you inclusive? Supportive? Adventurous? Peaceful? Youthful? Irreverent? Expert?
Get as many people from your business as you like involved here; everyone's impression is valuable. As you "long list" the values that you believe your brand reflects, you'll start to see some common patterns emerging. As this happens, you can refine the list down to three or four key values. These will guide your brand voice.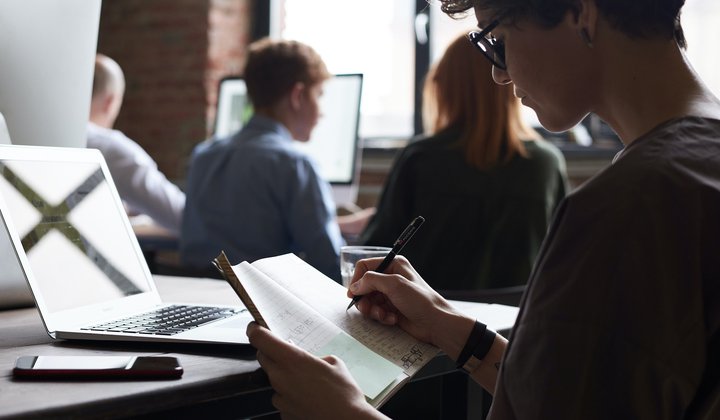 "Long list" the core values of your brand and define what it stands for
Step 4. Build Out Your Brand Values
Now that you have your core values, it's time to explore how they make your brand sound.
For each value, you can think about the following:
What does this value mean with regard to your brand?
What doesn't this value mean with regard to your brand?
How does this value make your brand sound?
Here's an example:
Acme Yarn, a fictional online store selling high-end, organic yarn for home knitting.
Key values: creativity, sustainability, community.
| | What this means | What this doesn't mean | How you sound |
| --- | --- | --- | --- |
| Creativity | You share the passion and excitement that your audience have for their craft. You know that your product represents something emotional to them; it will be used to create items that are treasured for a long time. You respect their investment in your product over cheaper alternatives. | You're only inspired by your customers' creativity - you're also committed to innovating as a business, producing products that are always improving. | Invested in how knitting with your products makes your audience feel. Genuinely interested in the creations they produce using your yarns. Respectful of their talents, and of the heirlooms they create. Excited by the transformations they achieve - and by the endless potential your product represents. |
| Sustainability | You place real importance on the sustainability of the products you produce. You recognise your responsibility as a business in this area. You respect your customers' concerns with regard to concious consumerism. | You prioritize environmental concerns over quality of your product. That some kind of trade off has been made to achieve a more sustainable product. | Up front and clear about all aspects of a product's environmental impact. Fully transparent. Humble and willing to learn. Committed and passionate. Hopeful. Transparent. Straight talking. |
| Community | You recognise the importance of knitting to your customers' lives - you have a deep respect for the positive, transformative impact that knitting can have on people. | You create a sense of exclusivity, that your top quality yarn is only for the best and most talented knitters. | You portray your product as something to be used not by "special people" but instead for the really "special projects" in a person's life. You're supportive, inclusive, helpful and willing to share, educate and empathize. |
In addition to helping define your brand voice, taking the time to fill out a grid like this will bring real illumination to your understanding of what your brand stands for!
Step 5. Draw Up A Summary
Now that you've explored the values that your brand should be conveying whenever you communicate, it's time to pull everything together into one defining document.
This documentation be shared with everyone who writes on behalf of your brand – whether they are staff, contractors, interns or freelancers!
How you craft this document is up to you, but you might like to include the following:
Voice: What your brand says.
Tone: How your brand says it.
"Everything that our brand writes should sound…" summary.
"This, not that" examples.
So, for our fancy yarn store…
Acme Yarn Brand Voice
Voice
Our product is always positioned as something special - we focus more on the emotional connection people have with their projects than the projects themselves.
We are actively interested in our customers' creativity, celebrating them and their achievements.
We are fully transparent in terms of our practices, open and always learning.
We are always direct and quick to respond.
Tone
Assured, respectful, friendly: writing in an active tone and avoiding passive language.
Knowledgeable, dependable: we convey our expertise without being reliant on jargon or sales language.
Aspirational: but encouraging, not exclusive. No cliques here, just really good yarn!
Everything Our Brand Writes Should Sound
Caring: "This store really cares that I get a wonderful product, that is both sustainable and high quality."
Human: "A real person wrote this. I think I'd like them, they seem friendly and approachable."
Empathetic: "This brand understand why I love to knit. They respect the tradition of this craft."
This, Not That Examples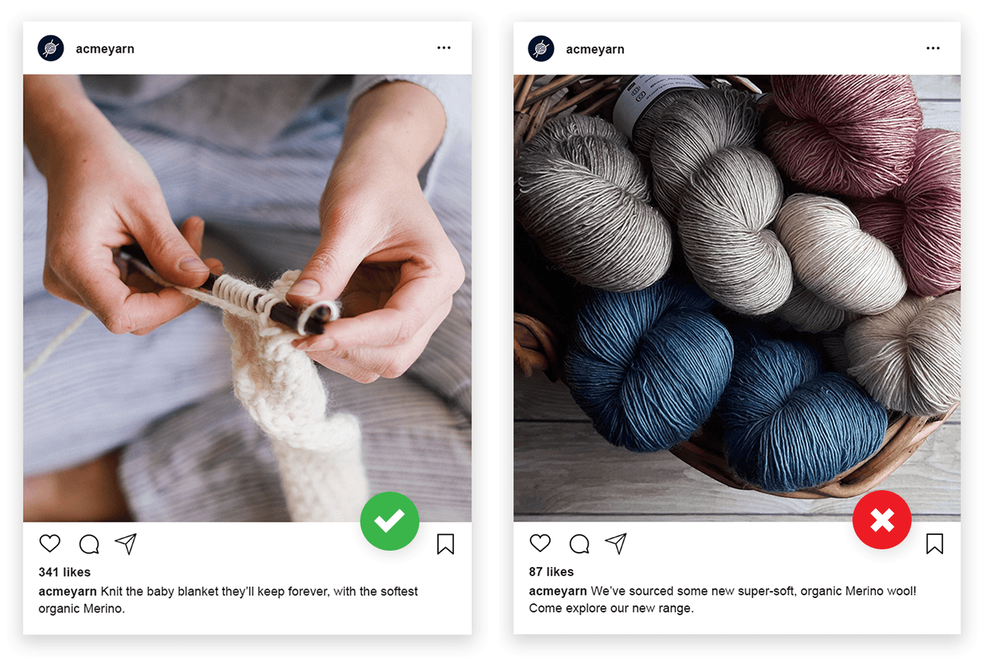 Focus on project, not product

Genuinely invested / interested in broader customers' experience, lifestyle and creativity
In conclusion…
Consistency is key to creating a coherent and professional brand. You want to ensure that your brand voice is on point across all touch points (store, communications, social media, documentation) and brand voice is a pivotal component of this.
Clearly defining your brand voice is especially helpful if many people write copy on behalf of your brand (either from within your organisation or contractors / freelancers.)
Although it requires some work, ultimately, brand voice documentation should make it much easier, not harder for people to write in the correct style.
Taking a little time to reflect on how you want your brand to sound and come across is a really helpful exercise that can give you a great insight into the mission and ambitions underpinning your brand. Brand voice is a really powerful tool for ecommerce retailers to utilize. If you haven't already defined yours, we hope this article has inspired you to make a start!