When you're running a Shopify store, or indeed, a business of any kind, having your documentation set up correctly is essential. This includes your invoicing, which is a vital part of any business.
We will look at five main reasons why creating and sending invoices is important.
Legislation requires the owners of online stores to have careful control of their bookkeeping, including keeping a record of all financial transactions for a period of several years. Additionally, your customers might need the same for their accounting and tax purposes.
By keeping your invoicing comprehensive and consistent, you'll never struggle to produce documentation upon request.
We all love to get paid, and it's even better when it's on time. Setting up your invoices correctly and sending them to customers on time is a sure way to getting paid faster.
Using Sufio, you can connect your account to a payment gateway and let your customers pay their invoices online for orders not paid at checkout. Sufio can also help by automatically sending reminders for invoices that are past their due date.
If you're selling to business customers (B2B), you're obliged to issue a proper invoice containing specific information. This can include your customer's tax identification number and other specific details your government or customers may require.
Sufio can help you capture and validate VAT or GST numbers from your business customers and automatically set customers as tax-exempt in your online store.
Your invoices can include purchase order numbers because some businesses require them to help reference the transaction processes from start to finish. This feature also helps to quicken the process of your invoice getting approved.
One of the greatest advantages unlocked by ecommerce is the possibility to sell worldwide. However, different countries have different regulations, and some legislation requires detailed invoices that include international customs information such as HS codes and the country of origin of each item sold.
Sufio invoices are compliant with legislation in over 50 countries worldwide and available in more than 40 languages. Thanks to that, you can focus on more important matters and expand your business.
A great invoice does more than simply provide the necessary record of a transaction. It also represents an important touchpoint with your customers. By paying attention to the design of your invoice, you can keep your brand consistent and trustworthy.
With Sufio's professionally designed invoices that match your brand's image, you can keep everything looking seamless with minimal effort.
On top of that, having all of the required information on your invoice already will let you meet the requirements for your accounting needs, making it a hassle-free process with your tax authorities.
Many online store owners think it's enough to send receipts for their online purchases. However, there are some significant differences between a receipt and an invoice.
A receipt is simply an acknowledgment of payment and contains only minimal information.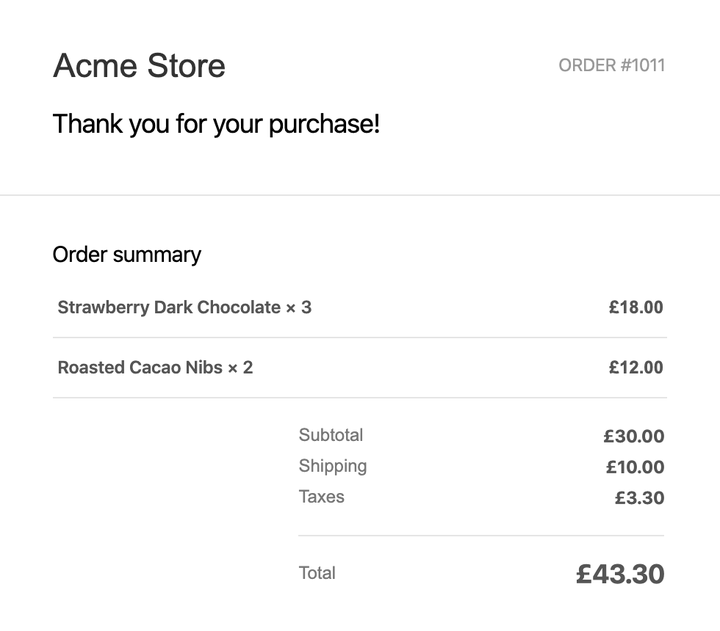 Example of a receipt in a Shopify order confirmation email.
An invoice provides the customer with an itemized account of everything they're buying, including a full breakdown of taxes, clearly stating how much is being charged.
On top of that, both the supplier's and customer's business details are added to the invoice. This includes important information like the address, contact information, VAT registration and business identification numbers.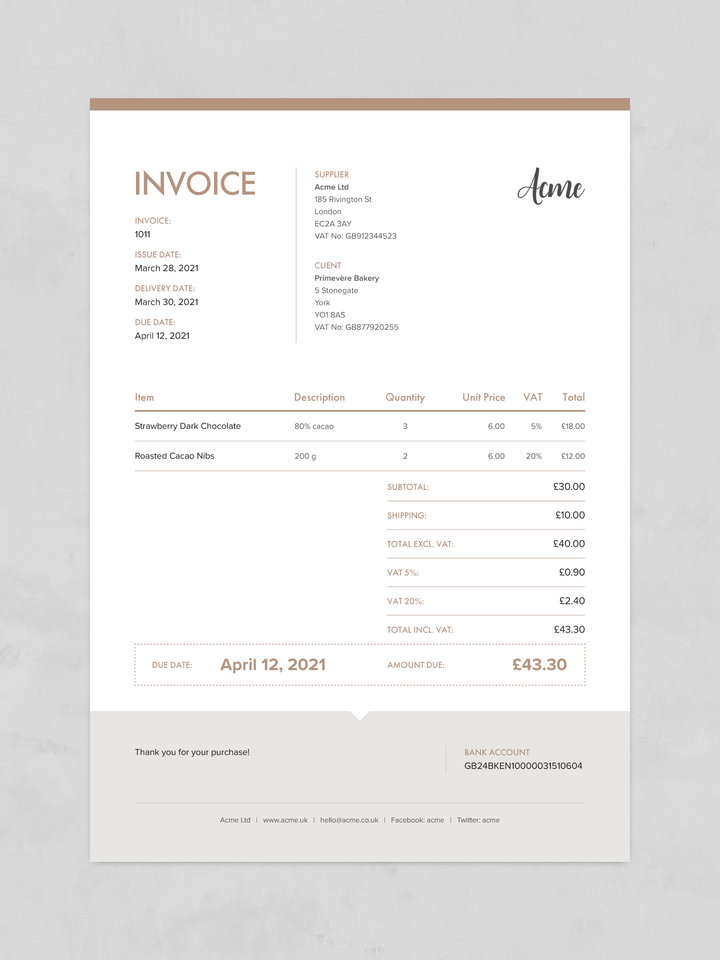 Sufio invoice with a full VAT breakdown
As we've learnt, invoices are a pivotal part of any business. This is why placing importance on this document will help you and your business in the long term.
Sufio will help you take the stress away from setting up this process—by creating simple, well-designed and accurate invoices. Sign up for our 14-day free trial and discover how well Sufio fits into your business.