If you run an online store it is important that you create and send invoices to your clients. Wondering why? Read on. 
Why are invoices important?
There are five main reasons why creating and sending invoices is important:
Selling internationally
The possibility to sell worldwide is the biggest advantage of having an online store. Different countries have different regulations and some countries' legislations require proper invoicing. Sufio invoices are compliant with legislations in over 50 countries worldwide and available in more than 25 languages.
Selling to businesses
If you're selling wholesale, you are obliged to issue a proper invoice to your client. Also, these businesses are typically tax-exempt, meaning they should not charge tax on a product purchased by wholesale customers. Sufio captures VAT/GST numbers from businesses and automatically sets them as tax exempt.
Record keeping
In many countries, legislation obliges online store owners to have their bookkeeping straight and to keep record of all their financial transactions. Moreover, your clients might need the same for their accounting and tax purposes.
Getting paid faster
Invoices allow you to get paid sooner and provide an easy way for your customers to pay you. In Sufio, you can connect your account with a payment gateway and enable online payments of invoices. You can also automatically send reminders for invoices that are past their due date.
Professionalism
By sending out invoices, you appear more professional in the eyes of your clients. Invoices include all the information your customers might require for their accounting and are the best way to make sure neither you nor your client run into trouble with tax authorities.
Invoices or receipts?
Many online store owners think it is enough to send receipts for their online purchases. There is quite a big difference between a receipt and an invoice.
A Receipt is simply an acknowledgement of payment and contains only very limited information.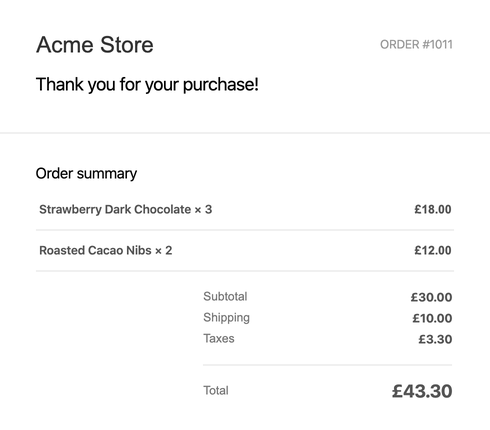 Example of a receipt in Shopify order confirmation email.
An Invoice provides the customer with an itemized account of what they're buying and how much they're being charged. On top of that, an invoice includes information on taxes and shipping and shows both supplier's and client's business details.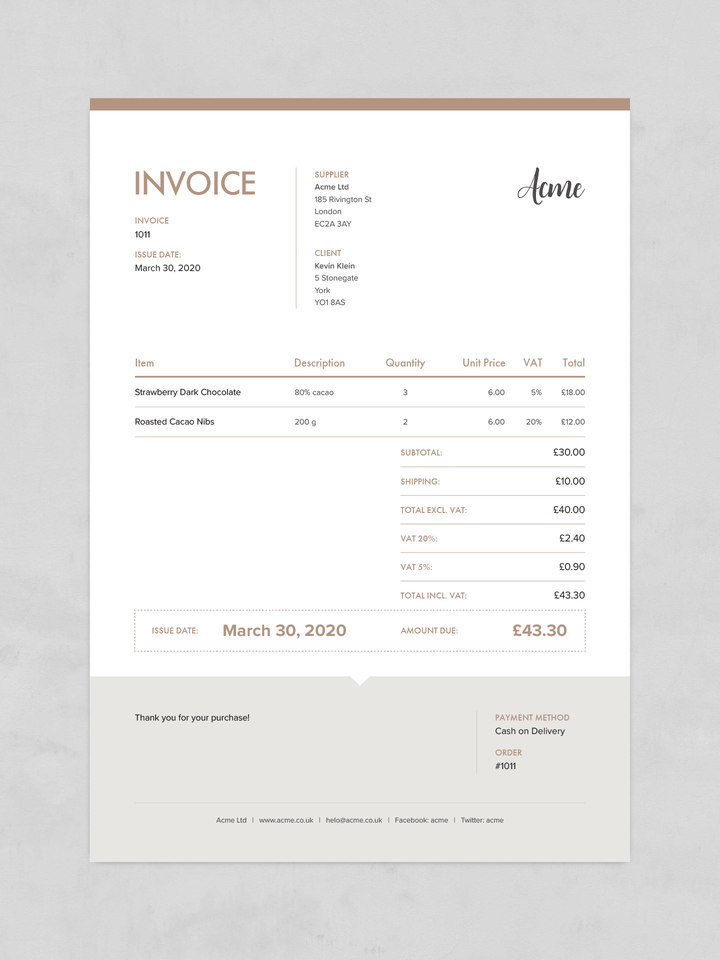 Sufio invoice with a full VAT breakdown
Sufio creates invoices that contain all the necessary details. Sufio invoices are automatically created from orders in your online store, are available in more than 25 languages and are compliant with accounting legislation worldwide.