In some countries or when selling internationally, it is required that invoices include the Customs information values like HS (or HSN) codes and Country of origin. In this article, you'll learn how to include them on all your invoices that you create.
HS (Harmonized System) codes are maintained by the World Customs Organization. They categorize products into 21 main sections, which are subdivided into 96 chapters. Each chapter is then split into several headings and subheadings.
COO (Country of origin) values represent where a specific product comes from—the place of manufacture. Sometimes COO values are used for marketing purposes; however, when cross-border selling, this information may be required to be indicated in the export/import documents or governmental submissions.
Note
If your online store is based in India, you should include HSN codes, also known as ITC-HS codes (Indian Trade Clarification) on all invoices you issue, to be compliant with the GST legislation valid from July 1, 2017.
Based on the HSN code, products are then taxed at one of the five GST rates (tax slabs) - 0%, 5%, 12%, 18% and 28%.
Add HS (or HSN) codes and Country of origin (COO) to your products
To include HS (or HSN) codes and Country of origin values for your international customers in your invoices, you need to edit your product details.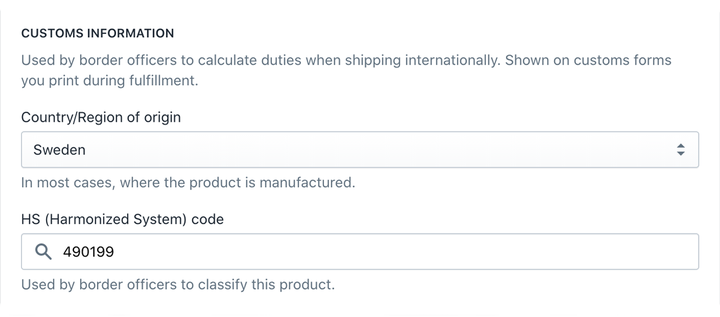 Adding a new HS (or HSN) code into HS code field with Country/Region of origin value
To add the HS (or HSN) code and Country of origin value to a product:
In your Shopify Admin, go to the Products page.
Click on the product you want to edit.
Scroll down to the Shipping → Customs information section.
Enter the HS (or HSN) code with the Country of origin value.
Then, click Save to save changes.
You can also add HS code and Country or region of origin to your products using the bulk editor or import them with a CSV file.
Once you fill the Customs information values in your Shopify store, please, get in touch with our experienced support team to finish the setup in your Sufio account. These values will then be displayed on your newly created invoices in the Description column.
Caution
Customs information as HS (or HSN) codes or Country of origin values are only available in our Standard or higher plans. To help you set them up, please contact our support. We'll be happy to help you!