5 Ideas for Top-Notch Thank You Emails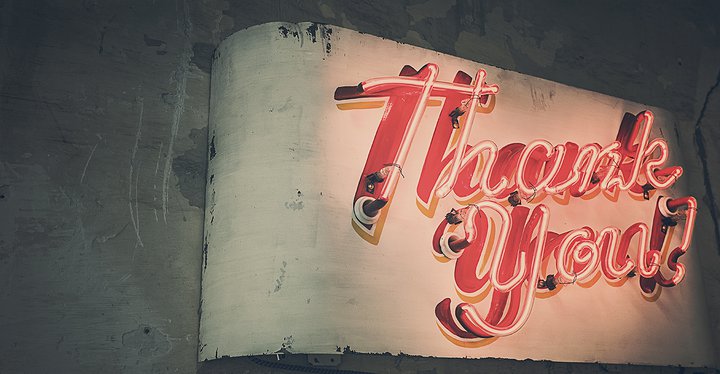 Do you say "Thank you" to your customers after they purchase at your store? 92% of businesses that send post-purchase emails saying thank you to their customers agree that this kind of email is effective. Why don't you send them as well and see whether it works for your business or not? Here are some ideas about how to prepare top-notch thank you emails.
Before we start
Thank you emails are also known as post-purchase or order follow-up emails. They are sent immediately after a purchase is completed and belong to the automated ecommerce email family. Before you plan your automated thank you email, check if your email service provider has the technical ability to send them. If yes, great. If not, find a provider that can.

5 Ideas for Top-Notch Thank You Emails
The main benefit of this kind of email is that it allows you to show appreciation to your customers. It also allows you to recurrently interact with them. In this way, you add value to your brand. Positive feedback will reinforce positive customer feelings about your products.
1.Send a thank you email and add your customer support details.
Order follow-up emails do not have to be long. They may contain your usual email menu bar, great visuals, a short copy and contact information. A good example is the thank you email sent by Crate&Barrel.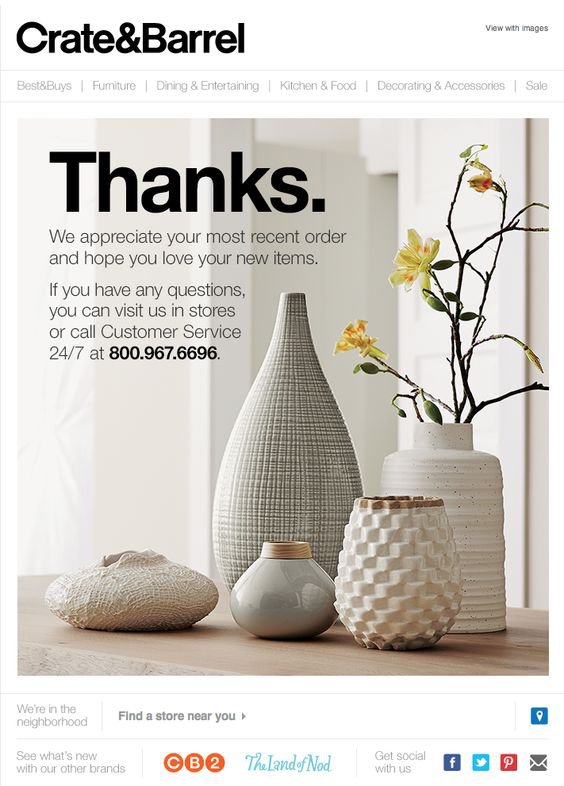 This email does not have clear call-to-action buttons, so customers will open, read and close it immediately. On the other hand, with this email Crate&Barrel confirm the order and their customers can relax because they know how to reach customer support if something goes wrong.

2.Say "thank you" and attach a receipt.

One more idea to add to your follow-up email is an invoice. Many small business owners dread sending invoices and receipts. However, if you are going to sell to other countries, or other companies, this is necessary.
Omnisend
and Sufio users find sending the invoices easy. Following a recent integration,
Omnisend ecommerce email marketing tool
allows you to drag and drop the button to the Sufio invoice seamlessly. No HTML knowledge is needed, so there is no chance of making a mistake – it's easy and clear. You can see in the example below how it looks.

3.Say "thank you" and invite customers to connect on social media.

Kill two birds with the one stone. Order follow-up emails can be great for gathering new followers to your social media. Customers are happy after a purchase and will be more likely to follow you on social media if you ask them to.
Include big and clear call-to-action buttons linking to your social media accounts. In this way, you will attract new followers and be able to reach them through different media channels, which is great for remarketing.
Look at the example below. Shop Shizzap has a short minimalistic
email design
. This email has only a short "thank you" message and colorful social media buttons which are very visible on the black background. However, I would suggest adding a short message-invitation to join Shop Shizzap on social media.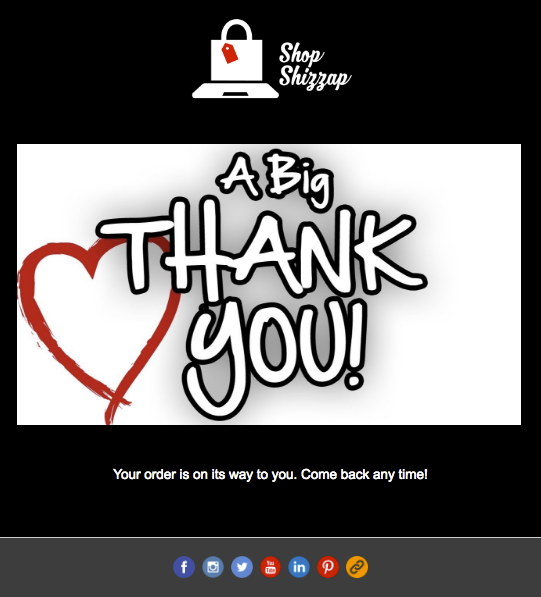 4.Say "thank you" and send recommendations related to the purchased items.

Include recommendations related to the purchased items (cross-sell and up-sell). Recommendation apps like Nosto will help you add them to your emails. Adding recommendations in emails can lead to a 25% increase in sales and a 35% increase in click-through rates. Therefore, after an order, your email can generate even more orders!


5.Say "thank you" and offer a discount for the next purchase.

Offering a discount for the next purchase or a small present will make your customers feel good.
Look at the example below.
The Brilliant Bakers
are very clever in how they use the "thank you" email. This brand sells birthday cakes and it sends this email one year after the last purchase, when customers might want to reorder.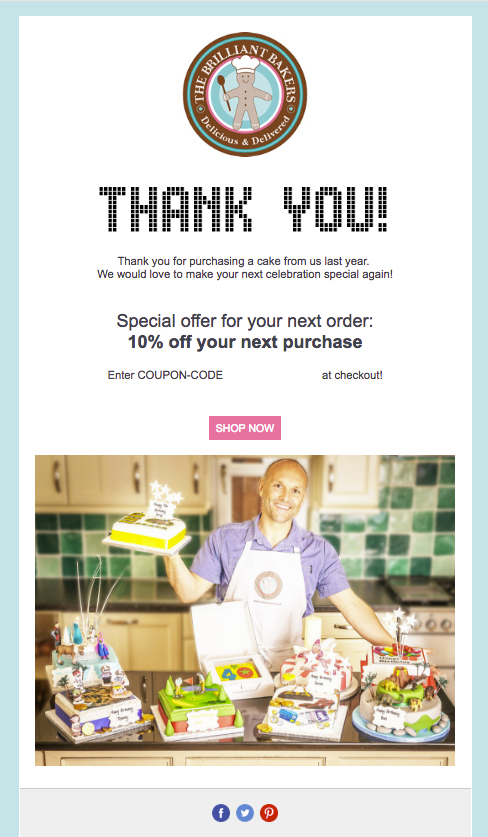 The bottom line
You may understand already that the elements discussed in this article can be combined in any way you see fit. My suggestion would be this: try to stick to one call-to-action button. Ask customers to do only one thing. If you ask them to write a review, do not ask them to follow you on social media. You can include contact information and add an invoice button, or give a discount for the next purchase and invite them to follow you social media. However, do not include a combination of multiple buttons.
"Thank you" emails are only one of an entire bunch of well-performing automated emails. Omnisend has prepared the entire flow of 
Shopify email communication
with examples and free templates to download.