A credit note is an official document issued by a seller to the buyer as a statement that a partial or full amount has been credited to their account.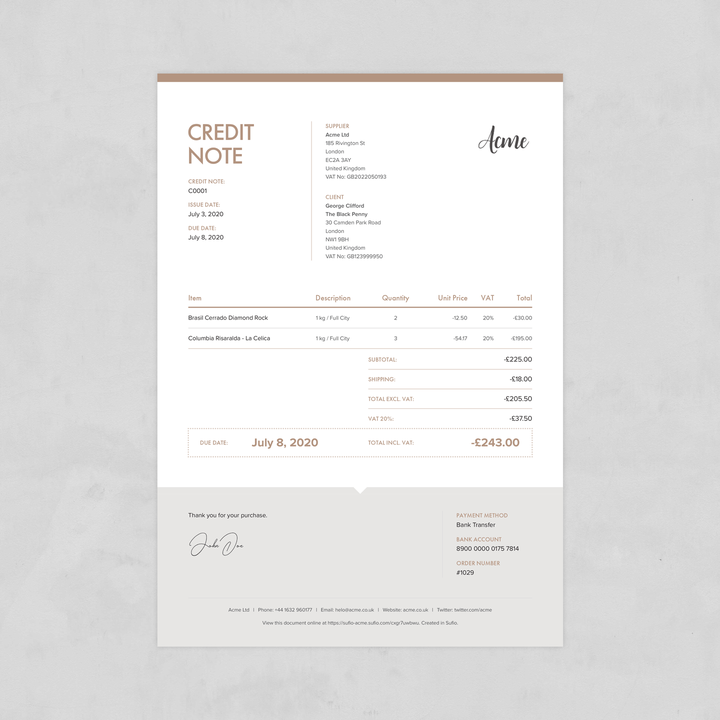 Issuing a credit note (also known as a credit memo) in the case of a full refund, partial refund or order cancellation is required in some countries.
In Sufio, you can have your credit notes created manually or automatically.
Creating a credit note manually
To create a new credit note:
In your Sufio account under the Invoices tab, click on Credit Notes.
Click the New Credit Note button.
Fill in the required information and click Save.
Tip
You can create a credit note directly from an invoice that needs amending. To do this, open an invoice and click on More → Create Credit Note.
Creating a credit note automatically
By preference, you can have Sufio create credit notes automatically when an order in your Shopify store is fully or partially refunded.
If you wish to automatically create credit notes for partially or fully refunded orders in your Shopify store, please get in touch with our support team. We'll happily set it up for you.
Need help?
If you wish to rename credit notes to credit memo, please contact our support. We'll be happy to change it for you.