New View VAT Exemptions page
The EU VAT Exemptions feature is vital for many of our users. When selling to business customers from other EU countries, charging the right taxes to the right customers is essential in order to be compliant with the EU legislation. Thus, Sufio has become a life-saver for many.
To provide a better solution for handling the tax-exemption requests, we have worked hard and added a new View VAT Exemptions page, which helps our users navigate through the EU VAT Exemptions functionality more accessibly.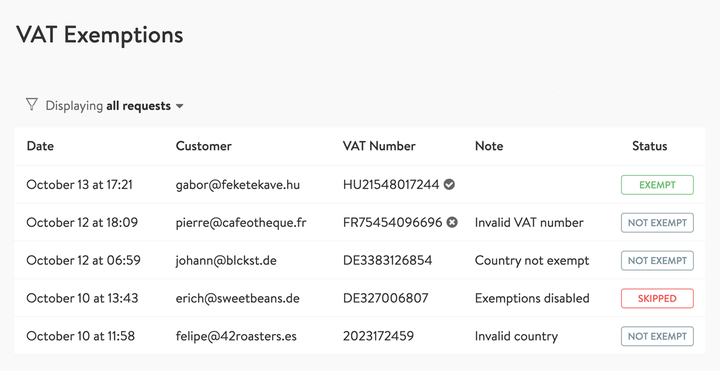 An overview of VAT Exemption requests from the EU business customers
To access the View VAT Exemptions page:
In your Sufio account, go to the Settings → Taxes page.
Click on View VAT Exemptions.
Statuses, notes and filtering options
When a business customer enters a VAT Registration Number on your Shopify store and proceeds, a tax-exemption request is being processed. The result is then listed on the View VAT Exemptions page.
This new page lists both successful, as well as unsuccessful tax-exemption requests. With the new filtering options available, it allows you to filter requests by their status easily.
Additionally, the new statuses and the available notes provide you with a functional specification, which helps you to understand the final result of the tax-exemption request fully. As a result, the new View VAT Exemptions page allows you to troubleshoot the unsuccessful tax-exemption requests quicker, providing enough information to resolve the case on your behalf. Of course, if technical support is necessary, our experienced tech support team is always ready to help.
To find out more, have a look at the View VAT Exemptions article.
Need help?
Is there anything in Sufio you are missing that would benefit you? If so, please contact our support team. We will explore ways to make the necessary improvements!