Customize your documents with our new template editor
Sufio strives to help Shopify and BigCommerce merchants build stronger brands, which is why design is one of the core foundations of our service.
Our support team regularly works with users to customize their invoice templates to cater to their unique business needs or further comply with the strict legislation in their countries. This makes it easier for them to grow their business globally.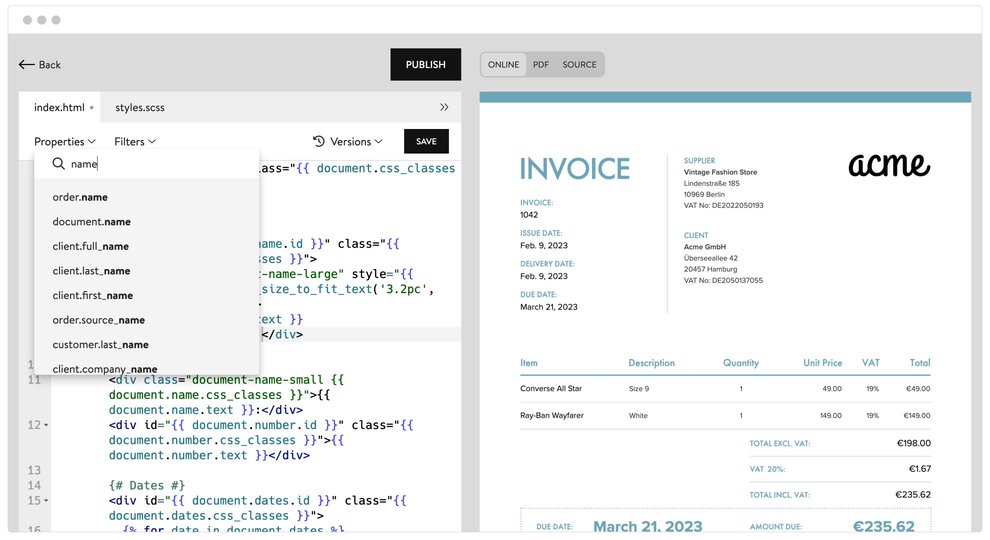 The team didn't stop there, though. We understand our users desire greater customization options, so we developed a new feature to let them edit the source code of their document templates. Just as you can customize your online store's template, Sufio now enables you to put your coding knowledge to use in our template editor.
This feature opens up a better way to handle invoicing for our users—one that's superior from an accounting and design standpoint. Our rich template context, filters, and properties give you more options than you might expect. You can use it to display any order, customer or product property in your documents. You can also add things like notes that only appear if certain conditions are met, e.g. a customer is from a specific country.
Using the new template editor
Excited to try it out? To access the editor:
In your Sufio account, go to the Design page.
Click on Edit Code link below your invoice template name.
From here, you can use the template editor to change the layout and the styling with a live preview to see what your changes will look like online and in PDF form.
You're free to change things to match any company style guide. When you're satisfied with your edits, you can click the Save button and preview your changes. Feeling good about it? Just click the Publish button and apply your changes to all documents.
If you find you prefer one of the older versions, you'll be happy to know the template editor supports versioning. You can roll back to the previous state with a single click.
Tip
Are you missing something in Sufio that would benefit you? Feel free to contact our support. We'll look into the possibilities to make relevant improvements as soon as possible.
Let Sufio automatically create and send beautiful invoices for every order in your store.