How to Market Your New Shopify Store: 5 Quick and Powerful Tips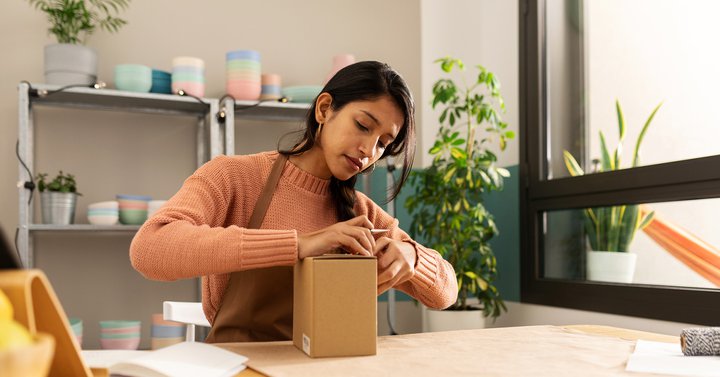 With businesses being forced to close down during countrywide lockdowns, it's clear how the COVID-19 pandemic quickly gave rise to digitalization.
Thousands of entrepreneurs adapted and found new opportunities by taking their business online, creating a healthy competition that presents consumers with more choices than ever before.
If you're new to Shopify and looking to get a slice of the pie, you'll probably want to find out how you can kickstart your online store in such a competitive environment.
This is why we've prepared five quick marketing tips that can help you build a solid foundation on the platform. Let's dive right in and bring your brand one (small) step closer to becoming a household name!
1. Create an effective SEO strategy
With over 70,000 Google searches happening every second, you need to ensure your store pops up when people search for keywords relevant to what you're selling.
To do this effectively, you need what's called an SEO strategy to help you create content and pages that will load up close to the top or at least on the first page of Google's search results. New brands find it's really tough going at first, which is why it's essential to pick specific keywords or phrases and have a strategy.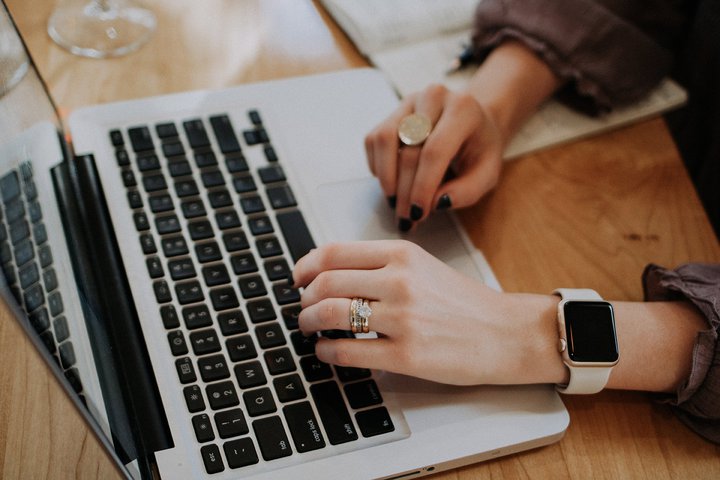 Create a list of SEO keywords for your business, but try to be specific to your situation if you want better rankings for them, e.g., don't just write "jewlery," instead go with something like "handmade wedding jewelry."
Shopify already comes with a handful of inbuilt tools to help you out, so consider reading their guide on improving search engine optimization first.
For good practice, we recommend you spend some time researching keywords using a tool like Ahrefs before including the ones you chose in the following sections:
Headings and subheadings
Meta description
Anchor text
Image names and alt text
URL slug
Body text
By doing this, you're telling Google and other search engines that your pages are relevant and need to be appropriately indexed.
It's a good idea to monitor your SEO ranking carefully, optimizing whatever you can. Try using Google Analytics on your Shopify website to understand better how your strategy works in practice.
If specific pages are underperforming or not showing up at all, you can submit your sitemap to the Google Search Console.
This is a tool made to give you an overview of your site's performance on Google, so learning to use it in tandem with Shopify and focusing on finetuning your strategy is enough to give your store a nice headstart.
2. Build brand consistency
Building brand consistency is never easy, but it's one of the best ways to earn customer loyalty. Think of some prominent brands you see every day; whether it's Apple, Dove, or Starbucks, people will always instantly recognize them—even if they don't include their logo in the ad.
Once a customer is familiar with a brand, they're more likely to buy from them because they trust that their products will be of a higher quality.
As a new business owner, your first step would be to actually build a brand, and while many people believe all you need is a great logo, a website to match, and maybe some nifty product packaging to get you through to the finish line, there's actually a little more to it.
Visual elements like the logo and packaging are, of course, vital; like the American art director Paul Rand once said:
"Design is the silent ambassador of your brand."
What's even more important, however, is how you present the idea you're selling.
With an example like Apple, the idea is all about power to the people through technology. A slick, elegant design subtly shows potential customers they can use the devices to make their dreams come true, and on top of that, they can do it in style.
Always aim to make an excellent first impression with your landing page
Polished minimalism then flows through the entirety of their brand to communicate this message clearly on all fronts. You've got the monochrome logo paired up with the now-iconic "space grey" and black keyboard on the MacBooks, a mostly B&W website, and countless other examples.
It's a good lesson on building a consistent brand dressed in a way that complements its main idea. Striving to do the same will put you on the fast track to gaining a loyal customer base that won't forget about your business so quickly.
3. Invest in online ads for your business
Social networks like Facebook, Instagram, and LinkedIn offer affordable targeted advertising that can help you reach specific audiences. The popular choice for startup businesses is Facebook thanks to its reported ad reach of up to 2.18 billion people.
The key elements of an effective Facebook ad are:
A brilliant hook—this is the line you lead with, simple and to the point, highlighting how your product benefits the prospective customer. Remember, you're actively competing with people's families and friends on the feed. They're not on Facebook to buy your product, so it's got to be engaging.
Great design. Combining design and photos gives you another opportunity to appeal to a specific group of people. Think of your ideal customer... what kind of lifestyle do they have? Are they married? Do they have kids? What do these people want to see, and are you delivering it?
The right tone of voice. Figure out if you want to use slang, conversational English, if you need to be cold and corporate, etc., just make sure your writing really resonates with your audience.
An accurate representation of your product. This links back to our talk about consistency because if a potential customer clicks on your ad and finds a product or site that looks completely different, they may choose to leave, thinking it's all just clickbait.
To help with design, services like Canva offer hundreds of professional templates for cheap, enabling you to make presentable ads without needing to spend hundreds of dollars paying freelance designers.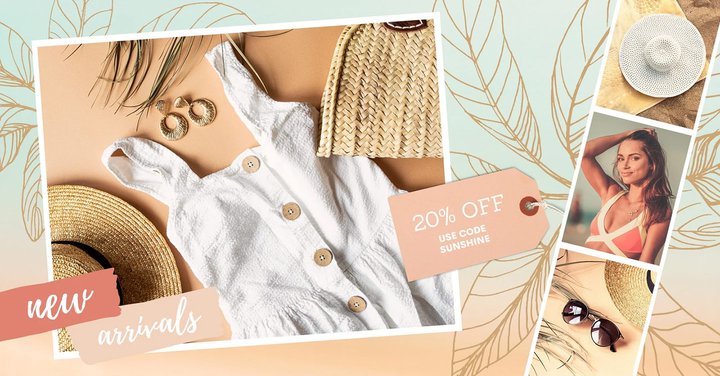 An example template from Canva
Pick a handful of colors for your palette, choose a font you'll use on everything, and see how far a bit of thought-out copy and homebrewed design can get you!
4. Small businesses, big hearts
If you want to connect with your customers, why not tell them your story in a sincere way? A brand that feels like your friend is easier to buy from, trust, and even get invested in with time.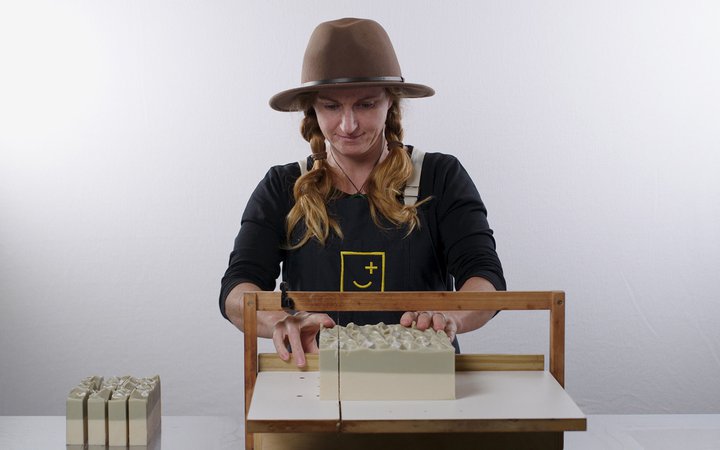 Carly Low from Fair + Square makes her soaps using a traditional cold-press process that goes back thousands of years. By telling her customers about the technique, she's managed to turn it into a USP for her business.
A simple webpage titled "About Us" or "Our Story" will do the trick, and including it will help strengthen your brand by making it relatable compared to brands that are only trying to sell.
If you want to go the extra mile, you could commission a short promo video to introduce you and your business or opt for a less costly route by staying active on social media.
Platforms like Twitter make for effective ways to update customers on what's happening behind the scenes, so see if you'd benefit from an account that's less about pure, polished marketing and more about life at your store.
5. Try influencer marketing
Influencer marketing is a lot like celebrity marketing—there's just one big benefit for a startup: it's cheaper (and occasionally more effective).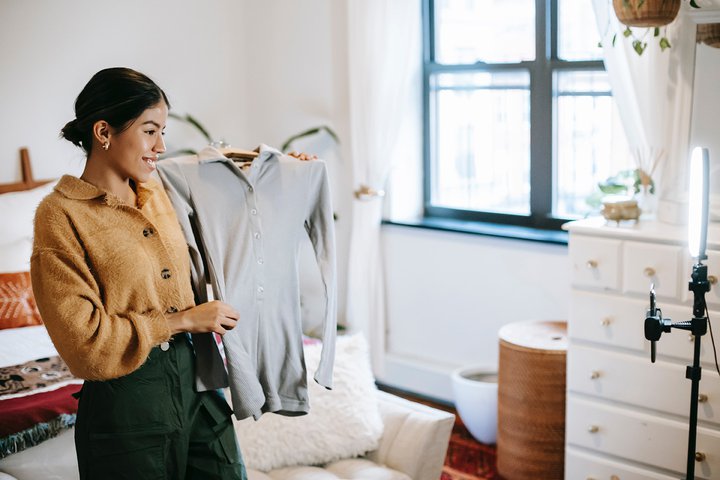 The more influencers you have promoting your product, the more permanent adverts you'll have around the internet. Even if your affiliate program gives 20% to the creator, it's still worth it for the reach.
It's generally good to spend some time looking for smaller influencers covering your industry because deals with bigger ones could easily cost you millions. See if you can find someone with a niche audience of five to ten thousand people on Instagram or YouTube.
Reach out and offer your products for free in exchange for an honest review. If that doesn't work, start an affiliate program and give them 10-15% for every sale they get you.
This is a great way to create a win-win situation as they'll always get something from you in return.
Conclusion
We know getting your foot in the door isn't exactly easy, but starting things right can go a long way in ecommerce. Our best advice would be to keep at it, look out for new trends, and occasionally borrow an idea or two from your competitors.
Keeping up with your Shopify store and app features is also a brilliant way to stay ahead of the curve. You'll quickly find ways to use these new ideas to improve your customer experience or impress them with something unique.