Build a Multilingual Store and Scale Your Brand Globally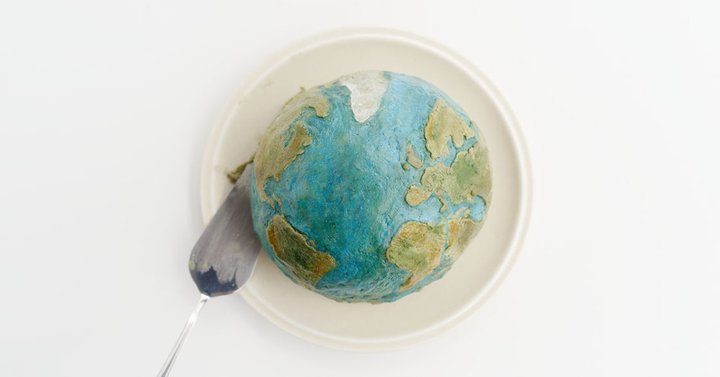 The concept of ecommerce has revolutionized the retail industry by offering brands of all sizes the opportunity to reach customers all over the world.
The industry is growing fast and it is extremely exciting but there's plenty of barriers in the way of going global. One common barrier is communicating with international customers in their native language via multiple channels such as your store-front, social media, email and so on.
Researchers have proven that localising content across all channels is vital to global success. In actual fact, 55% of consumers shop only in their native language. In countries like Japan, the preference for purchases in mother-tongue increases to 70%.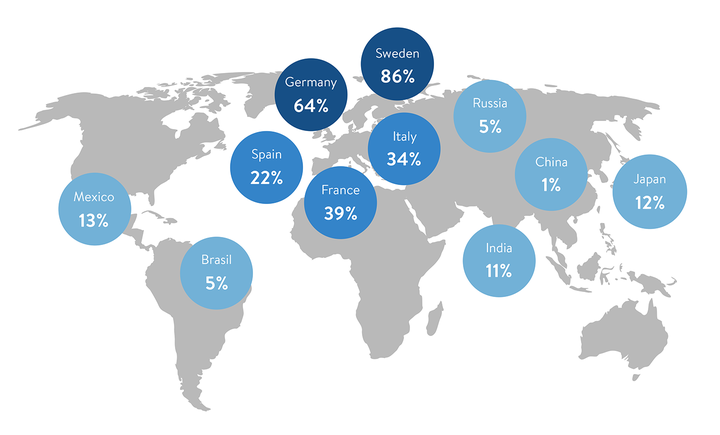 Percentage of English speaking population
This article will cover the reasons you should consider the multilingual method, the different methods of creating a multilingual store and the most beneficial and effective methods such as international SEO, content marketing and more.
Running an online store in different languages
In the past, building a multilingual ecommerce store was a nightmare for developers, but thanks to technology, it is now a lot easier.
What is a multilingual store? A multilingual store is an online store which communicates with international customers in the correct language according to their region.
How else can you make it clear to shoppers who don't understand your local language what it is you are offering? How will they know how to navigate your store in order to make a purchase?
The fact is, they won't. Unless shoppers can read and digest product descriptions and navigation easily and quickly, they won't make a purchase with your brand.
By building a multilingual store, you will attract, engage and hopefully convert your foreign visitors into customers. This means you will ultimately reach a larger audience worldwide.
Multi-cultural experience
You should also focus on offering a multi-cultural experience for your overseas customers. By creating a multilingual and multi-cultural store, your brand will reap the benefits of your global customers feeling as though they are at home, in a familiar environment and will trust your brand more.
How can you do this? Consider tailoring marketing campaigns to meet the expectations of your overseas customers by staying up to date with their celebrations, trends and events. For example, think about the different celebrations China has at different times of year: Chinese New Year which lasts 15 days—this could be a great occasion to bring in more sales from China.
Terminology differs between regions, we can use American English as an example. In America, shoppers would look for "sneakers" whereas British shoppers would search for the word "trainers" in order to find the same items. So update your product descriptions and search terms.
Colors are important too, particularly on your storefront. Ecommerce merchants should research into the different color meanings across the globe but more specifically to markets they want to reach. Shoppers in America and Europe think of blue as a trustworthy color, linked to security and authority. In contrast, blue is linked to immortality in Eastern countries.
Analysis of visitor data
An in-depth data analysis must first be done to determine if you need a multilingual store for your ecommerce brand.
You can use Google Analytics to track your visitors and figure out exactly which regions are generating the most traffic. Use the "Location Overview" section and find out where the largest amount of customers are visiting from.
As an example, you delve into the location overview stats and find out 30% of your visitors are from Spain but your content isn't in Spanish. How will they understand product descriptions and navigate their way to the checkout?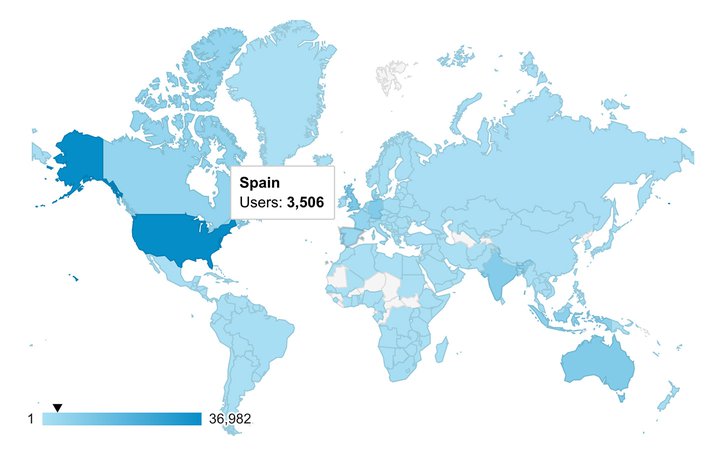 Location Overview in Google Analytics
Different translation methods for your online store
Automated service
There are some very useful automated translation apps out there on the internet which are fantastic for ecommerce brands with lots of products. Brands that are drop-shipping 10,000+ products would struggle to translate every single product manually so automated apps are a great method to translating their store.
However, automated translation apps aren't particularly great for a natural sounding translation and we wouldn't recommend unless you're in the above scenario.
Apps like Google Translate won't be able to grasp a brand's tone of voice and your content won't sound right to the international reader, especially if you're wanting to use foreign slang.
Hire a professional translator
Automated translation apps might seem like the easier method but they aren't going to give you the best end result. That is why you should lean more towards the manual translation method and consider hiring a freelance content writer who is fluent in the language your target audience is familiar with.
It is important to build a long-term relationship with a freelance translator in order to carry on a familiar tone of voice throughout your store.
Switching between languages
A language button
One method of creating a multilingual store is to display a language button at the top of each of your web pages. This will give shoppers the option to switch between languages as they please.
As a result, your store will be more easily navigated by international customers and therefore increase your international sales.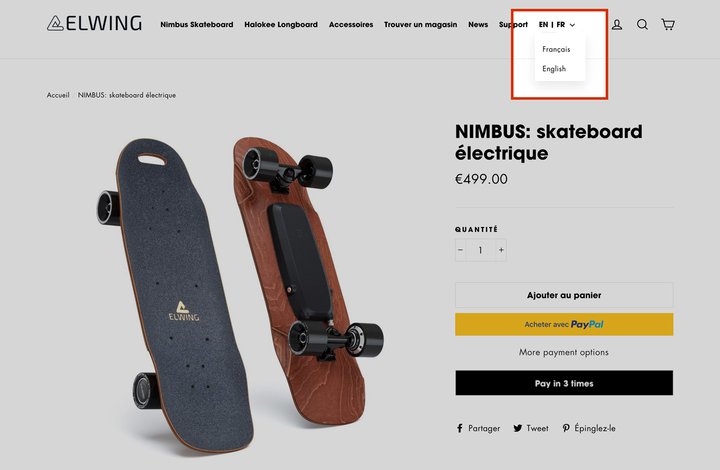 Language button
Language auto redirection feature
You can also add a language auto redirection feature to compliment the manual method. This is done by configuring software which automatically switches to the most relevant language depending on the visitor's IP address.
Combining the manual switching method with a language auto redirection feature will make it much easier for foreign shoppers to easily navigate your store; all the way to the checkout.
You should use a professional multilingual app like Weglot to add both options to your online store.
Multilingual content marketing and SEO
Every little bit of content on your website: product pages, blog, emails, social media channels and everything else in between should translate into your target audience' language. And every piece of content should be unique. Always consider the differences in each country when designing and writing your content.
If you don't remember to do this, you're less likely to reach overseas customers for SEO reasons. You'll also struggle to please foreign customers throughout their entire customer journey.
Do it right and you'll see a huge increase in international sales.
Rank in international search engines
Every ecommerce brand that wants to reach international customers needs to be ranking highly on international search engines, as not everyone uses just Google (research into the most popular search engine specifically to the region you want to sell to).
To do this, ecommerce brands need an SEO strategy in place and need a good team to follow the strategy with consistency. Having a multilingual website to cater for each country you want to reach is an effective way to get you there.
This can mean choosing the correct top-level domain that's familiar for that country like .uk, .fr, .au.
URL structure
The URL structure of your online store needs to be clean and region-specific to make it easier for regional search engines to pick up your website. Handles of your product pages or blog posts should be translated to local languages as this improves their rankings in search results.
Get indexed by Google
In order to be visible and reach customers overseas, make sure to index your business in the most popular search engine for that country.
For example, Google has different search engine versions for every country and language. It's critical that you submit each of your stores into Google's Search Console so that Google knows specifically which country your website is trying to reach.
Multilingual invoices
If you want to meet the expectations of your overseas customers, it is critical that you consider the requirement to create and send invoices in the correct language. Invoices are essential for B2B sales and are important for B2C sales too. In fact, they are often a legal requirement for local bookkeepers.
Sufio is an invoicing app for online stores that can automatically create and send invoices in the language your customers used while shopping in your store.
Invoices and other documents are professionally translated in partnership with local accountants and are available in over 30 languages including Spanish, French, German, Italian, Portuguese, Dutch, Danish, Swedish, Arabic, Hebrew, Malay, Japanese and Chinese.
Conclusion
In order for your brand to truly meet the expectations of overseas customers and to boost your sales as a result, you need to consider building a multilingual online store.
Whether you are a small brand with a small number of products, or a bigger brand with thousands of different products in your catalog, you should carefully analyze your visitor data and use the right tools to translate your online store to multiple languages.
Doing so will allow you to start engaging international shoppers all over the world and build a truly global brand.