8 Things You Need to Know Before Selling Internationally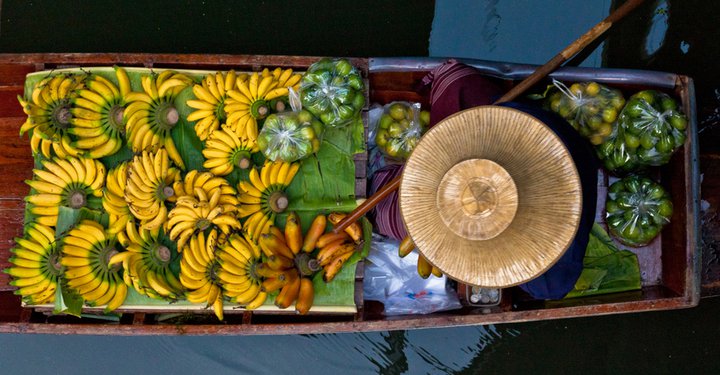 If you're selling stuff online, your potential customer may find your products from anywhere. E-commerce is still growing, the market is huge, and there are practically no limits as to where your business can expand. The only question is: Are you ready to go global? 
Expanding your business across borders requires a lot more time and effort than selling locally, but it is definitely worth it! Not only will your sales boost but it is a chance for your brand to thrive and get new fans.
But before jumping into an international sale, you have to think about the logistics first. Here is a checklist of 8 most important things you need to sort out, step by step: 

1. Set up analytic tools

If you haven't signed up for Google Analytics or Mixpanel yet, it is about time you get to it. These analytic tools track traffic your site gets and monitor from which countries do clicks to your website come from and which channels work best for your store.
Knowing this will help you decide which market you should focus on. But don't get too eager! Expand your business only if the new market would comprise at least 5% of your total sales.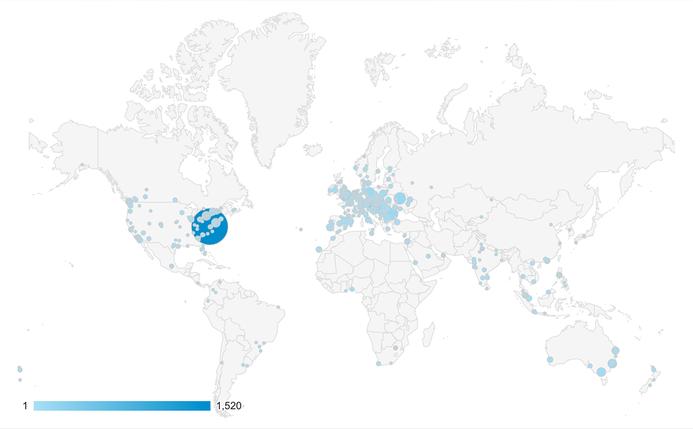 A screenshot from Google Analytics dashboard monitoring click rate of an online store based in Washington D.C.
2. Get to know your new market

Even more than geography, international expansion is about demography. So, once you know where in the world do people need your product, it is time to sell it to them.
You should know what people in your new market are like, what online shopping habits they have and how to attract them.
Research the local market carefully, check what marketing strategies businesses there use and keep an eye on your direct competition. You might also consider hiring someone who knows the local waters well. That would help you tailor your online strategy to engage local shoppers. 

3. Sort out payment methods

It might surprise you but in some parts of the world credit card payments or PayPal aren't as popular payment methods as for instance bank transfers or cash on delivery.
So find out about your new customers' preferred way to pay and allow them to use it while shopping in your store. Optimizing the checkout process for your shoppers will boost your sales and significantly reduce cart abandonment.
See the map below to find out what payment methods are most popular in different countries around the world.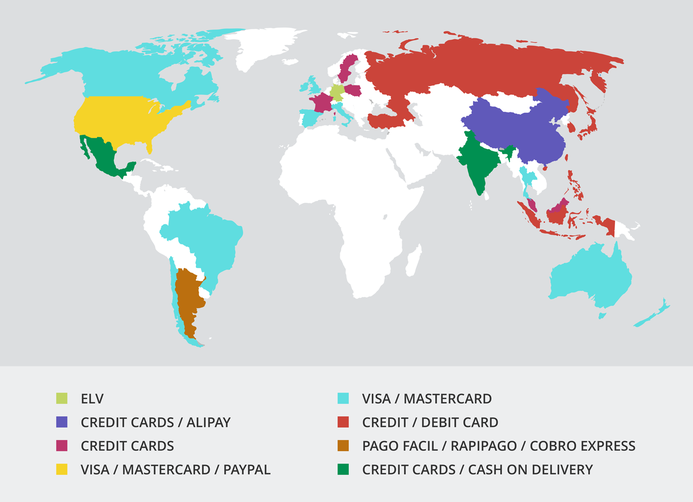 Preferred payment methods in different countries worldwide.
4. Research international shipping options

Selling your products to your customers is one thing. How you deliver items to them is another.
Every country may have different shipping regulations so do some research and arrange the logistics with your shipping company.
You might even consider drop shipping if you have a larger number of orders from one particular country. Find a drop shipping partner and you might save yourself plenty of time and money (as well as your customers').
5. Get familiar with taxes and regulations

Taxes are always a bit of a painful issue, but you have to charge them right if you don't want to get into trouble with tax authorities.
There may be different tax rules for every country you're selling to so do a proper research as to when and how much taxes you should charge and to whom. If you're also doing wholesale (B2B), keep in mind that in most cases you don't charge taxes to your foreign business customers.
You might want to contact some tax expert to land you a hand in this. But if your Shopify store is based in the European Union, it's easier to go and check this EU tax guide.
6. Make your store speak in multiple languages

While most shoppers are okay with English, if a market generates a bigger number of sales, you should consider localizing your store into their local language.
A thing to consider is whether you'll have a separate website domain for each language or multiple subpages. In terms of SEO, it's better to keep one strong centralized website with more subdomains instead for having multiple weak websites.
There are apps that can help you with that, e.g. Langify that helps you set multiple language storefronts and automatically redirect your customers to the right subpage.
7. Support local currencies

Shoppers don't want to waste time converting prices on your product pages so make it easier for them and display prices in their own currency. Support for multiple currencies is another way to get closer to your international customers and reduce the number of your leaving website visitors.
This little improvement to your online store can do wonders and it's oh so easy to do. Coin is a #1 Shopify app that automatically detects where the customer is from and converts prices in your store according to their local currency.
8. Get your invoicing straight

In most countries, it is mandatory that you issue an invoice for every online purchase. It's not always enough to send your customers a receipt or order confirmation. An invoice is an official tax document that contains a detailed tax breakdown that the receipt doesn't include.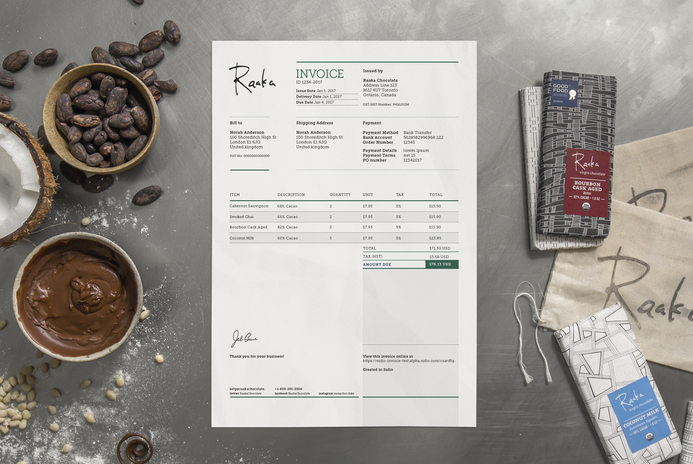 Sufio is the first Shopify app that automatically generates compliant invoices from your online orders and sends them to your clients. It also captures your business customers' VAT numbers, validates them and automatically sets them as tax exempt.