Woojer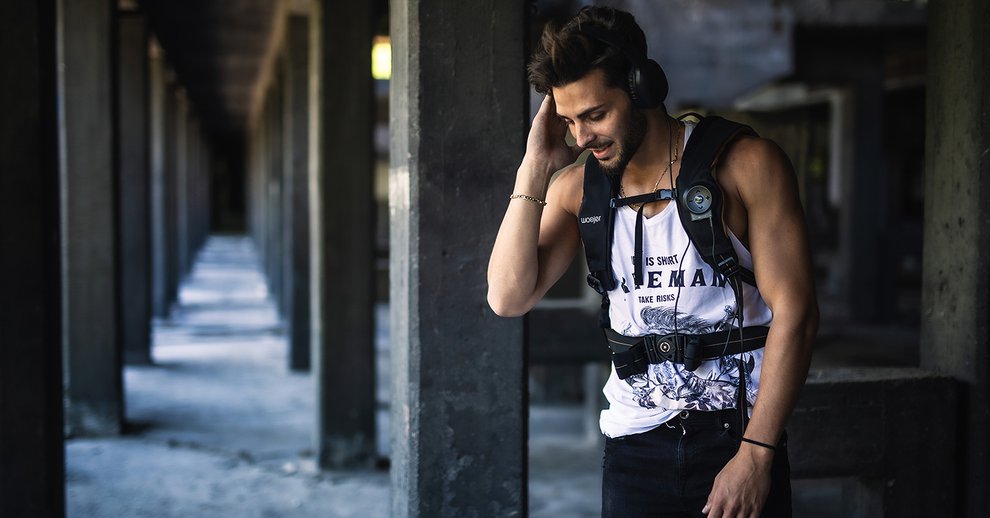 Sitting in busy morning rush hour traffic, Noam Barlevav flicks between his favorite podcasts and the latest news headlines on the radio.
The roads leading to his office in the upmarket city of Herzilya, Israel, are gridlocked every day as more than half a million cars make their way into Tel Aviv, just 7 miles away.
He has another busy day ahead as the chief operating officer of Woojer, a patented sensory wearable technology company. Their products convert audio into haptic sensations, which seamlessly correspond with audio and vision. It allows the user to feel the music they are listening to, either via a vest or strap, in an immersive experience that rivals simply putting headphones in your ears.
When Noam finally arrives at Woojer headquarters, it's around 9am, and the office - which is made up of a few big rooms spread across one floor - is already bustling with employees from various departments such as support, marketing, and engineering, starting their day.
He begins by making contact with their teams in the East, where Woojer's factories are based, and working on logistics tasks. The second half of his day involves dealing with their US and EU markets and operations in the West.
"No day is like the other," Noam tells us.
"There is always room to learn new things, perfect teamwork, and strengthen abilities."
Feeling the music
Woojer was founded back in 2011, after chief technology officer and sound engineer Mor Efrati came up with the novel idea for the device itself.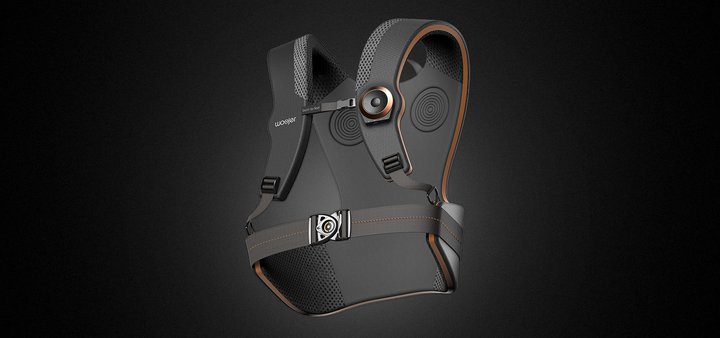 Woojer Vest Edge™
Noam said: "Mor always enjoys a good live concert but then, when the event ends and he puts on his headphones, he misses all the feelings and sensations that you get in a truly live environment.
"Same goes with games - you have quality headphones for listening and, possibly, great VR gear for viewing, but then, when the bullet hits you, you feel nothing.
"Woojer was born with that in mind - to allow you to feel. Mor turned to a mutual friend, Kfir [Bar-Levav], who is now our CEO, and the rest is history."
Their first challenge was creating the technology itself, so they swiftly began developing a component accurate enough to simulate and convey the real-life experience of sound.
The next step was to take a shoebox-size prototype and make it into a device that was comfortable to wear and easy to use while on the move, which they did with great success.
And the name? Well, Woojer is a bit of wordplay on 'woofer' - plus "it's a nice and catchy name we loved," says Noam.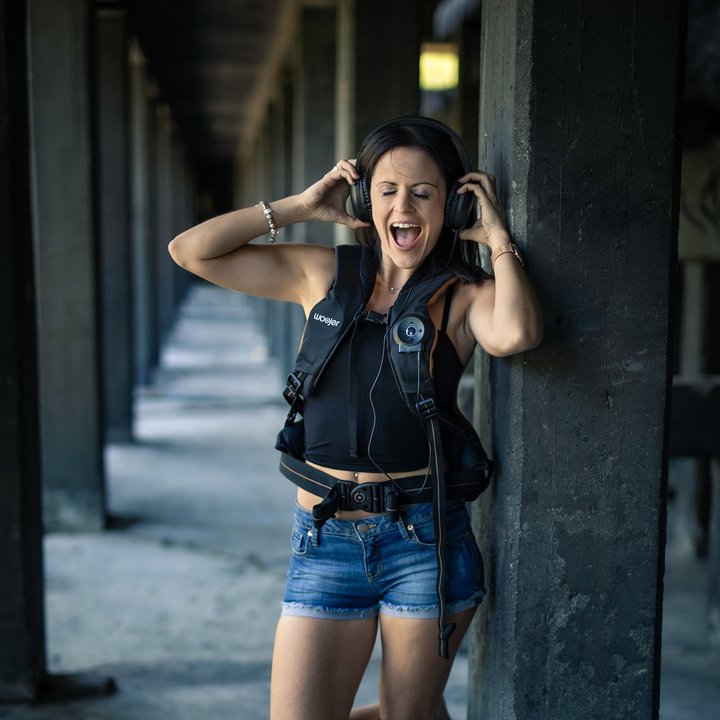 Since then, the company has grown massively, and Woojer is now the de-facto leader in wearable haptics. They also now develop haptic technology for various applications, as well as their own products for the consumer entertainment market.
Moving to Shopify
The Woojer team initially set themselves up on WordPress/WooCommerce, which they used for quite some time.
But as their product grew in popularity, so did the number of visitors to their website, and they decided they needed to move platforms.
"We needed something more stable that didn't require too much 'IT' time to scale, backup, upgrade the system, etcetera," said Noam.
"Being an efficient team, we all do many tasks, and although flexible, maintaining the WP/WC platform was becoming too time-consuming. We managed to implement all we had - and much more - with the move to Shopify."
Noam explained that the team set up their Shopify store themselves, although they have a "small but smart" development team in-house.
Woojer's ecommerce store allows them to sell and ship worldwide, with their website supporting over 10 languages and more than 15 currencies.
But as an international company, it was important for Woojer to ensure they were compliant with tax legislation in each country.
Another automated feature Woojer finds helpful in running their online business is an integration from Shopify that automatically sends orders to their respective warehouses around the world to be fulfilled.
Attention to detail
One of the reasons why Woojer has become such a successful company is that they've also built a powerful brand to go along with their innovative technology.
But how did the team achieve such a recognizable label? Well, Noam puts it down to consistency and being meticulous with every element of the branding. This encompasses everything from the product's packaging to the website and even small details such as the invoices.
He said: "Our branding language and tone stay consistent with all the customer interfacing points and the website is an important part of this.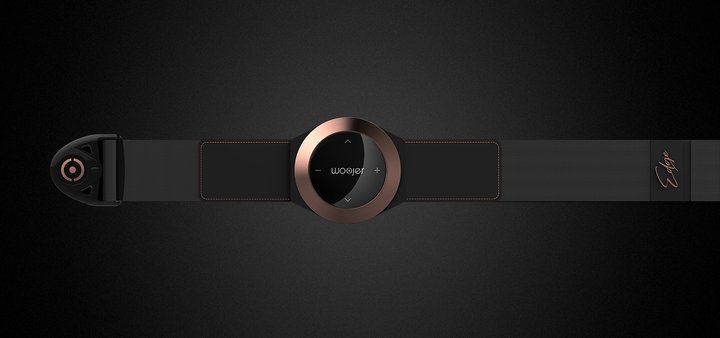 Woojer Strap Edge™
"So the website speaks the same language, color scheme, font, etc - as does our packaging."
On the packaging specifically, he added: "We pay great attention to every detail with our products and the packaging is, of course, an important part of it - the first interaction our customers have with the actual product.
"We use professional designers to make unique and outstanding packages and test many iterations before we launch a new design."
As for invoices, Noam says:
"An invoice is an important part of the branding and the language we speak."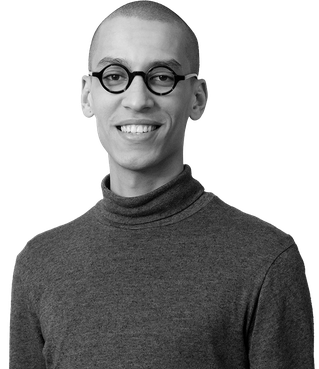 Meet up with Djimi from Sufio
Do you have questions about invoices and taxes for your online store?
Let's have a chat! I'll happily answer your questions, as well as provide you with insight and assistance on getting started with Sufio.
Book a free consultation
Future of Woojer
So what's next for Woojer? The team is currently working on new haptic applications and software products to allow for an even more immersive experience.
Noam said that in the coming months and years, they hope to expand Woojer's line of products and "bring haptics to new and surprising domains".
However, as with many industries, the pandemic has brought challenges to those future plans.
"Manufacturing and logistics are far more challenging now with delays and price increases," Noam said.
"But we do our best to manage even in those uncertain times and supply the ongoing growing demand for our products."
Offering his advice to any aspiring entrepreneurs and innovators, Noam concluded: "Give it your best, be ready for lots of challenges, and, most importantly, enjoy the ride!"