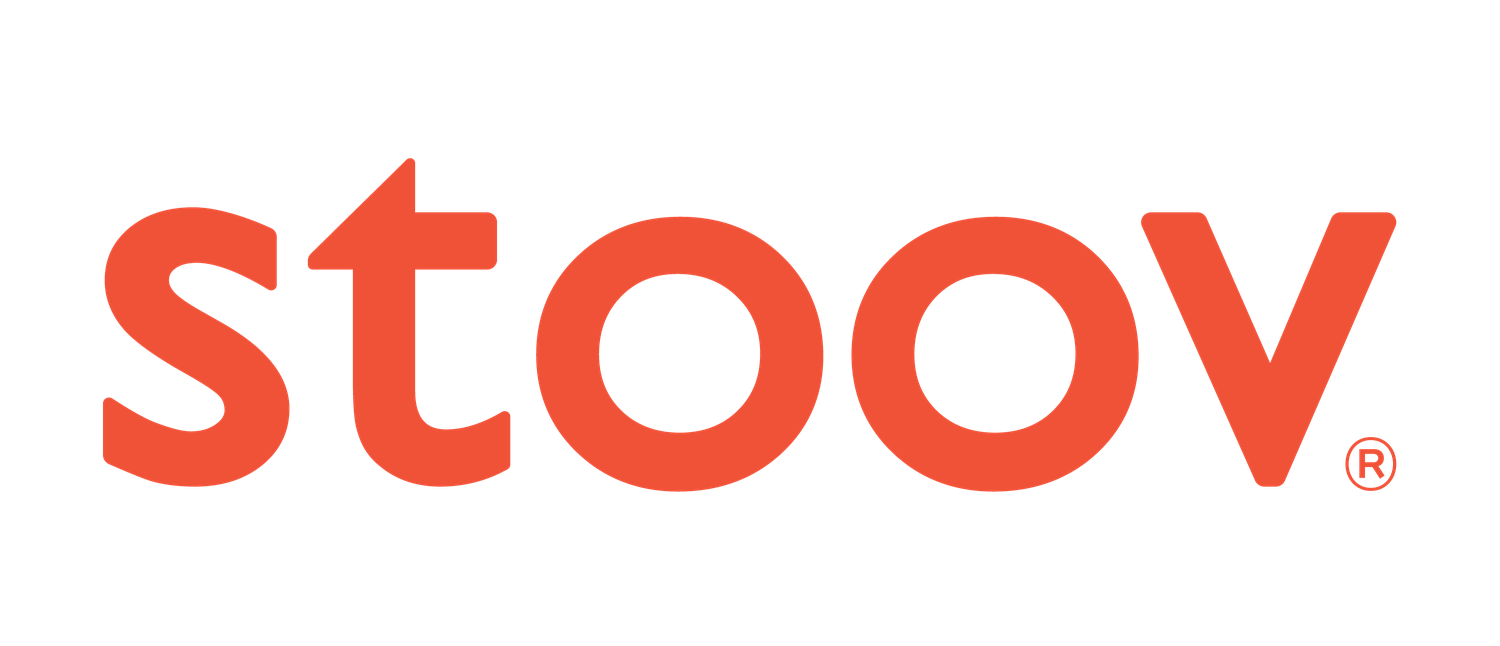 Stoov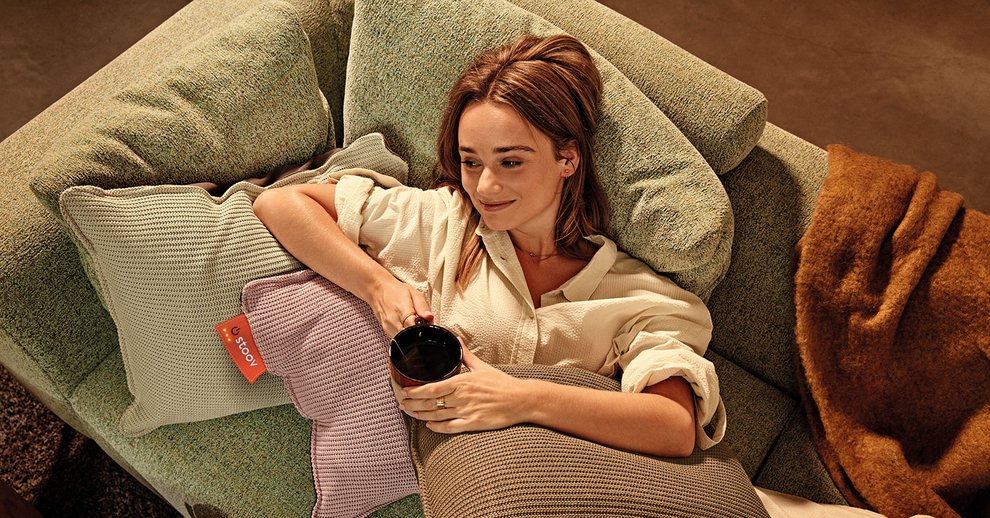 With its open-plan workspace, outdoor green spaces—and even foraging chickens—you'd be forgiven for thinking the Stoov® HQ was based on some sort of agricultural university campus.
In fact, the Dutch infrared heated pillow company, which was founded in 2014, is located at a new state-of-the-art workplace known as Campus Werkspor in Utrecht.
Once the city's rich industrial area where steel structures, automotive, and bridges were produced—as well as the electricity and heating supply to the district, it's now a campus-like facility for a modern mix of creative companies.
Stoov® moved from their long-standing office in the idyllic village of Bilthoven to a beautiful new sustainable wooden office at Campus Werkspoor earlier this year.
Jet Hesselink, who is in charge of brand and content at the company, tells us: "When the sun shines, we have lunch outside on our spacious balcony, with a view of the Amsterdam-Rijnkanaal.
"From our office, you can even smell the Douwe Egberts factory a little further away—although my cup of freshly ground coffee in the morning usually comes from the Jura X8 machine in the office. That's a great way to wake up."
Heating up
Jet is among 15 members of staff that work for Stoov®, which was founded by Teun van Leijsen. The idea originated in 2005 when his car's heated seats broke, so he opened up the cover and realized the technology was simple yet very effective.
It wasn't until 2012, when his wife was pregnant, that Teun attempted to create his own version of the heated car seat so that she could still sit out in the garden when the evenings got cooler without the hassle of having to lit the firepit.
She loved the bench cushion so much that she even took it inside with her and continued to use it—so the idea was born and he started to make infrared heat cushions with slightly more attractive designs.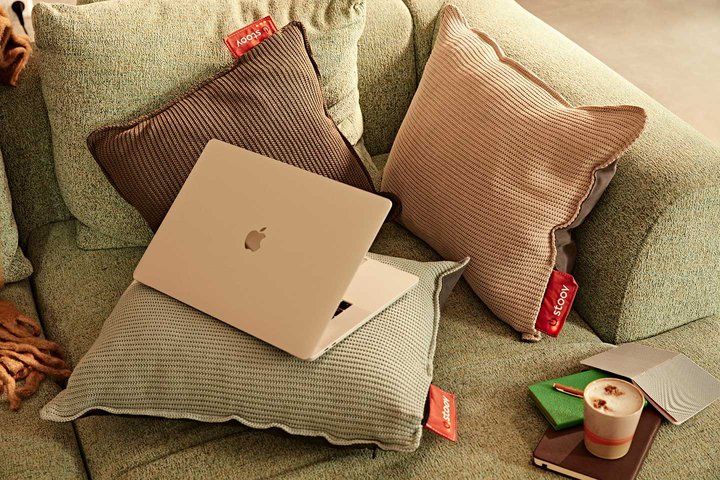 Initially, Teun positioned Stoov® in the hospitality market as an alternative to non-sustainable heaters and at the height of success, around 150-200 bars and restaurants were using the company's heating cushions.
But then there was an unexpected shift with consumers suddenly wanting one for their home—many had sat on one of these cushions in a bar or restaurant and noticed the Stoov® label so got in touch to see if they could buy one.
So Teun decided to switch the products into individual rechargeable cushions and relaunch them through their own online store on the Dutch and German markets, as well as through Amazon and bol.com.
Switching to Shopify
For their ecommerce store, Stoov® first launched on the Lightspeed platform before later switching to Shopify.
Jet says: "We decided to switch from Lightspeed to Shopify because we felt like Shopify was more innovating and further ahead in the market. This gave us more options as a fast-growing and international start-up."
Together with a Shopify Agency named Code, the first official Shopify Plus partner in the entire European Union, Stoov® made the jump.
They also took advantage of the several apps and integrations available to them on the platform, including Klaviyo, Gorgias, and Sufio.
"These are the ones that stood out most to us," says Jet.
"Klaviyo helps us have more personalized contact with our customers during their customer journey, while Gorgias helps us to really offer personal and efficient customer service. Both apps are very data-driven, which helps us in optimizing our efficiency."
"Besides that, it has a great integration in Shopify, which makes it possible to use Sufio from within the order page in Shopify, which really saves a lot of time and is very accessible.
"Sufio also offered us the option to register VAT numbers from our B2B customers, something Shopify itself isn't able to do so, so that has also been a great solution for us."
Branding is also very important to the team at Stoov® - it's something that is difficult to convey when selling on online marketplaces - so getting across their brand identity on their own store, as well as within their packaging with details such as invoices, are key.
Jet says: "We went from a stitched logo and a lot of branding with stitching to our new corporate identity. So it is very important to us that the branding is reflected on the website and in the packaging."
Impact of pandemic
While some companies have struggled with the challenging circumstances during the pandemic, Stoov® has seen an increase in demand for its products.
Much of the hospitality industry has been moving more of its seating outdoors due to the spread of Covid-19, but that can often be quite cold, so a heating pad or blanket can be seen as a sustainable alternative to energy-guzzling patio heaters.
The pandemic has also made many consumers more aware of the impacts of climate change and want to change their own behavior to advance sustainability.
Stoov® has sustainability at its core - from using recycled polyester for all the cushion fillings to making premium products from 50% recycled Sunbrella fabric, meaning the waste from the cutting table is processed in the product.
As little plastic as possible is used to transport Stoov® products and any that is used is recyclable and compostable.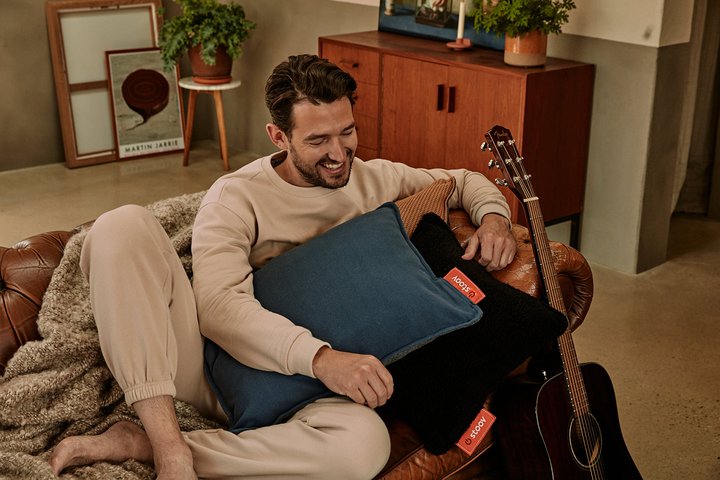 Also, the company asks customers to cover their own fees for returns. They say that this is because they want consumers to make a conscious choice before purchasing and believe that people may buy less quickly, or even not at all, meaning they will return less quickly and reduce emissions.
Stoov® is currently only available in Europe, Belgium, Germany, Austria, Netherlands, France, Denmark, Italy, and Luxembourg, but the hope is to eventually expand internationally.
"We want even more people to get to know us and start enjoying our sustainable heat! We strive for a better world. We warm people, not the planet," says Jet.
Final thoughts
We asked Jet for some final words of advice for someone looking to set up a Shopify store.
She tells us: "Try to get as much data as you can and to automate as much as possible. This gives you great insights and time to focus on more important things than manual tasks.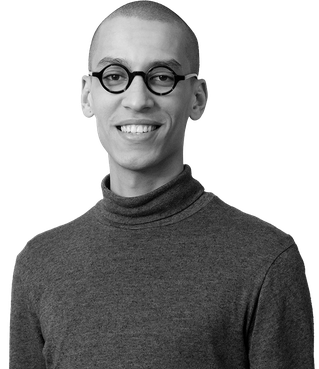 Meet up with Djimi from Sufio
Are you looking for an effective, reliable way to automate your invoicing on Shopify?
Let's talk about your online business! I'll happily listen to your ideas and help you set up your Sufio account according to your needs.
Book a free consultation
"If you see an app that can really help you with efficiency or give you great insights into the behavior of your customers, do it.
"It really helps a lot and it will make sure you keep adapting the store to your customer's needs, which is of course great for your conversion rate."