Sacha Prost - 8Js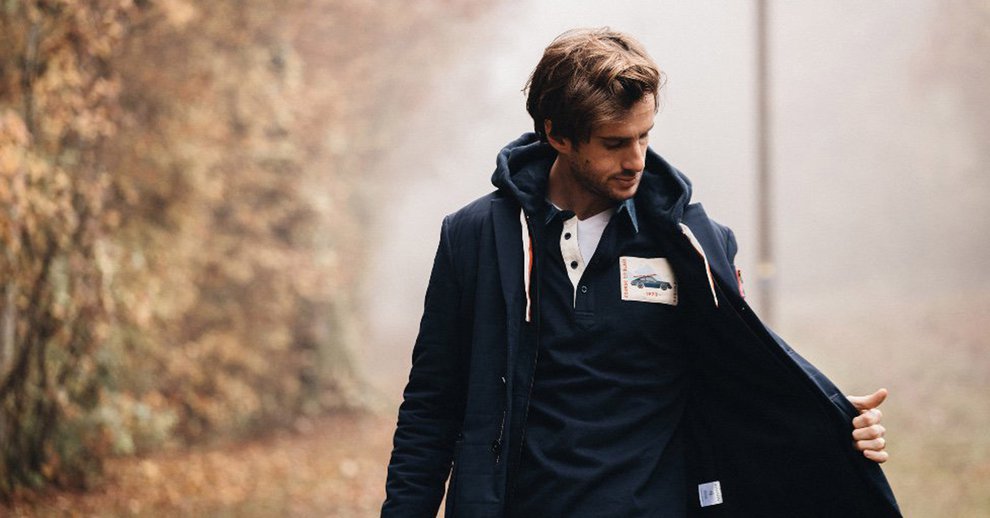 For Sacha Prost, the short drive to his office in Nyon, Switzerland, is a familiar track. It's the town where he grew up and the route is filled with lots of familiar and friendly faces he's known for years.
When he gets to the building, he sweeps past the bankers and doctors that rent spaces on other floors and heads to the top level - where the walls are filled with motorsport artwork and the ornaments are old helmets and car parts.
As the son of Formula One world champion Alain Prost, Sacha's office is an extension of the world he's known his whole life.
But rather than spending his days behind the wheel, the 29-year-old realized he was in pole position to create something the industry was lacking: a chic and cool fashion brand, designed with motorsport in mind.
Along with his brother Nicolas and sister-in-law Delphine, Sacha created the brand 8Js.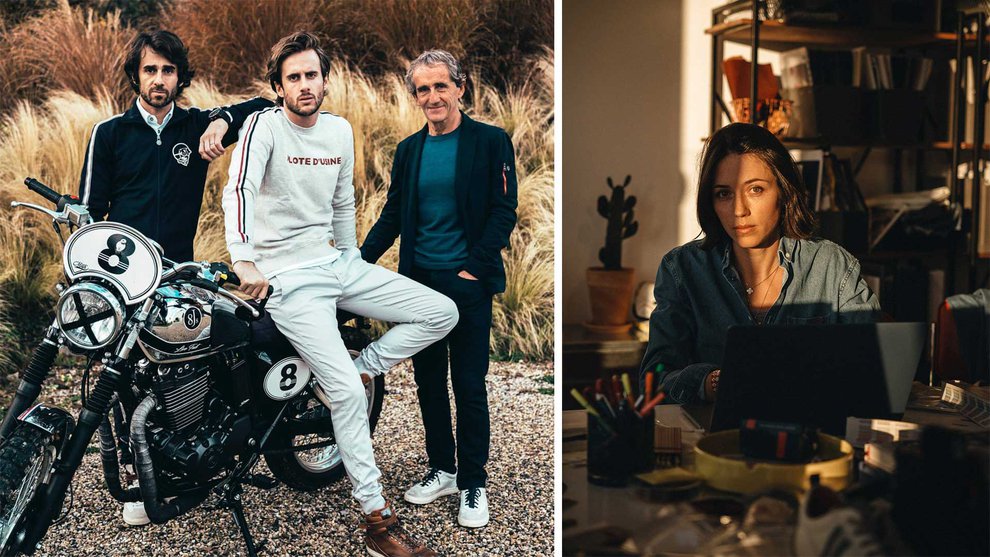 Starting out
Sacha said: "We were talking about different ventures one night and discussing the clothing business. We realized that commonly, there isn't a brand from racing that is truly original. Coming from that, we knew we had to do it ourselves."
And while they had come up with a great idea, Sacha says he didn't really know where to start.
"I was still at university studying sports, events and entertainment, at a hotel school. In a way, we did so many different things in that school and learned a range of skills, but it didn't prepare you for the harsh life of being a young entrepreneur.
Like, what's your first phone call? I remember that perfect. We had a table with a phone on it and we were like, 'okay what do we do now? Who do we actually pick up the phone and speak to?
It was getting the legitimacy of being a brand. You rock into a store at 23, they're like, 'what do you think you're doing in this world. You're a sportsman son, why not race?
It takes a lot of determination and wit, but once you've convinced one fish it goes from there - and suddenly you have the market.
In the beginning, we did every task. We understood I was the commercial face of the brand and Delphine was going to be a creative director, she's a designer. We went sourcing all together in Italy, while our production is in Portugal.
But now we are the end of start-up life - the real start-up where you do everything yourself - and transitioning into a small to medium company.
In that small time frame that we have we're getting everything together. We're only four to six people in the office, so that takes a big organizational challenge. It's just managing time."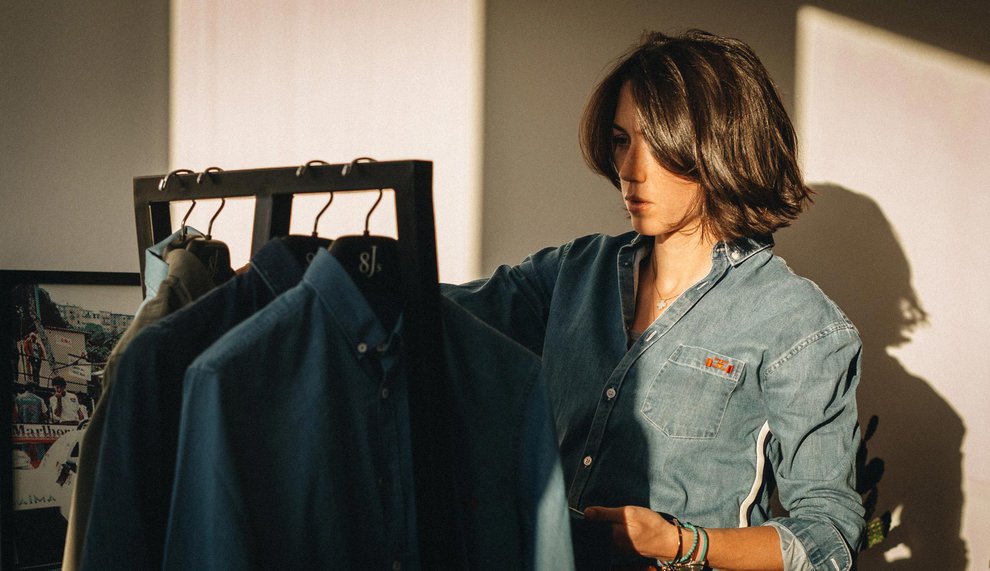 The head of design Delphine Prost taking a look at the 8JsSS20 classic shirts.
Taking 8Js International
Despite being a small team, 8Js has grown to an international company since the brand's creation in 2013.
"Markets like France, Switzerland Germany are big markets for us, but so is the UK and we also have the US," says Sacha.
"Our demographic naturally is the middle-aged man, with a fair to high income that has an understanding of racing and what trend and quality clothing is about. But now we're trying to ease into a younger clientele, so in March 2020 we have a collab with Formula One - to try and reach the 20s to early 30s age group."
Within a few years of going from store to store and getting 8Js in some of the biggest names multi-label department stores in Europe, in 2017 Sacha began looking at expanding online.
"One of the challenges is we're located in Switzerland. It's beautiful with so many ups, but it's not very dynamic - not a lot of the new stuff comes straight away and the next big developer is not Swiss.
Anyone I went to who was a web designer or developer, was like it's $15,000 to build a website, plus 5k for this.
We had our first website hosted on WordPress but I was really unhappy. It was complicated for me to upload stuff and I had no experience in web development, and actually I stumbled upon Shopify.
It seemed like the easiest way to build a website with $300. If you're fairly ok with technology, tweaking things in the code, then it's simple - I just needed a baseline. It was a solution and I just created it myself. Everything you see I've done myself.
We changed template four or five times. We have customized product pages. It's not even 'in-house' it's 'in-me'. I've hired photography and social media - he also uploads stuff but the big things are still me.
I won't be able to keep up forever, and I hope so too, but I know I can still go a long way like this. If you want to do very complicated stuff, then, of course, you might need extra help. But I always think simple and straightforward works.
Some companies propose so many amazing things but the average person online clicks on three buttons. If you're not spending something somewhere someone else might be and it's all about spending money right. I know I have to pay for certain things in life and put money into what will make myself grow.
If I only have a certain number of visitors that go there and my website on Shopify is looking good then I'm happy."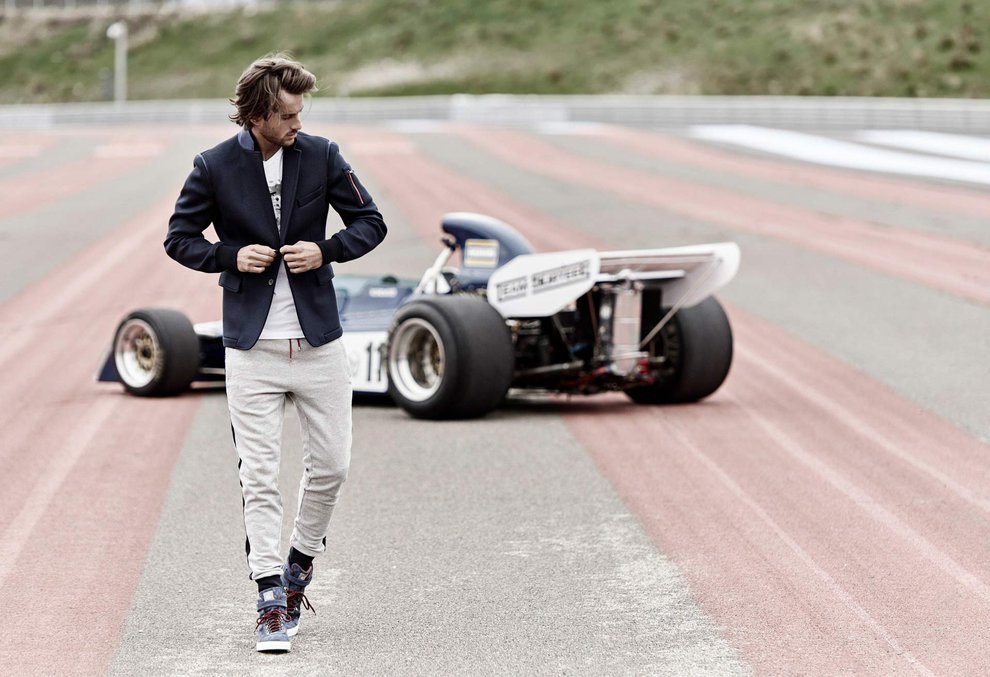 Automation and Optimizing
Sacha says that one of the big advantages of being a small team is that the processes they have to put in place have to be automatic - and they have to be put in place very quickly.
"That's the first thing we learned", he said.
I'm the most annoying person - I'm always looking for the next app the next thing. Anything that can help to automize I look for it. That helps my team
"So, when someone orders on the website, their invoice is sent straight to them and the information is sent to us in-store automatically," he said.
"Then an email goes with the order directly to the fulfilment facility - we only need an invoice if it's going outside of the EU."
Sacha says he uses invoicing app Sufio, which automatically creates an invoice when a customer places an order.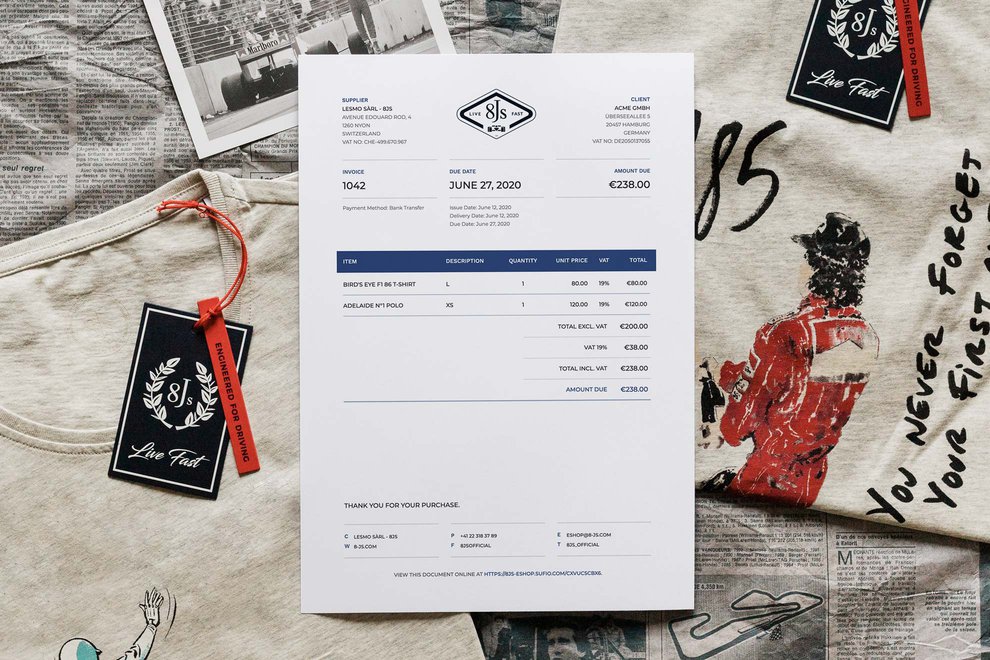 Custom-made Sufio invoice that was created especially for 8Js
He added: "There's nothing from our side unless there is a problem and we get about 0.25% with problems on stock but it's not a biggie.
On our store right now, we use mainly 10-15 apps simultaneously - the EU cookie app, Sufio, apps for DHL, pricing, the stock, sale app.
Apps are functional, I don't have one big app that does everything. I'd say definitely download Sufio, but for the rest always check what Shopify initially offers on the App Store. A lot of them will sell themselves well but I spent a lot of time on the App Store looking."
So how do 8Js attract people to their site? Well aside from social media - something Sacha admits he hates - it still comes down to traditional means.
"Anything relating to an event and meeting people is our best way to attracting new customers.
We do a lot of activation on racing - a logo on a racing car or going to an event with racing. By getting out and about you make a client more loyal than he was, you convert a new client, you can sell on location. That will always be rewarding - when you see people wearing your brand."
What about working with existing customers? Well, Sacha says that 8Js' most "profitable marketing medium" so far has been newsletters.
"There's not one thing on our newsletters that doesn't have a return. We have 3,000 on our mailing list and they're all loyal. If you're part of these newsletters you want to be part of it. I'm trying to build a community of fans around the lifestyle - later we'll probably do women, kids, furniture, etc.
The newsletter works really well. You can get 10% off your first purchase and then you get exclusive deals, product launches, special invites, special discounts.
We're not a brand that goes crazy on discount but we make sure valuable customers feel valuable. Our average basket is around 280 euros. If I had a million people I wouldn't have to worry. At the end of the day, you wouldn't say it is a marketing channel. But it's amazing for people who are already part of the crew."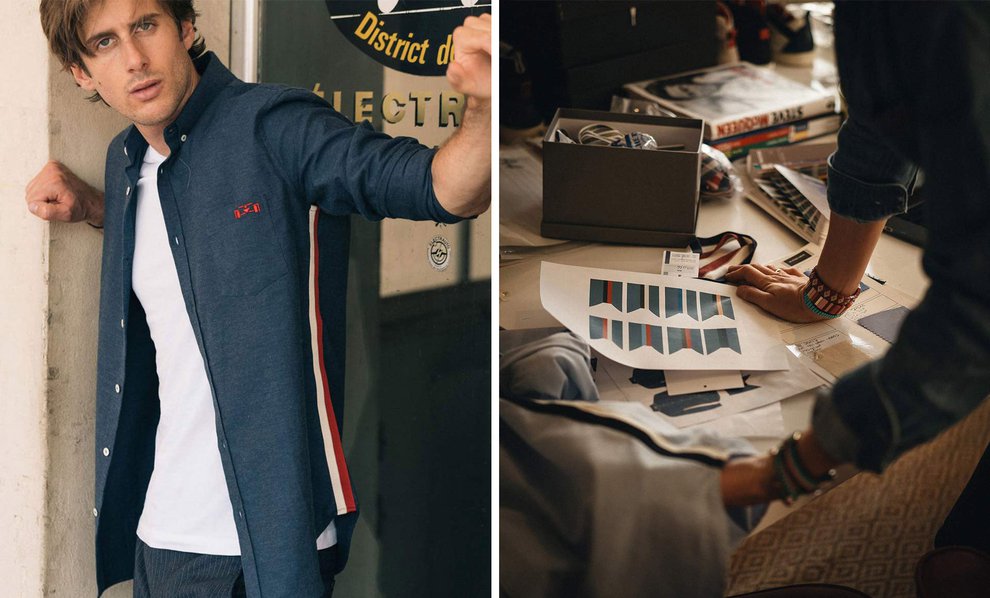 Creating a Brand
When Sacha sat down with his brother and sister-in-law to come up with a brand, they knew one thing was for certain - they wanted it to be inclusive.
We didn't want to call it Prost after our family, it only focused on my dad and our family - I wanted it to be part of anyone involved. I thought it was selfish if you're a fan of whoever.
"We were watching a documentary about the golden era of Formula One. I realized that all of the racers were all called Jonny or James or John. I called my brother and said it all begins with J. It really anchored a brand and a strong era.
In our heads, what we envisioned sparked really quickly, but it has evolved. It didn't come naturally from what first went down on paper.
We were so young, we were listening to the retailers too much. Stuff that wasn't in line with our vision. We had some missed targets with our collection. Now we really know what we want, we look like we're a lot more sure of it.
For me, I produced where it was ethical, responsible. That led us to Portugal, it's close by it's very professional. We now have 8-10 factories there and they are great.
My confidence grew with time. One thing I've learned and the main rule before anything else, if you think it's good, it's good, and if you feel it's crap, it's probably crap."
When it came to branding the website, Sacha said he just "did what I could".
"I had the logo in mind. Black, white, red. Over time it became more clear and standardized. Now we have our hex code that we apply on everything we do. Plus, having a graphic designer now everything is super smooth.
It didn't come right away but the main idea evolved into what it is today. For now, I'm proud of it. The logo now I'm putting a lot of effort for people to know it and keep it."
Sacha added that another important part of the branding process is to ensure that it all aligns. In fact, 8Js recently redesigned all of its packagings to align with its website and the logo.
"It's plain white with the logo, but the fun starts inside - we wrap all our clothing with silk paper and it's printed with news strips from my dad's racing days when he was in the paper - it's our racing heritage," he said.
And Sacha added that it's important not to forget invoices in the branding process.
"Invoices are always important - at the end of the day it's something people check.
The invoice customers get needs to play the part, they need to be able to say, 'ok, this brand is for real, it's not a hack. I have their address, this is where they're registered'. When there's something that can take care of it for you."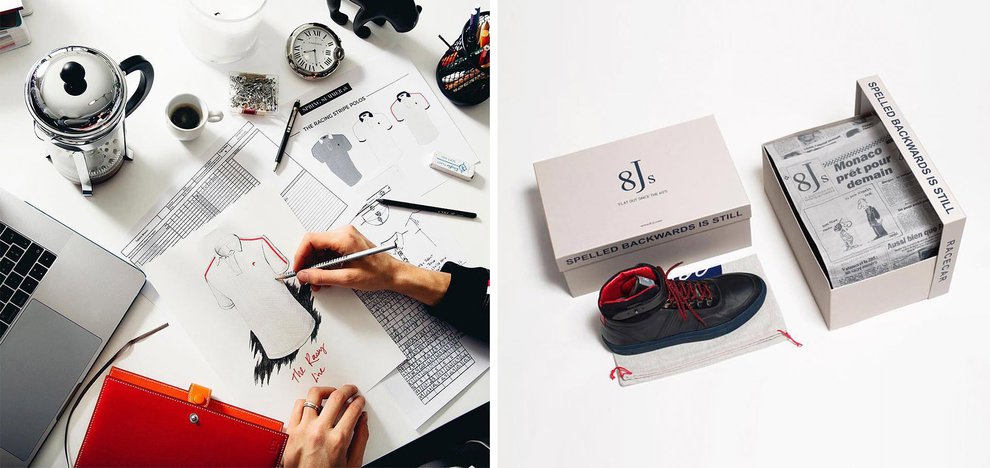 Words of advice
Sacha says his company has come a long way in the last six years, but if he had to do things again he would keep it simple.
The main thing - and it's back to simplicity - if I had to do it again, I'd choose one product. Then it would have been easier to start off than now.
If you want to do something quick, one product, and simple. Anything to buy, acquire to use to identify it's a better idea.
Then the next piece of advice would go on YouTube and type 'how to'… and don't give your money to anyone until a year and a half in the business.
Better to spend the money on the product, all the rest you can do on your own. All the rest is waking up early and grinding."