Fair + Square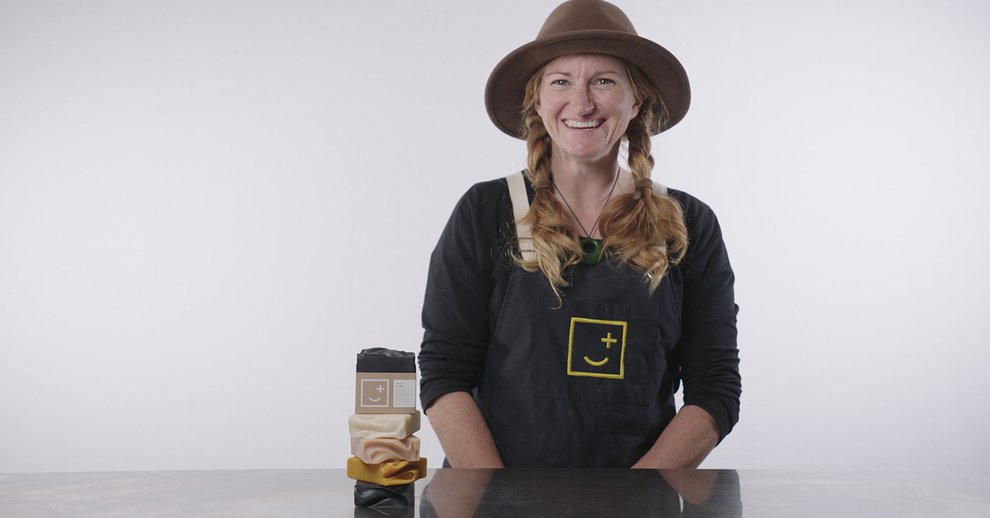 After knocking back her final sip of coffee, Carly Low kisses her children on the cheek before putting on her favorite hat and heading out the door.
It's a day at the soap studio situated on the lifestyle block where Carly lives with her husband and their two kids in Northland, New Zealand.
Walking up to the Colorsteel farm shed, she can already smell the blend of aromas wafting from the essential oils and bars of carefully handmade soaps inside.
Inside she flicks on the stereo, filling the room with a hum of old music while her dogs take their usual spots - one on their chair and the other at her feet - as she gets to work making her newest batch of products.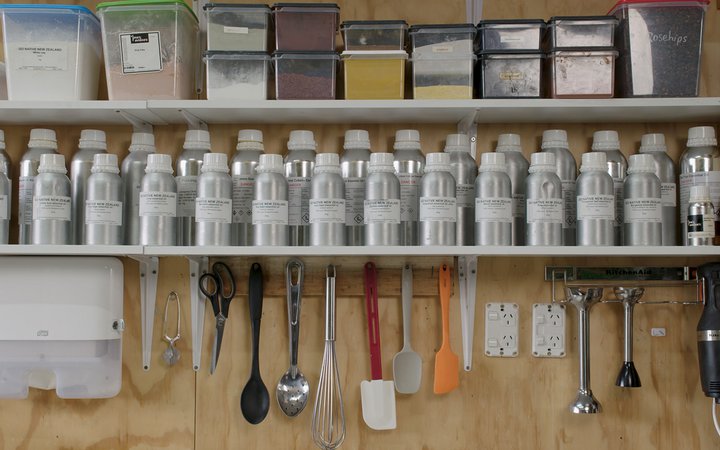 She uses a traditional cold-press process that goes back thousands of years - and involves waiting for six weeks while the soaps harden into long-lasting, rich-lathering bars of goodness that can be hand-cut and packaged up.
For Carly, setting up a successful business came as a bit of a happy coincidence. In fact, she describes her company, Fair + Square, as a total accident.
It started when she was given a soap-making kit in 2008, and she became instantly intrigued by the process, spending the next five years learning the craft and making soap for friends and family.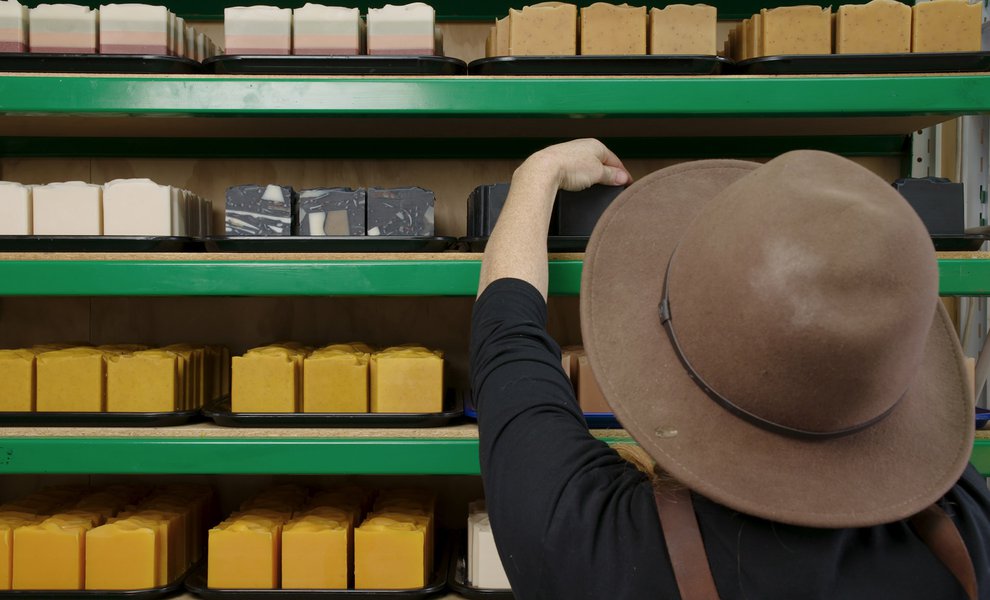 Carly said: "I loved that I could control what went into the product and steer away from the harsh chemicals found in commercial soap bars."
Once she was happy with her products, she then started taking them to local markets with some promising small success, so towards the end of 2015, she began approaching stores to sell Fair + Square soaps wholesale - but was met with mixed results.
"The handmade soap industry is huge, with it available everywhere, at every market in the country.
"It was very slow for those early years until I brought in a branding designer at the end of 2017, and then it really took off.
"The designer took the vision of my brand and turned it into something that had its own identity, and that looked amazing on the shelf."
Almost instantly, Carly started to get requests to stock her soaps in stores all over New Zealand and now supplies to around 130 stores across the country.
Shifting to Shopify
While Fair + Square was really starting to take off in physical brick and mortar stores, Carly soon realized that for her business to grow she would also have to make her products available to purchase online.
She turned to Shopify as some friends and family were already familiar with the platform and had recommended it as a simple way to set up an e-commerce store.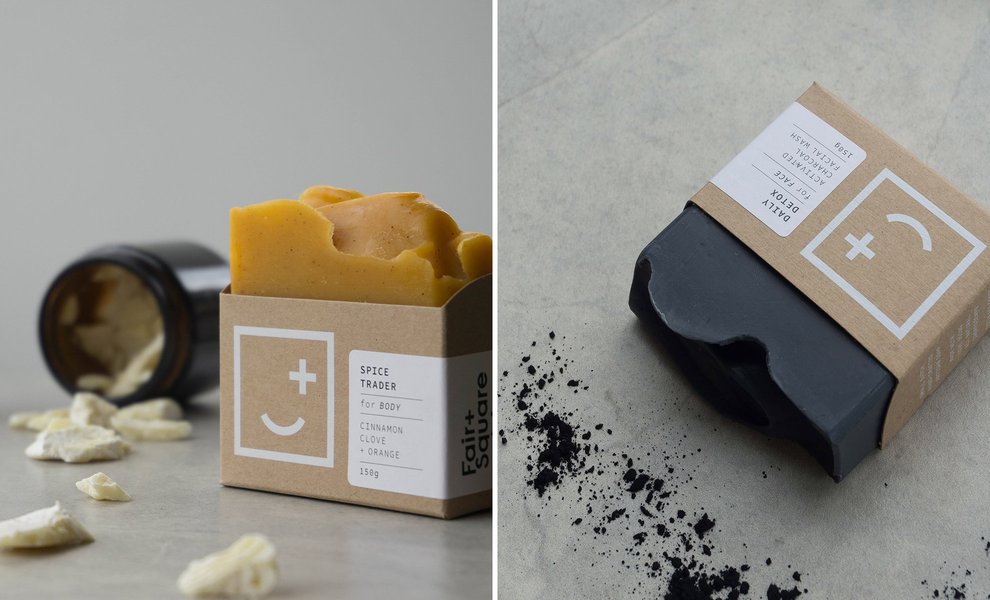 Carly actually has two stores - one is beautifully set out for retail which she had designed professionally, while the other she set up herself for wholesale customers to place orders, and so she describes it as very basic.
For her online retail store, she knew her brand story would be crucial and brought in her friend Mayk Design to take the ethos behind the business and turn it into a brand with its own strong personality.
"Selling soap in person is a lot easier than selling online. In a brick-and-mortar store, you can pick up the product, smell it, feel it, and easily convert to a sale. Online you don't have this luxury, so my website needed to tell a story about the brand behind the soap.
"These days, the consumer is very knowledgeable, and they are buying into brands they resonate with, rather than merely a product.
"They want to know where it was made, who made it, and they also want a glimpse into the real people behind the brand. So the website is crucial to tell this story."
The benefit of having an online store was reinforced for Fair + Square when the coronavirus pandemic hit, despite New Zealand only experiencing one four-week lockdown in March 2020.
Carly said: "Our short lockdown did make me aware of the necessity of having a good direct to customer model, rather than solely relying on brick-and-mortar stores who had to close their doors briefly.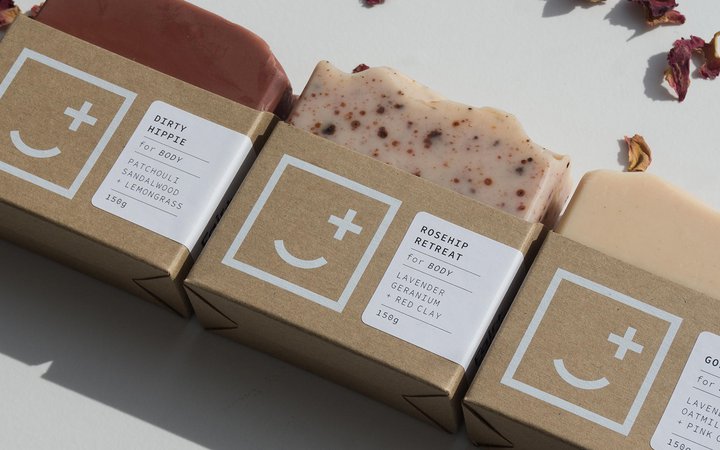 "So I have been trying to focus more on that direct model, with the knowledge that more people are being forced into online shopping."
To attract new customers, Fair + Square are currently putting their focus on Instagram and Facebook advertising, something Carly admits is proving really successful.
"I have tried other avenues - mostly print - but have not had anywhere near the returns as on social media," she said.
As for existing customers, Carly is working with a website company to create automated email flows, starting with abandoned cart reminders, then a thank-you email after purchasing.
This will be followed up with an email containing the shipping information and then a prompt to leave a review on the website.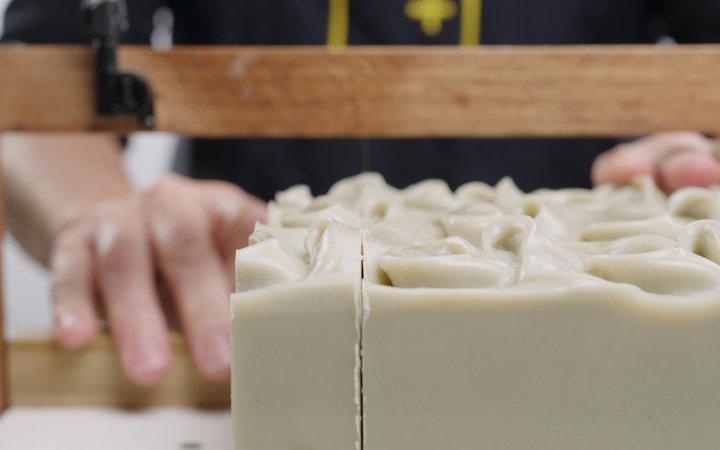 There are also plans for some newsletter sequences, including a welcome email with a little information about Fair + Square, followed by some topic features, brand ethos, and helpful tips.
Another feature Carly is keen to set up is a subscription option, so customers can set their favorite products and receive a box of soap every month.
Power of automation
Being able to run automated features is a massive relief to Carly as it allows her time to continue doing what she loves - making deliciously good-smelling, high-quality soap!
One of the apps she relies on is CourierPost, which integrates with Shopify and imports all her retail and wholesale stores' orders.
She explained: "The courier tickets are all automatically generated, so all I need to do is print out the invoices, pick and pack the orders and stick the courier label and they are ready to go.
"We set this up at the end of last year, and it has been a lifesaver. I used to spend hours manually inputting customer address information for shipping. Now it's all done in seconds at the touch of a button."
Another app Carly uses to help run her business is Sufio, which automatically generates invoices for every order and sends them to the customer's email. Not only that, but they are customizable too, so she can reflect the strong brand identity from her website right through to the important documentation.
She added: "The branding needs to be consistent across all channels, and this includes the invoicing. Each little aspect of the business needs to be cohesive to build a strong brand identity. Plus, it really plays into my perfectionist OCD tendencies!
"A few of the features were not part of the Sufio templates, but the customer service is incredible, and the amazing staff helped me set up the invoice specific to my needs."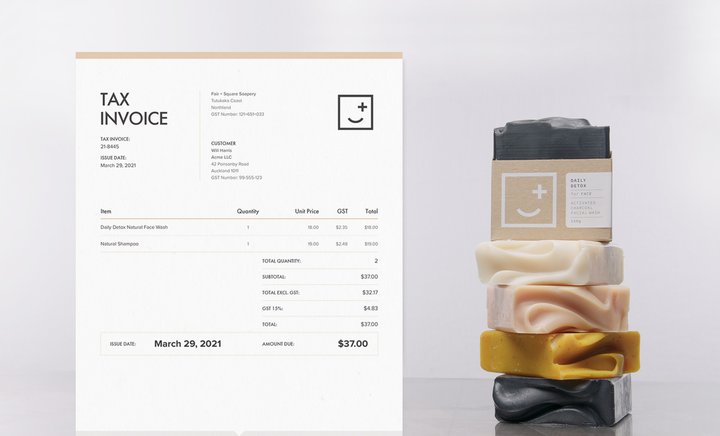 There are also other distinct elements to Sufio that Carly was unable to find when looking for an invoicing app.
"With Sufio, I am able to set a specific due date - we use the 20th of the month - which I can't do on the other invoice apps," she said.
"I can also set the Goods and Services Tax (GST) to add to each item separately - again on the other apps it would only add GST onto the total and due to rounding issues, it was always out by several cents, which was a hassle at the end of the month trying to reconcile my stores into the system."
What's the future for Fair + Square?
At the moment, Fair + Square is predominantly sold in New Zealand, but Carly has hopes to expand to Australia in the near future.
They are also in the planning stages of building a new larger studio to accommodate the growth of the business.
Carly said: "My dream is to be able to provide three to four part-time jobs to locals. I don't think anyone should work full-time, and I work part-time myself to achieve a good work-life balance.
"To do this, I would need to double the sales we currently have, which I see as entirely achievable in the next five years."
She is also working on cutting costs and increasing her profit margin by working with a branding designer to come up with a better way to process the Fair + Square packaging.
"I was not prepared to compromise on the quality of the product or the wage at which I pay my staff, and so it has come down to the packaging," she said.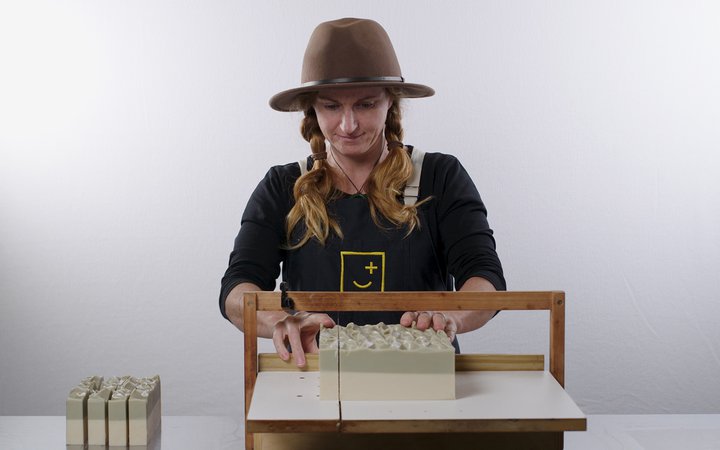 "Our packaging is all 100% biodegradable and home compostable. We don't use any plastic (or bio-plastic alternatives; everything we use is paper and cardboard, including our shipping materials.
"The soaps are hand-cut to give a nice smooth feel and put into little opened top generic boxes. Then the corresponding sticker is placed on the box depending on the type of soap before the bar is wrapped in tissue paper to protect it during shipping, with a little sticker placed to keep the tissue paper in place.
"The process to package the soap takes twice as long as it takes me to make the soap.
"I have been working with my branding designer to come up with a better process, and we should have that ready to go by midway through this year.
"The new packaging will reflect the simple ethos behind the brand, identifying the essential, and eliminating the rest."
While Carly is facing the exciting prospect of growing Fair + Square to an international customer base, she still remains humble.
"Good handmade soap is a delight to use, and I wanted to share this with everyone," she said.
"I have always been a maker of things, and I have dreamed of being able to make a living doing something that not only makes me happy but which makes others happy too.
"I am so grateful that I have stumbled upon this path."