More clarity when selecting items, clients, and tax rates
Sufio prides itself on its powerful automation of creating and sending documents like invoices, credit notes, and pro forma invoices, but that doesn't mean we've forgotten about users who prefer doing things manually.
Some of our users need to create invoices manually from scratch or edit those already issued from orders in their online store. Until now, making such changes may have been tricky since the autocomplete dropdown menu for the items, clients, or tax rate fields did not reveal all the necessary details, making it hard to select the correct option.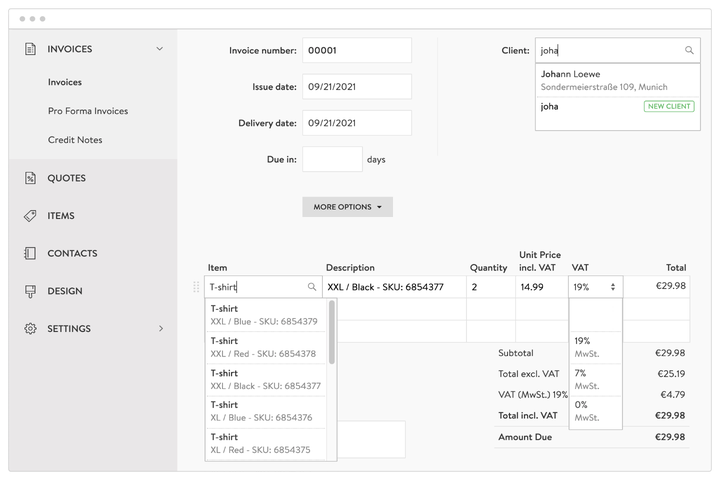 We admit that this must have been a pain for many, so we're happy to announce that this won't be an issue anymore because we've extended all three fields for your convenience.
More clarity when creating or editing a document manually
If you need to create or edit a document manually when selecting one of the dropdown menus for items, clients, or tax rate fields, you'll be able to see the additional details helping you pick the right option quickly.
Suppose your online store sells a T-shirt in various sizes. You can search for it using SKU, and thanks to the extended autocomplete dropdown menu, you're able to see all the relevant details such as the color, size, and SKU of the T-shirt item to select the one you need quickly.
The same applies to the additional input fields — the tax rate field now shows the tax rate name, and the client field also displays the client's address.
Try it out and see how easy it is to find what you're looking for!
Note
You can edit an automatically created invoice in your Sufio account, but please note that editing an invoice in Sufio will not modify the respective order in Shopify.
Need help?
Is there anything in Sufio you are missing that would benefit you? If so, please contact our support team. We will explore ways to make the necessary improvements!