Build a stronger brand with professional fonts
Typography is a key part of branding—just like colors and logos, it helps businesses go from small online stores to global brands.
In 2023, Sufio will help you on that journey by introducing integrations with renowned font foundries. We're starting with Google Fonts because they have one of the biggest libraries, instantly giving our users access to over 1,500 font families.
Our design team handpicked a curated selection of the best fonts from a variety of categories. There's something for everyone. We've even written a little about each font and its potential uses if you're struggling to find the right fit for your brand.
Wanna try it already? To pick your new fonts:
In your Sufio account, go to the Design page.
Click on Typography
Choose from the Primary Font and Secondary Font dropdowns
For those creating documents in languages that don't use the Latin alphabet (Arabic, Japanese, etc.), you'll see a different list with fonts that supports your language.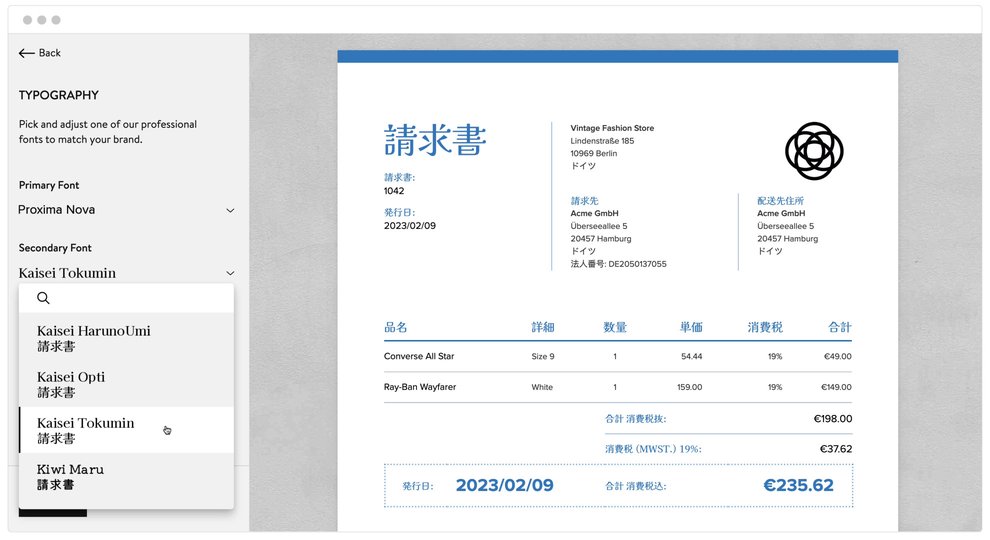 Adjusting font size
Sufio also enables you to fine-tune these fonts. If you opt for larger text, it improves the document's legibility, while small fonts help you fit more details on a single page.
You can look forward to more font families in our library soon. We're focusing on future integrations with more well-known foundries and smaller niche collections to give you a wealth of options.
Let Sufio automatically create and send beautiful invoices for every order in your store.