How The Shopify Partner Community Is Growing Global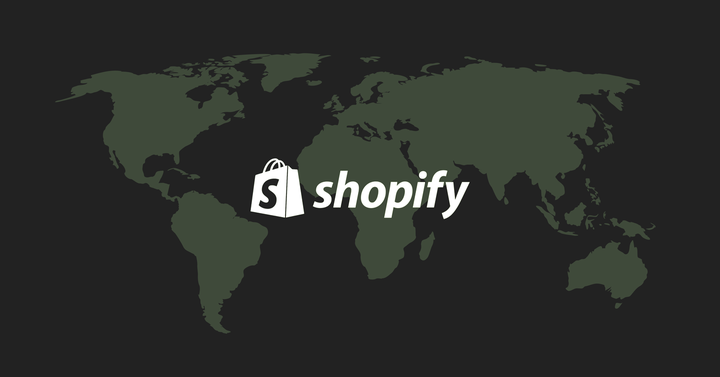 Shopify's annual partner conference, Unite, is just around the corner, and every year its audience becomes increasingly international. It's a great reflection of how the platform's community has grown to become truly global in recent years.
Whilst in earlier days this ecosystem was predominantly the domain of English-speaking countries (most typically the US, Canada and the UK) today we see strong representation from countries all around the globe – a sure sign of the expanding opportunities on offer.
Shopify Experts: Continued Expansion
The Shopify Experts program now recognises members from 57 different countries, representing every continent bar Antarctica (although if current trends continue, we're sure this won't be far off…).
As can be expected, the majority of Experts are still to be found in North America, but in recent years there's been significant growth for Europe and Asia. In 2018, new Expert certifications in Europe outstripped those in North America for the first time, and this trend appears set to continue.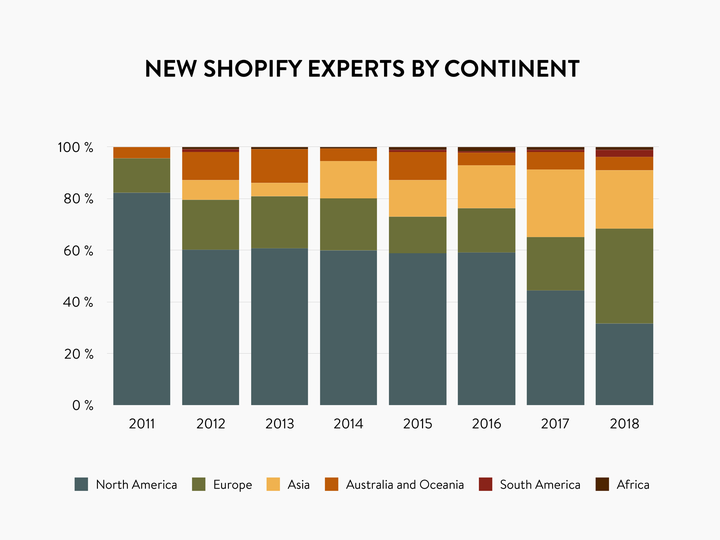 Over the past seven years, the spread of Shopify Experts has been a truly global and impressively rapid trend.
Launching in 2011, with just four core countries represented, by the end of 2012, this number had almost quadrupled, jumping to fifteen. Today just eleven countries are represented by a single Expert, while the average number hovers around twenty two.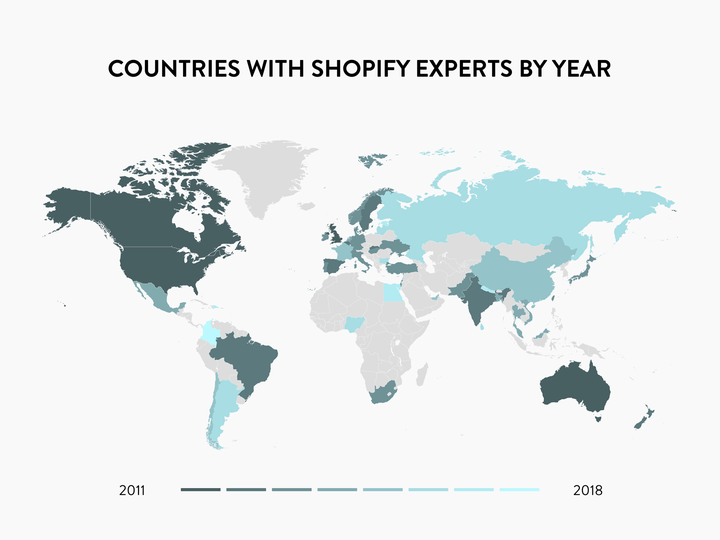 This global expansion of Experts can perhaps be attributed to Shopify's decision to localize its offering, beginning with the beta launch of Shopify in six languages (French, German, Japanese, Italian, Brazilian Portuguese, and Spanish) in 2018.
By opening up the platform's potential to non-English speaking entrepreneurs and retailers, the path was also cleared for partners to begin developing for and assisting in these new markets.
Facebook Groups: Support For Thriving Communities
As the Shopify Partner community has expanded globally, the outlets for online communication have also grown. Shopify Facebook Groups are now active in 24 different languages.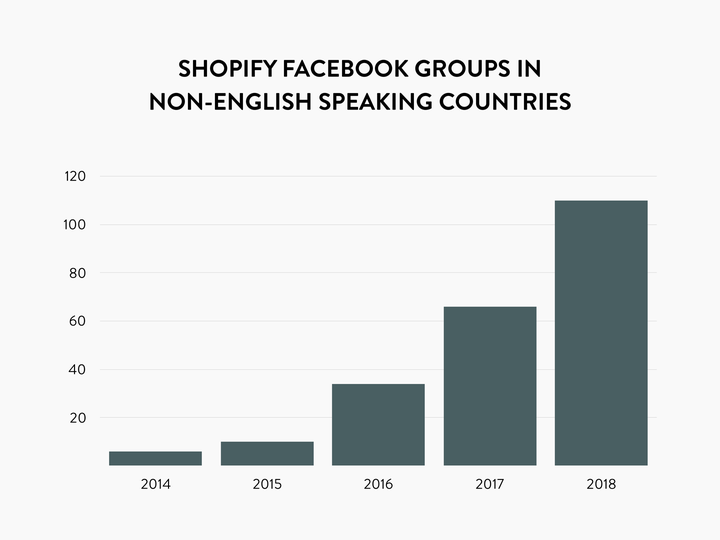 Supportive, vibrant Facebook communities exist representing increasingly well-established countries (France, Germany, Italy, Spain) but also places such as Vietnam, The Philippines and Israel, which both boast several thousand members already.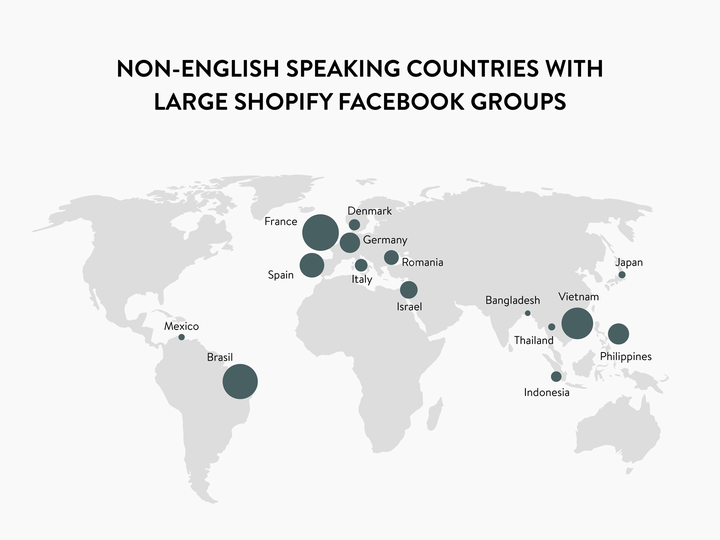 When we look into the increase in these connected, collaborative communities, the vast majority of these new Facebook groups have sprung up in the last two years, mirroring the growing interest in the entrepreneurial opportunity the platform brings as it expands.
Shopify Meetups: Partners Getting Personal
This community spirit doesn't just exist online. Shopify Meetups have long been a highly valued aspect of the Partner ecosystem, bringing together both merchants and partners to debate, network and learn from each other in person.
The distribution of Meetup locations has been steadily spreading, with new locations regularly becoming established. 2018 saw meetups hosted across the globe, from Stockholm to Sydney, Cairo to Mexico.
Certain countries beyond North America, such as Germany, seem to have an especially strong scene in this respect, with multiple cities hosting regular meetups throughout the year; a real testament to the community's desire to learn from and help each other in person.
The first Shopify meetup to be hosted in Ha Noi recently brought together over 150 developers who form part of Vietnam's thriving Shopify scene.
More established locations continue to thrive; Berlin hosted its first Meetup in 2017, and in a few short years has clocked up eleven well-attended events. They're now scaling their offering, hosting Merchant Inspiration Talks, a large event which will welcome hundreds of attendees this summer.
A World Of Opportunity
The continued growth and global expansion of Shopify presents a fantastic opportunity for the members of its partner community, both today and in the future.
The platform's mission to make commerce better for everyone, everywhere, means the potential to expand our assistance, expertise and offerings to these new markets is limitless.
Of course, new frontiers require a considered approach and careful preparation. We'll be discussing some of the most important tactics in our talk Building Multilingual Apps at this year's Shopify Unite.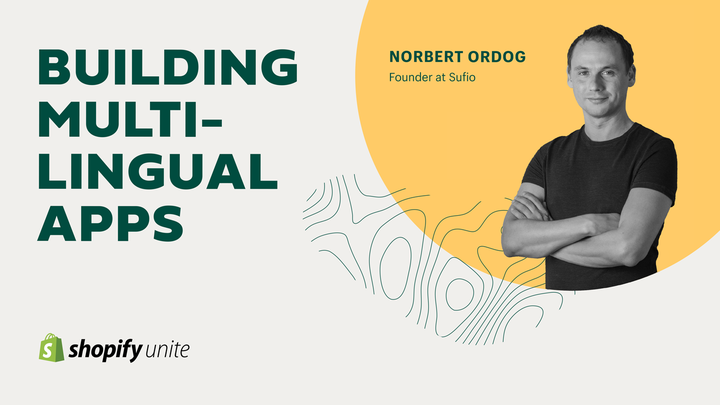 Our session will explore the huge opportunities that exist within the international Shopify ecosystem for those looking to expand their client base and offering.
We're witnessing enormous growth for the platform within non-English speaking countries, and will be offering some practical advice on how you can be ready to meet this new demand for services and expertise, via the mediums of.
You can also catch up with us at De:brief event, where we'll be contributing to some of the panel discussions, and available to chat about any questions you might have in person.
Get Ready To Go Global
Unite is always a fantastic opportunity to come together with likeminded Shopify partners, and this year we're excited to meet with familiar faces and new acquaintances from around the world.
As the community continues to grow and expand to new countries, it's more important than ever to share our local knowledge and experiences of branching out to new markets. The Shopify community has always been welcoming and altruistic – its global expansion unlocks a whole raft of new opportunities for those working at the forefront of ecommerce.
Join our partner program and offer your clients the confidence and polish of a professional invoicing solution.