Tomorrow, The World: It's Time For Shopify Agencies To Go International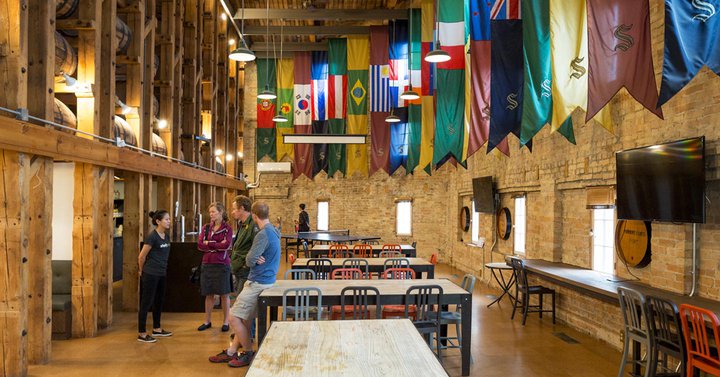 The established strongholds of the ecommerce industry are starting to be challenged. As the market within non-English speaking regions explodes, in recent years we've seen the Shopify ecosystem go truly global.
In 2018, for the first time since the start of the programme, new Expert certifications in Europe overtook those in North America. For agencies savvy enough to consider expanding their horizons, the opportunity has never been greater.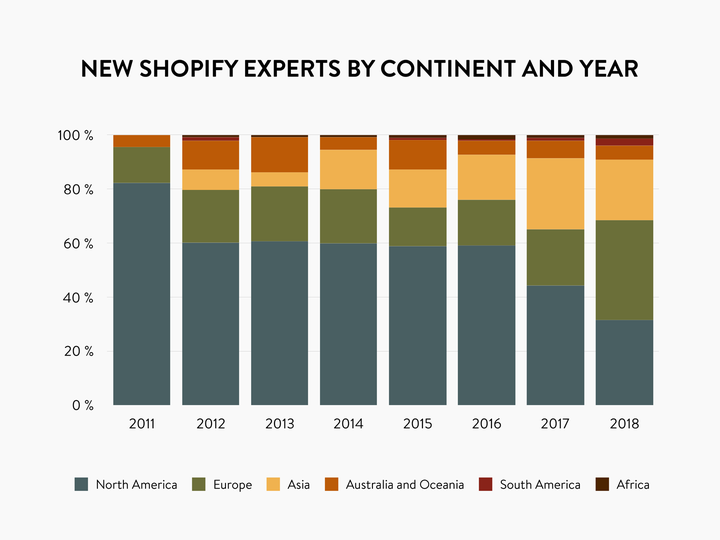 The potential, drive and ambition within these developing regions is truly impressive, and increasing numbers of established Shopify Experts are starting to sit up and take notice. This article will explore some of the ways in which various agencies are already taking the initiative, and proactively expanding into new markets.
Making Commerce Better. For Everyone.
After launching with four core countries represented in 2011, the Shopify Experts Programme expanded rapidly. As of this year, the program recognises members from 57 different countries, and much of the recent expansion can be attributed to Shopify's decision to localize it's offering. By rolling out beta versions of the platform in six new languages (French, German, Japanese, Italian, Brazilian Portuguese, and Spanish) in 2018, the platform's potential became much more accessible to non-English speaking entrepreneurs and retailers.
Further announcements made at this year's Unite event also showed the platform's continued commitment to easing cross-border selling, with the ability to charge in multiple currencies being rolled out for all merchants, and new set of APIs, focused on translation and shop locales, being released.
With this rise in global demand, the need for a more diverse range of experts is also increasing. This is clearly recognised by Shopify, as the new Experts Marketplace has been structured to enable merchants to search for agencies and other service providers who are able to offer their services in specific languages.
Currently, Spanish is the best supported, with 93 Shopify Experts offering services in this language. Close behind follow French (77) and Hindi (54). These stats are an illuminating glimpse into the global spread of the platform's third party support network.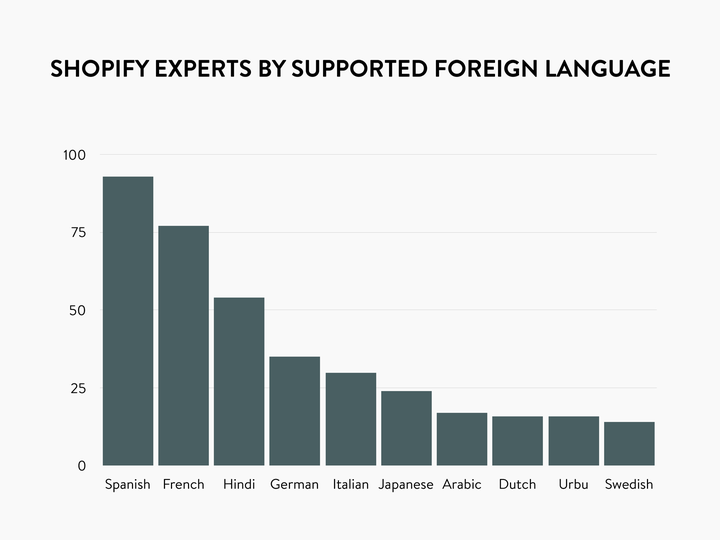 All of this places established agencies and experts at a very exciting crossroads. While many have built up substantial client bases within their native regions, there's a fantastic opportunity to begin to expand, adapting to meet the demand of these highly ambitious new markets.
Now You're Talking My Language…
Today, the majority of ecommerce sales are made in countries that speak languages other than English. In the next 5 years, this share will jump from the current 58%, to exceed 65%.
Just as creating multilingual apps enables a greater cross-section of merchants to benefit from the Shopify ecosystem's expertise, agencies who offer a broader range of services in different languages are also starting to see the benefits of doing so.
We spoke to Dan McIvor, Founder and Director of Swanky, one of the first three agencies in Europe to be awarded the title of Shopify Plus Experts. The agency, although based in the UK, recognised the opportunity within the German market some time ago, and have since cultivated a strong client base there.
"We have worked with several German businesses over the last eight years as a Shopify specialised agency, our largest German client being Schwarzkopf. I think there is huge potential, and am really excited to see how the ecommerce landscape changes over the next couple of years.
As Swanky don't have any staff on the ground in Germany, we asked Dan what special provision was made for their German-speaking clients;
"Our team has quite a bit of experience within German culture and business through team members who have worked there. We also have several staff who consider German their second language. We travel, particularly to Berlin, fairly often and participate in events with Shopify and other partners in the ecosystem."
This willingness to recognise a growing market, and to set your sights further afield in terms of potential partnerships can pay real dividends. By fusing your own Shopify platform expertise with an appreciation of local culture and language, agencies can place themselves at a real advantage within a new territory that's still finding its feet but showing real potential.
The Shopify Agencies Ahead Of The Curve
Certain agencies are going even further than linguistic expansion, and establishing a brick and mortar presence. Expansion of this kind is, of course, a real commitment and requires a good deal of careful evaluation. However for the agencies willing to put in the research, the rewards of physical proximity to your new client base can be high.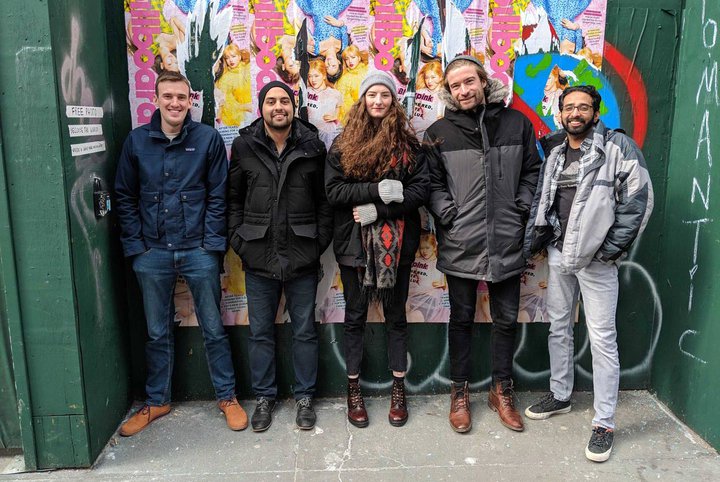 We Make Websites have seen stellar growth from their base in London in recent years, and so it was not a great surprise to the community to learn that they were expanding out into another English-speaking region, New York City. We asked Co-founder Alex O'Byrne, who led the charge, relocating to the US, if it was a difficult decision for the business.
"Our style is to jump in headfirst and see what happens – but we also make sure to protect the downside. There wasn't a huge amount of upfront investment involved, other than moving me out there, and I even managed to sell a few projects back in 2017, before I actually moved.
We already had a talented team able to deliver from London."
Another layer of complexity is added when setting up new offices in a region that speaks a language different to your business' native tongue.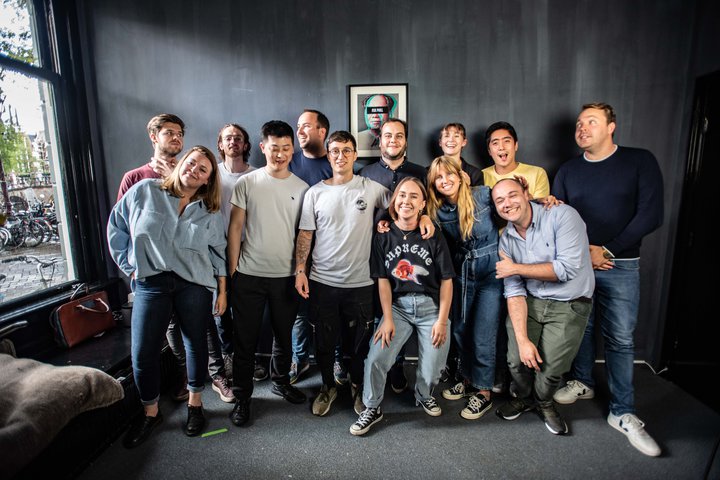 Digital Agency, Ask Phill have expanded into Asia, with an office in Tokyo, Japan. We asked their co-founder, Martijn Wijsmuller, to tell us more about how the expansion came to be, and how they knew the time was right as a business;
"We had a close friend working in Japan as a freelancer. They understood the local culture and market, and thought that starting with services in this manner would be a low-cost, low-risk way of entering a new market. With an eye on the 2020 Olympic games, we are also expecting a lot of foreigners to visit and get to know many unfamiliar, cool Japanese brands. Buying on their Japanese sites is currently almost impossible, so we've identified our added value here.
A great example of two Shopify Partners working collaboratively to leverage each other's experience when looking to set up space in a brand new region are Eastside Co and Creative 971.
Eastside Co have their main office in Birmingham, housing a team of 60+, and a satellite office in London where many of their key clients are based. By contrast, Creative 971 cater to the UAE and Middle East, from their base in Dubai. With both agencies keen to move into the German market (the founders of Creative 971 are themselves German, speaking the language as their mother tongue) they have expanded together, joining forces to open a new office space in Frankfurt.
The new office will be set up under the Eastside Co branding (which is currently stronger in the European market) but leverage both agencies networks and combined understanding of cultural practice within the region.
We asked Julie Jackle, co-founder of Creative 971, for a little more insight into the reasoning behind the partnership;
"My brother and I were already talking about expanding into Germany, and things evolved naturally with Eastside Co, as we already had a great relationship with their Founder, Jason, and knew they had similar ambitions.
There's a real demand for German speaking Plus agencies in the country, and we knew we could help meet that, alongside Eastside Co.
Ultimately, having multiple international offices helps us both by having more of a global approach to business. Most ecommerce sites trade in multiple territories now, and this collaborative expansion helps us by giving us the infrastructure and knowledge of different regions to help our customers enter into these markets."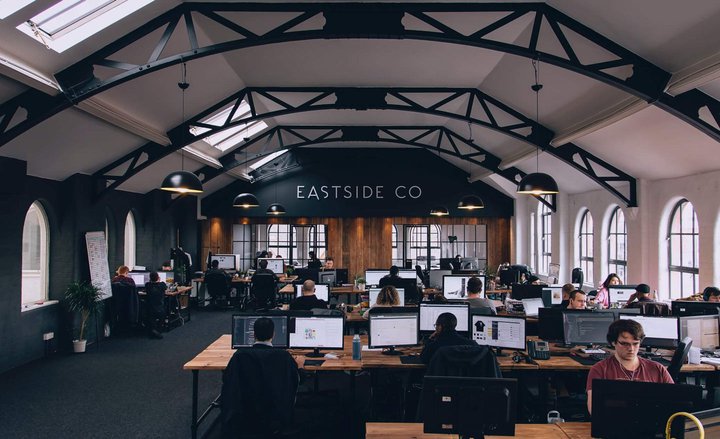 Jason Stokes, CEO and founder of Eastside Co, confirmed that the international expansion of the platform, coupled with the potential of promising new frontiers and the ability to work in tandem with other members of the Partner community, was a combination too good to pass up;
"Global adoption of Shopify and growth of ecommerce in emerging markets was a huge driving factor in our decision to move into Germany. Having great partners to enter the region with has really helped push things forward.
While the remote model works for some, I find there's a certain energy in the main offices which everyone feeds off."
While Eastside Co value the community an office can bring, many agencies run on a distributed model, benefitting from a physical presence (albeit in the form of remote workers, and not a client-facing space) in multiple locations around the globe.
One such success story is Pixelcabin, who have run a fully distributed team from the get go, with a great deal of success. We spoke to Co-founder, Michael Shannon, about their current set up.
"There are four of us in the UK, one in France, one in Bangalore, one in Thailand, my co-founder in Hong Kong and one more splitting his time between Tokyo and the Philippines. With the exception of Hong Kong, that's all just because where the best person for the job was.
Even if we're not a fully native company relative to Hong Kong, we're still going to be highly competent Plus agency within the space, with the ability to assist in real time."
The Challenges To International Expansion
While there are many benefits to a global presence, international expansion can of course come with its fair share of challenges.
Alex O'Bryne of We Make Websites, has first hand experience of the practical considerations of opening up a new frontier;
"Hiring in the US is way more expensive, especially in New York. Healthcare is not socialised, so you need to pay for that.
Everything else is generally just more expensive, so salaries are higher. However, the upside is that project budgets are also bigger. This is, after all, the largest economy on the planet. So I see it as paying to play in the largest casino on earth.
Another issue was the tax and financial side – it honestly felt like we were the first company ever to have offices in different countries. I did a lot of Googling, which was important, but there aren't many tax and accounting professionals that have deep knowledge of both jurisdictions. I felt like I bridged the gap a lot. Unless you're going to splash out on a "big four firm", you're going to end up being quite involved in this process. Also a lot of things are archaic, paper-based and confusing in the US, so brace yourself for that."
Of course it's not just the practical logistics that agencies need to prepare themselves for; a cultural shift should also be expected, as an office in another location and timezone won't be operating in isolation from your established HQ. Alex again;
"Having two offices means that your communication needs to be… perfect. Or as close to perfect as it can be. Information in a single office passes through formal means, but also in the open air, at lunch, by word of mouth. With two offices, everything needs to be explicitly communicated, on calls, via Slack, via whatever means.
You'll also inevitably end up with two different tribes, and you'll need to work hard to make sure that the company culture is aligned in both offices, despite cultural differences.
You'll definitely need to jump on top of the inevitably human habit of being harder on people who aren't there. In short, empathy will become a skill you need to nurture in all teams.
For those looking to go down the remote / distributed model, careful consideration still needs to be taken in this regard. We spoke to Shauna Moran, Founder of OperateRemote, to get some tips for best practise here;
"Leaders of remote teams need to understand how 'distributed' works for them and based on that create communication, culture, engagement and performance-management strategies that will enable your business to succeed in a distributed environment.
While testing IQ in the interview process, it's also vital to consider incorporating EQ (emotional intelligence) assessments which cover areas like self-awareness, empathy and assertiveness.
We live in a world where we are super connected electronically and disconnected interpersonally so ensuring we have the correct skills to bring the human-connection back into remote working is vital."
Time To Spread Your Wings
There are many ways in which your Shopify agency can begin to stretch out globally. Involvement with this growing industry trend can very much be an incremental process.
At one end of the scale, agencies can start to consider second languages as a beneficial attribute when recruiting, or being more active in marketing an existing capacity to provide services in another language. At the other end of the spectrum; a brand new brick and mortar office space in a region that speaks another language and adheres to entirely different cultural norms.
Whatever the degree to which your Shopify agency takes advantage of the platform's global spread, one thing is for certain: the opportunity is out there. Now is the perfect time to think about the creative and profitable ways that you could be expanding the reach of your Shopify agency.
Join our partner program and offer your clients the confidence and polish of a professional invoicing solution.