Launching Our New Partner Program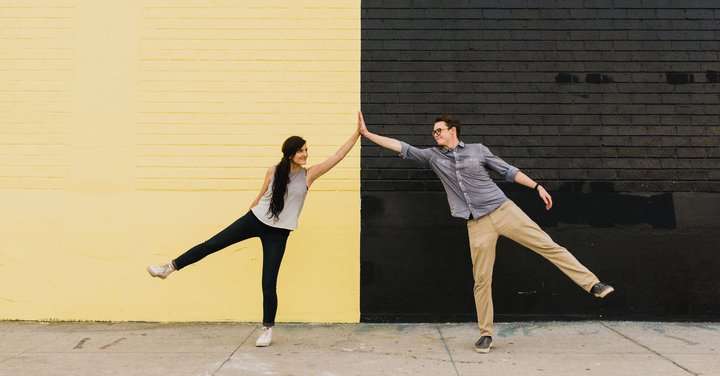 Shopify Partners play an important role in introducing new merchants to the platform, which is why we set up our own partner program two years ago. But in this fast-paced, ever-evolving environment we knew it was time for a revamp.
We have spent hours talking to our partners from the Shopify community to better understand their needs and the way they work with clients.
And now we're pleased and excited to launch our brand new partner program - complete with some added benefits.
Partnering with Sufio already enables your clients to streamline their invoicing, so here's what's new…
Dedicated Support
We all need a little helping hand now and again - so we've worked on how we can offer better support to our partners.
Whether it's helping to customize clients' invoices or correctly set up taxes in their store, we will be there with dedicated advice.
We will also be more than happy to share our knowledge of invoicing and taxes with our partners to help them expand into new markets as the Shopify community grows global.
You can contact your partner manager directly from your partner dashboard. If you prefer to talk over phone, you can also book and schedule a call there.
Alternatively, if you are part of the Shopify Partners Slack workspace, you can use a link to chat with your partner manager on Slack.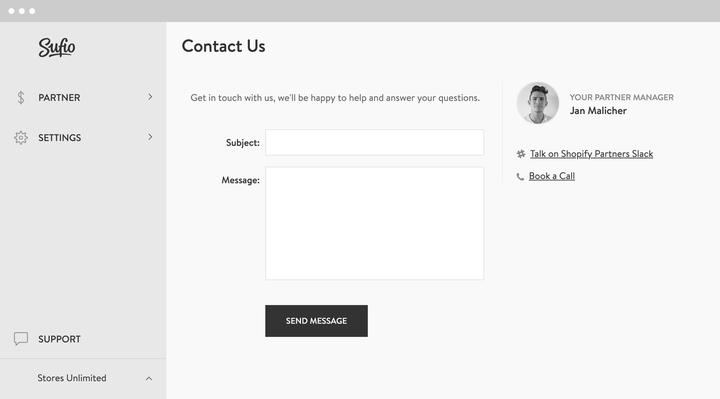 Recurring Revenue
Growing your recurring revenue is one way to invest back into your business.
So, as a way of rewarding our partners, you can earn a 20% recurring revenue share for each client you introduce to Sufio.
We've introduced a couple of ways of doing this.
Using Referral Links
Referral links allow you to send a unique trackable link to your clients to install the app. They can also be used in blog posts, articles and other content.
Now we've built the ability for you to choose where your referral link should send your clients.
You can either send them to Sufio's website, where clients can get a lot more details about our app. Alternatively, you can send them directly to our app listing page in the Shopify App Store where clients can install the app and get started straight away.
And, as an added benefit, partners can also now offer an extended 30-day trial to their clients to give them more time to evaluate Sufio.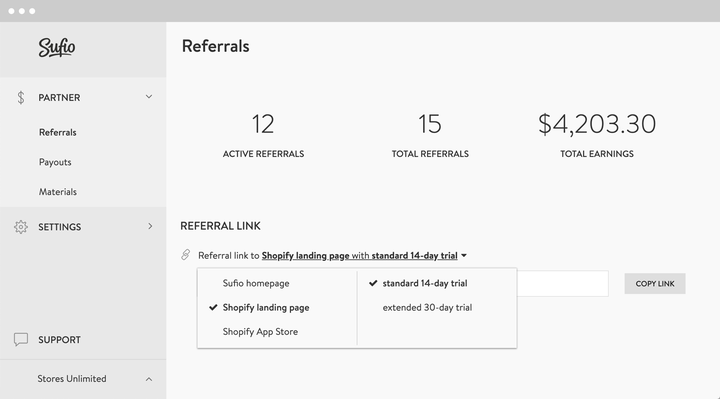 Customization of partner's referral link.
Adding Referrals Manually
We understand that some partners prefer not to share their referral link with their clients.
So, now partners can add clients who installed Sufio without using the referral link in their partner dashboard.
It means partners won't have to ask anything of their client - avoiding any disruption with getting projects completed on time.
The process requires just a few details, like the client's name and email, plus the date Sufio was installed on their account.
Once we've got this information and it has been reviewed by our team, clients will be added as referrals and will start earning a commission for the partner.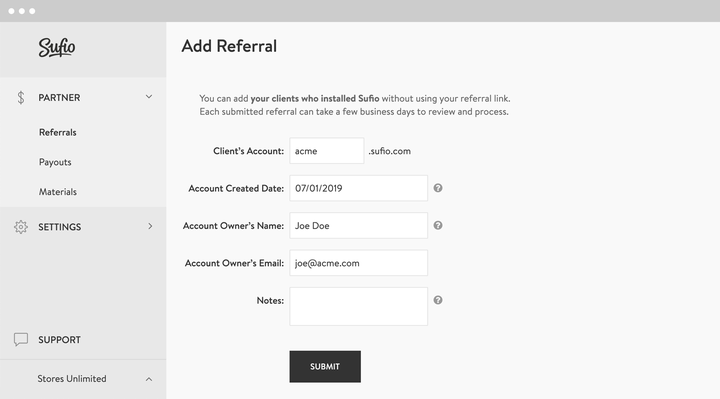 Adding a new referral in the partner dashboard.
Training and Marketing Materials
Making day to day life simple for our partners is important, so we're sharing more of our expertise.
In the partner dashboard, we will be adding new tutorials and hands-on training, as well as a range of helpful marketing materials that will help introduce the potential of Sufio to your clients.
This will make it a lot easier to explain the unique benefits and features to clients and assist them in the on-boarding and training program.
Exclusive Access
Another new perk is that partners can share in our expertise by gaining early access to our latest features and integrations.
They will also be able to help influence improvements to our app and shape our development roadmap.
Plus, we will also collaborate with our partners and explore various co-marketing opportunities, including publishing guest posts on our blog. As a top partner, you can get listed and promoted on our website.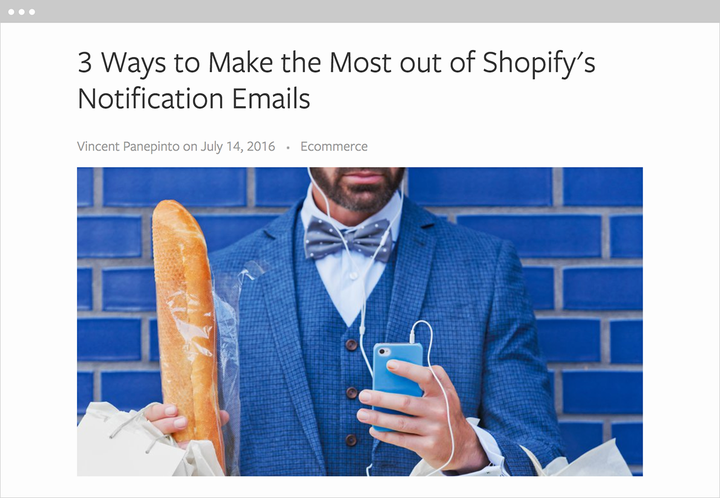 A guest post from our partner on the Sufio blog.
Become a Partner
At Sufio, we work closely with Shopify partners to get valuable feedback on how to further improve our app. It is therefore important to us to improve the experience for our partners.
Partnering with us means you can be sure that as Shopify grows globally, you have the full confidence to expand into new international markets for all things relating to cross-border taxes and invoicing compliance.
If you want to know more and sign up to become a partner, check our new Sufio Partners page.
We look forward to having you on board!
Join our partner program and offer your clients the confidence and polish of a professional invoicing solution.